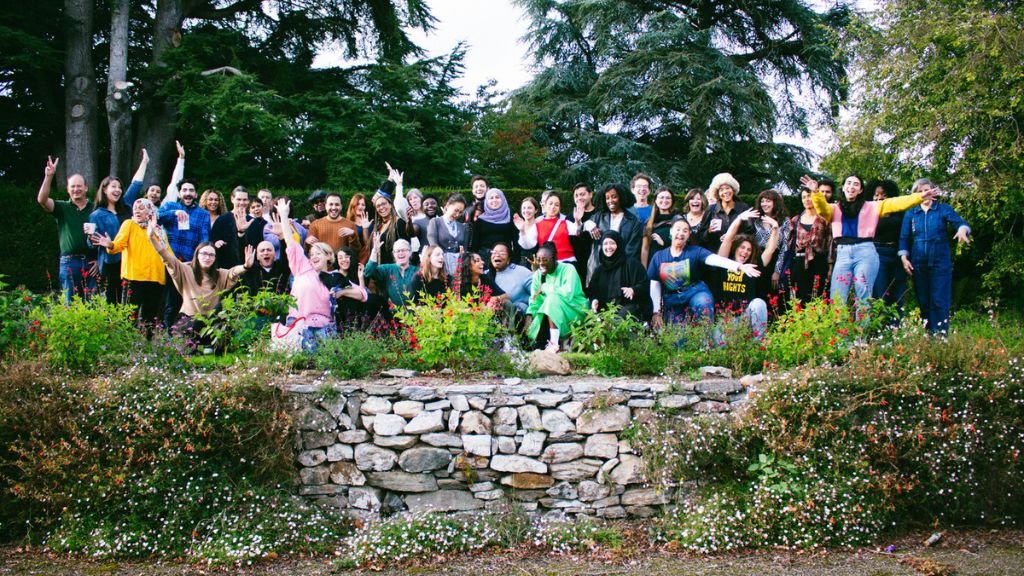 Image credit: Coutnerpoints Arts
We were very proud to continue our ongoing partnership with Counterpoints Arts this October on their 4th Pop Culture & Social Change retreat here at Dartington.  
Taking place over two and a half days (12-14 October), the retreat brought together over 50 change-making entertainment producers, artists, cultural innovators, activists and philanthropists. The aim of the event was to generate cross-sector exchanges, ideas and collaborations that will contribute to building long-term narrative power for displaced, migrant, Black and POC communities. The retreat focussed on exploring displacement and migration narratives in scripted TV and film, and how to collaboratively produce nuanced and authentic storytelling.
Emily Hoare, Creative Director here at Dartington, said of the two days: "The Pop Culture & Social Change retreat has been focussing on changing the narrative power in TV/Film/Comedy writing about refugees, asylum seekers and people of migrant backgrounds. Hearing from individuals with lived experience of entering the country as a refugee, and the value of their voices being heard in writers rooms, and as consultants on TV shows, has been fascinating, and this lived experience is clearly key in developing authentic stories, that feel relevant, relatable and funny to those they are portraying. It is clear from hearing the speakers and chatting to people over dinner that there isn't enough representation of artists from refugee and migrant backgrounds in film and television, and there are many challenges facing them, but bringing together a group for an event like this, with shared experience, and with the skills and experience to help new writers, is how to help make a change in the sector. A really inspiring couple of days and a real pleasure to support Counterpoints Arts to deliver this event at Dartington."
Counterpoints Arts is a leading UK organisation in the field of arts, migration and cultural change. Its mission is to support and produce the arts by and about migrants and refugees, seeking to ensure that their contributions are recognized and welcomed within British arts, history and culture. Its PopChange (Pop Culture & Social Change) Initiative explores how to pop culture for social change, shifting narratives about migration and displacement. Together with a network of cultural innovators, creators, producers, funders and activists, they are championing new ideas and cross-sector collaborations. We are honoured to be a small part of this at Dartington.
As part of the public programming we hosted two events in The Great Hall.  No Direction Home brouht an outstanding line-up of comedians to Devon on 12th October. The No Direction Home comedy collective, produced by Counterpoints Arts, supports people from refugee and migrant backgrounds to learn the skills of stand-up. Founded in 2018, in partnership with Camden People's Theatre and comedian Tom Parry, they've since performed sell-out gigs around the country including at London's Southbank Centre and the Edinburgh Fringe, alongside leading comedians including Nish Kumar, Romesh Ranganathan, Suzi Ruffell, Fatiha El-Ghorri and Athena Kugblenu. New No Direction Home collectives have been established in Coventry and Greece.
The second event on 13th October was the About Us! Artists' Scratch Showcase: South West Edition. This free event was an opportunity to see a real range of performers from this corner of the UK. It was curated and initiated by AWATE, inspired by a similar platform developed by TekstLab (Oslo), and developed by Counterpoints Arts in partnership with Southbank Centre. AWATE is a visionary rapper and producer from Eritrea. Raised in Camden, his mix of vintage sounds provided by collaborator, Turkish Dcypha, and intricate lyrics with triumphantly psychedelic melodies have had acclaim from Complex, Noisey and Spotify.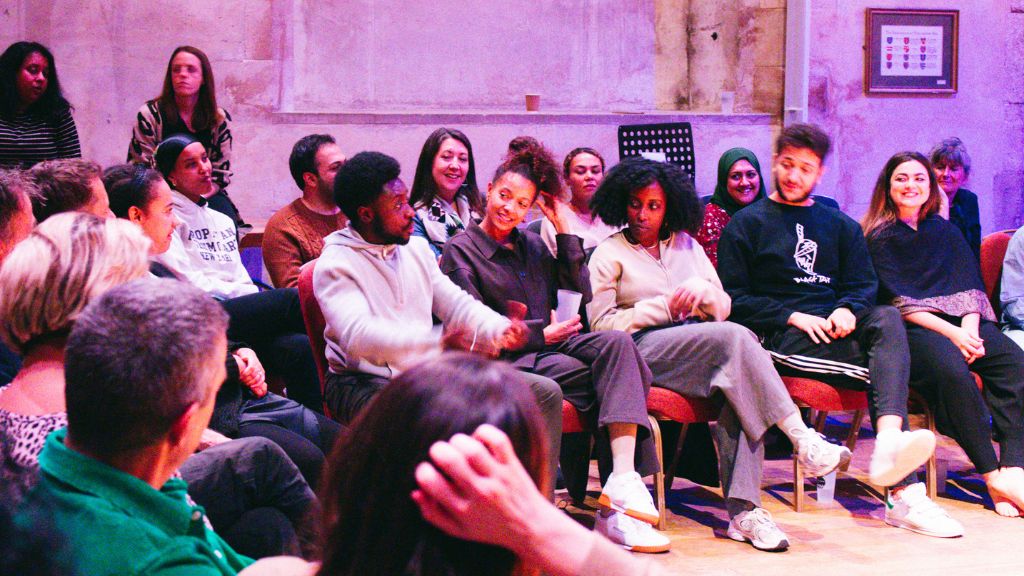 Image credit: Counterpoints Arts
As well as hosting residencies, we also train artists in how to create impactful work in residence on our MA Arts and Place. Find out more about the course via the link below.