Sonja is Volunteer Manager at The Dartington Hall Trust. She recently returned from managing community and healthcare volunteer projects in South Africa and Mozambique. More about volunteering at Dartington
---
Max is a 19-year old German student from Language in Totnes School and is currently doing an 8-week work experience placement with our garden team.
I joined Max and the Dartington's garden team for a spot of weeding in the Cottage Garden. In between a bit of digging and the drizzle I asked Max a few questions about how he is finding the placement so far.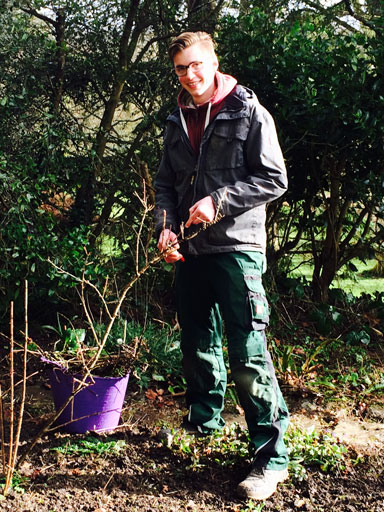 What has brought you to do a work experience placement at Dartington?
I really want to improve my English. English is the world language and really important to know. For example, last year I went to Oktoberfest in Munich and met nice people from different countries but I found it difficult to talk to them.
What are you enjoying most about your placement in the garden team?
Back in Germany I work as a landscaper. But I enjoy this hands-on gardening…it is good experience for me. I am learning how to prune, cut and care for trees and more about conservation. I now want to get a qualification in tree climbing.
Do you think your English has improved?
Yes…my first day in UK with my host family I found it really hard to have a conversation. But now I talk in English every day and don't have to think so much. My teachers at Language in Totnes say they can also see a difference.
My Garden colleagues at Dartington are very nice and friendly and helping me to learn new words and phrases.
Like what?
For example …'fine and dandy' and 'nice and tidy', plus a few colloquial terms that I probably shouldn't write here!
I'm also learning a lot about gardening. Ian (Dartington head gardener) knows all the plants. Mardie (Dartington gardener) always explains what we are doing and why.
Anything you don't like?
The English weather! In Germany, if you look out window in the morning and it is sunny, then it will be sunny all day. Here the weather changes from sun to rain – you never know what to expect.
Sonja
---