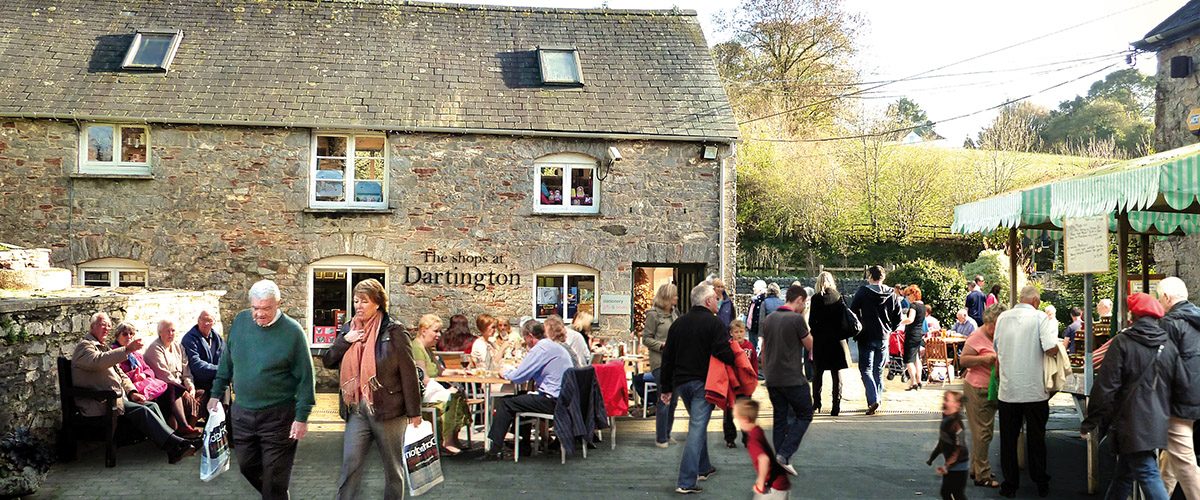 The Shops were established in 1977 when the Dartington Hall Trust – acting upon the wishes of Dorothy and Leonard Elmhirst, established a gallery at Shinners Bridge as a platform for local craftspeople to exhibit their work. The Gallery was so successful that it soon outgrew its original location and expanded over the years into the eclectic offer we have today; comprised of the Craft Centre, Devon Drinks (specialising in showcasing a selection of Devon's finest alcoholic products), Food Shop, Fashion and Beauty Gallery, Glass Gallery, Home, Kitchen Shop, Stationery, Tog 24 and Toyshop. There are also two cafes on site – Bayards Kitchen and Venus Cafe – along with our concession partners Big Fire and Crazy about Clay.
We at The Shops at Dartington are proud of our heritage and strive to trade ethically and fairly, respecting the ethos of The Dartington Hall Trust. We actively support and promote the local economy and community, with over 80% of the produce available in the Food Shop made, reared or grown in the West Country.
Do you share our passion for excellent local food?
Knowledgeable and passionate foodie Senior Retail Sales Assistant required to assist in ensuring the smooth operation of our expanding retail food and drink offer at The Shops at Dartington.
We are looking for a passionate & focused individual capable of supervising a team and delivering excellent customer service whilst retaining an informal feel in its delivery to our guests.
Previous supervisory retail experience, in a similar establishment is preferred, although on-going training is provided. It is more important that you share our passion and values and have a genuine interest in good quality food.
The Dartington Hall Trust (Dartington) is a unique collection of charitable and social enterprise activities based around a 1200 acre medieval estate. Established by visionary philanthropists Dorothy and Leonard Elmhirst in the 1920s, today we welcome people from across the world to take part in our wide range of activities.  Dartington is many things to many people but one aim underpins everything; how we use our estate to stimulate new thinking and action to help develop a more sustainable, just and enriching world.
To apply for this post please send your completed application form or CV to recruitment@dartington.org along with a Supporting Statement outlining the reason for your interest in the role and Dartington, and what you believe you could bring to the role. This is a key element of the decision making process so please take the time to put together the Supporting Statement as without it your application is likely to be at a disadvantage.
Applications will be shortlisted as and when submitted