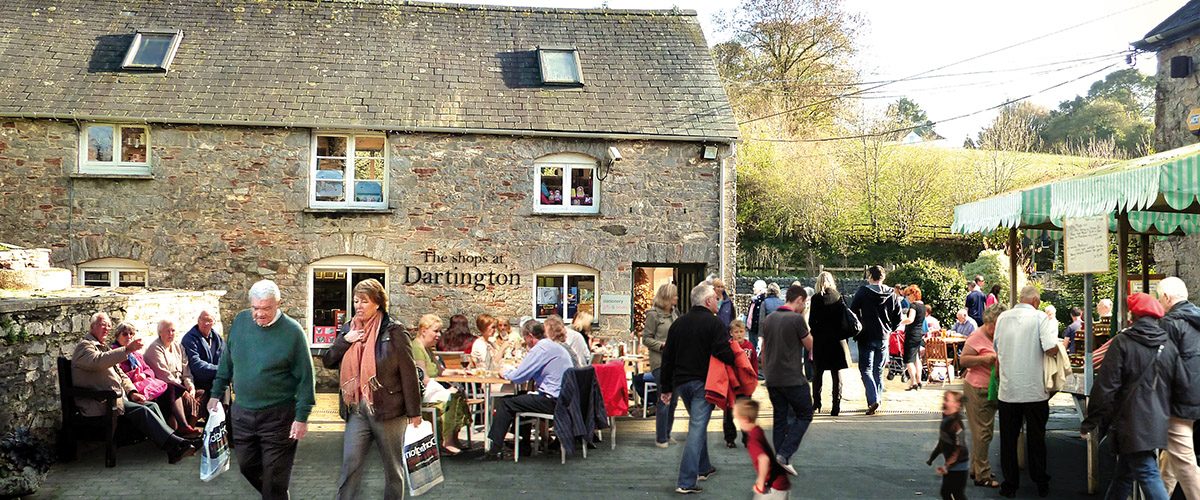 The Shops at Dartington were established in 1977 when the Dartington Hall Trust – acting upon the wishes of Dorothy and Leonard Elmhirst, established a gallery at Shinners Bridge as a platform for local craftspeople to exhibit their work. The Gallery was so successful that it soon outgrew its original location and expanded over the years into the eclectic offer we have today; comprised of the Craft Centre, Devon Drinks (specialising in showcasing a selection of Devon's finest alcoholic products), Food Shop, Fashion and Beauty Gallery, Glass Gallery, Home, Kitchen Shop, Stationery, Tog 24 and Toyshop. There are also two cafes on site – Bayards Kitchen and Venus Cafe – along with our concession partners Big Fire and Crazy about Clay.
We at The Shops at Dartington are proud of our heritage and strive to trade ethically and fairly, respecting the ethos of The Dartington Hall Trust.   As part of their many interests, pioneering Dartington philanthropists Dorothy and Leonard Elmhirst were keen to aid the economic regeneration of rural areas with low employment prospects and to this end, in 1967 they established Dartington Glass (now Dartington Crystal) in Torrington in North Devon. A team of highly-skilled Swedish glass-blowers was invited to run the factory and pass on their knowledge to recruited Devon craftspeople, who formed the original workforce of 35. From these small beginnings the company has developed and thrived and is now the only manufacturer of mouth-blown crystal still in production in the UK, with much of the range still handcrafted at the Torrington factory. The Shops at Dartington maintain the link with Dartington Crystal and offer a comprehensive selection of their designs for sale in the Glass Gallery.
We are looking for a knowledgeable and passionate retailer that would like to take the next step into a supervisory role with added responsibilities of buying.
Organisational skills are essential as is a genuine interest in the merchandise content, presentation and a passion for driving an innovative promotional calendar.
We are looking for a passionate & focused individual capable of supervising a team and delivering excellent customer service whilst retaining an informal feel in its delivery to our customers.
Previous supervisory retail experience, in a similar establishment is preferred, although on-going training is provided. It is more important that you share our passion and values and have a genuine interest in good quality merchandise.
To apply for this post please send your completed application form or CV to recruitment@dartington.org along with a Supporting Statement outlining the reason for your interest in the role and Dartington, and what you believe you could bring to the role. This is a key element of the decision making process so please take the time to put together the Supporting Statement as without it your application is likely to be at a disadvantage.