---
now that the changes we outlined in the original Land Use Review (below) are largely in place, we are revising the project through a process of collaboration and consultation to explore how we can further develop on this work and continue to place the estate at the forefront of experimental land use and rural resilience.
FIND OUT MORE – AND HAVE YOUR SAY
---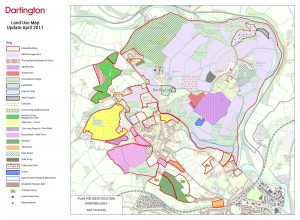 'The work that we are undertaking at Dartington will once again see the estate placed at the forefront of experimental land use. Our vision is that the whole estate, comprising its buildings woods and farmland will become an exemplar of diversity and rural re-generation.
We will offer opportunities for learning to individuals and similar organisations and be held up as an example of 'best practice' when it comes to land management.
The estate is already being used to demonstrate resilience amongst local communities through increasing employment opportunities, which enable fulfilling livelihoods for its many tenants. Animal welfare, the protection of soils and water, the enhancement of biodiversity and food security are essential corner-stones to this work.'
John Channon, Dartington Hall Trust Estate Manager
Further reading:
---
Current projects across our estate