Anuj Thakur first learnt to cook by watching his father in the Himalayan hill station in Himachal state, India, where he grew up. Since then Anuj has clocked up 18 years' experience before taking over as Head Chef at the White Hart restaurant.
---
The reason I choose this dish is because mackerel is available the whole year round on our South Devon coast.
Mackerel is an oily fish and cooking it this way makes it lighter to eat – and the curing process means you can keep any remaining fish for at least a week in your fridge.
Follow my recipe and give it a go, I hope you like it.
Mackerel Escabeche (lightly cured fish with pickled vegetables and orange dressing)
For the escabeche liquid:
1 ltr fresh orange juice
Few coriander seeds
Few fennel seeds
1 tblsp sugar
1 pinch salt
Lemon juice
Bay leaf
Crushed garlic
1 onion, sliced
2 tblsp olive oil
2 tblsp white wine vinegar
2 tblsp white wine
For the mackerel fillets:
Marinade fillets with sea salt for 1 hour and then wash with cold water and pat dry with kitchen towel
For the pickled vegetables:
Cucumber and large carrots, thinly sliced (a mandolin is useful)
Yellow and/or green courgette, scooped or cut into small pieces
For the orange dressing:
Reduce the fresh orange juice to 1/3 volume and allow to cool. Once cooled, blend with extra virgin olive oil to make an emulsion and finish with fresh lemon juice.
The recipe
Heat all escabeche ingredients at a low heat. Lightly pan-fry the cured mackerel, just enough to make the skin crispy. Immerse warm mackerel and all pickled vegetables in escabeche liquid and leave overnight for pickling.
Garnish (optional) with grapefruit segments, coriander cress, olive oil or herb oil.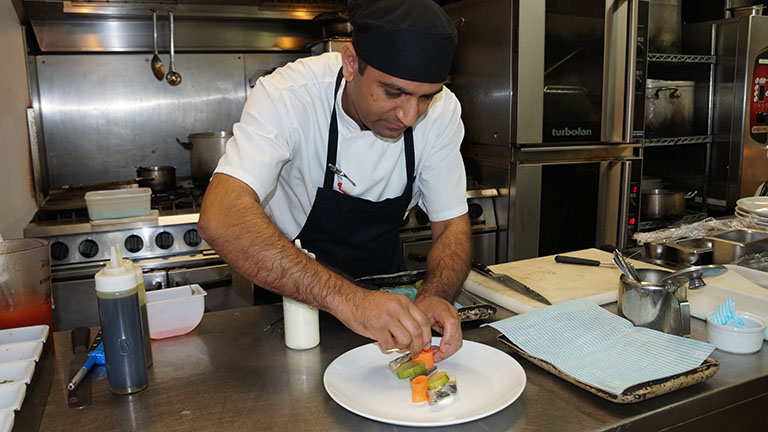 ---