Massive congratulations to the students from Plymouth University and Project Manager, Eddie Church, who have successfully designed and constructed a new bird hide for Queen's Marsh on the Dartington Hall estate.
From having received the brief during their first week of term, the second and third year Architecture and Architectural technology students had one week, working in teams, to come up with a design. The winning design was selected at the end of September. The Soundscape Bird Hide centred on the importance of listening for a bird's call when bird watching and included visual detailing which reflects the soundwaves of a kingfisher's call.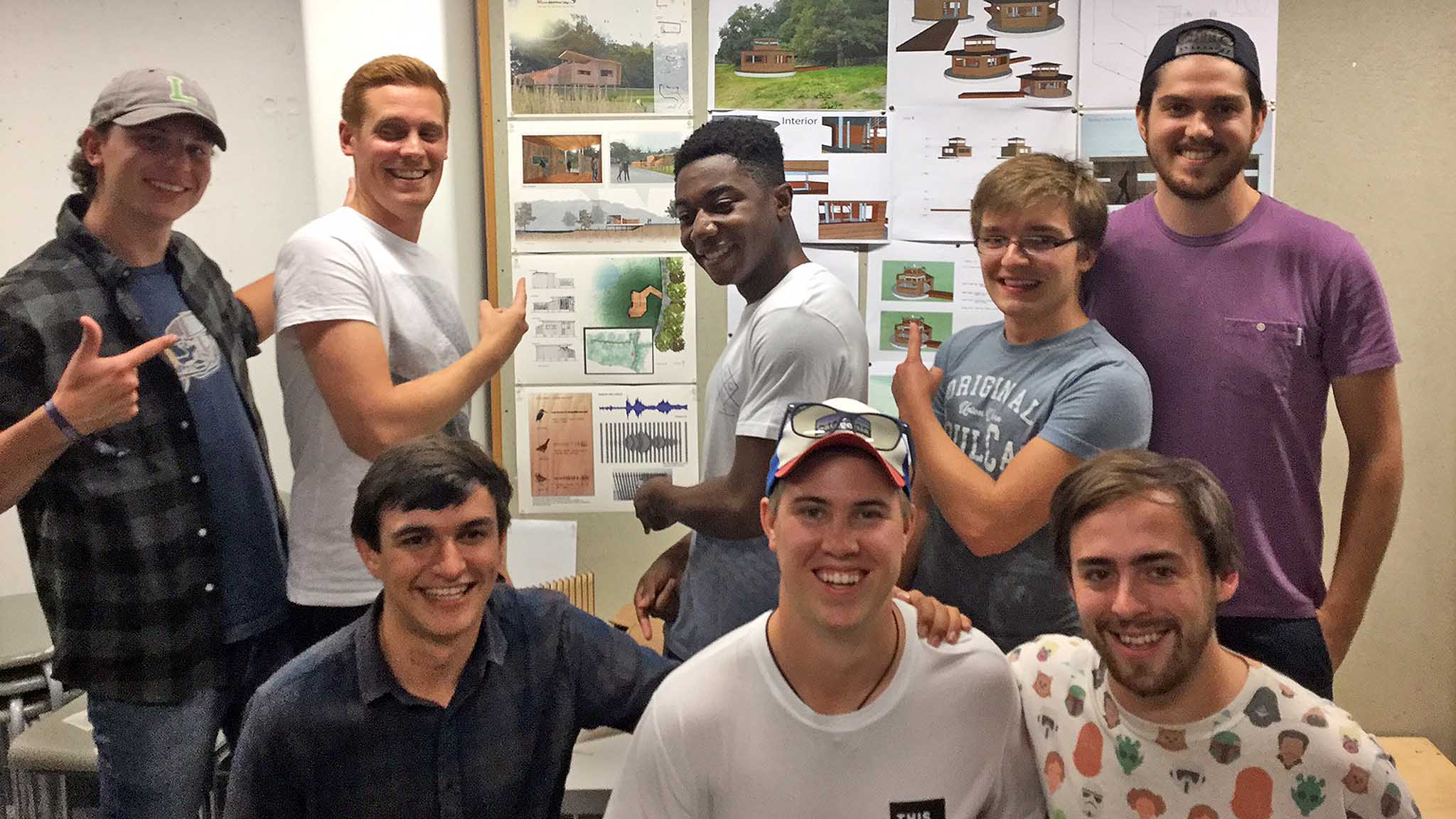 Starting in October, the students then worked in groups constructing the hide using wood sourced from the Dartington Estate and traditional construction methods. Some worked from a barn in Slapton Ley Natural Nature Reserve, some down at Queen's Marsh and some in the Trust's Hex building where they finished up the drawings needed for the planning process. In the course of just one term, the students successfully took this project from conception through to near completion.
Given the challenging nature of the term time schedule, though the main structure is finished, there is still crucial work remaining. This includes constructing benches, installing some bird identification panels and completing the planning permission process.
The planning element of the project has added an additional layer of learning for the students, who have been working up the drawings to the appropriate standard for submission during the term. If you'd like to comment on the bird hide as part of the planning application process, you can do so on the South Hams District Council website.
NOTE
By their nature bird hides sit within an open landscape providing unique views of nature from within the environment. The specific location of the bird hide and the boardwalk access point, across from the existing boardwalk in Berrymans Marsh, were chosen following consultation with the community and stakeholders. The latter included Dartington Parish Council, who are supportive of the application, and seasoned bird watchers who advised on maximising views along the marsh including avoidance of the sun's glare off water. As is so often the case on the Dartington estate, the location balances a number of requirements including safety, privacy of nearby properties, opportunities for the best views of the natural environment and wildlife as well as a number of important heritage features. Natural weathering of the wood and colonisation of grasses around the hide will soften the hide into the landscape.
[button link="https://www.dartington.org/our-work/our-land/conservation/queens-marsh/" colour="Dark Green"]Find out more about the wider Queen's Marsh restoration project ⇒[/button]
---