Susan, who has a wealth of experience of studying and photographing wildlife, enrolled as a Woodlands and Conservation volunteer this summer.
Susan is currently working on mapping the 'veteran' trees on the estate. Veteran trees are several hundred years old, and 'ancient' trees even older – 500 years and beyond. The estate has a relatively large number of both – usually oaks.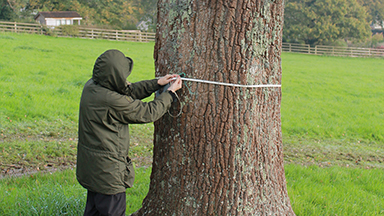 Veteran trees are of great value to wildlife, but they also have immense sociological and historical benefits. With Susan's help, the position and details of the trees is being entered into the estate's digital mapping system, with the intention of contributing data to the Ancient Tree Hunt report.
Mike Newby, Dartington's Estate Warden, supervises a team of 6 regular volunteers, including Susan. "The volunteering that Susan does will benefit future generations and protect our heritage", he said.
"Not only do humans benefit from Susan's efforts but also bats, woodpeckers, moths and invertebrates, especially beetles and lichen, which can only be found on veteran trees – and many lichens are associated with indicating types of pollution.
"Susan brings new ideas and skills with a fresh approach. I am very pleased she is supporting Woodlands and Conservation – and more importantly, Dartington."
---
Join Susan as a volunteer at Dartington
Dartington is a place for everyone to enjoy, whether through retail therapy, sampling tea and cakes, watching a film or strolling through the beautiful gardens.
If you're looking for a place to experience new things, and perhaps to fulfil that New Year's resolution, take a look at the current volunteering opportunities on offer at Dartington, or get in touch by mailing us at volunteering@dartington.org, or call in to the Volunteer Hub next to the Visitor Centre at Dartington Hall.