The Dartington estate's community radio station is looking for contributors to help create an oral record of the experience of living in lockdown during an international public health crisis.
Lucinda Guy from Soundart Radio, a community arts partner of Dartington Trust, said she and her colleagues have been speaking to people from around the local area to hear how their daily lives have changed.
"This is where I feel radio really comes into its own in helping people to connect," she said.
"Everyone will be experiencing this extraordinary period in a different way – we want to hear those everyday stories.
But we also want to look at how we manage change. People who have been through other difficult times, for example those who came here as refugees, are the experts on living through change.
"This is a time when we need to learn from one another."
After deciding to close the radio studio on the Dartington Estate to volunteers and guests, Soundart Radio quickly moved to a network of home studios, where contributors are producing live and pre-recorded programmes.
Many of these are discussion based, with a wide range of viewpoints and expertise on the current situation.
Along with her family, Lucinda is now broadcasting every weekday morning from her home studio between 9am and 12 noon, But she is keen for people to contribute shows throughout the day from their homes.
"We would love other local people to join us," she said.  "If anyone has original poems, music or stories they would like to share with us that would be great, and we can help people learn to record and edit their work for broadcast.
"Or if anyone wants to talk about what's going on for them, we'll find time for a chat on the phone."
Local contributors have included Totnes flatmates Dean Puckett and Jenny Wellwood who have been presenting a nightly show for the last two weeks while under lockdown after they came into contact with the Coronavirus (Covid 19).
"Dinner in the Time of Corona" involves them sharing a meal while phoning friends for a chat whether they are down the road or in faraway Hanoi and Brooklyn.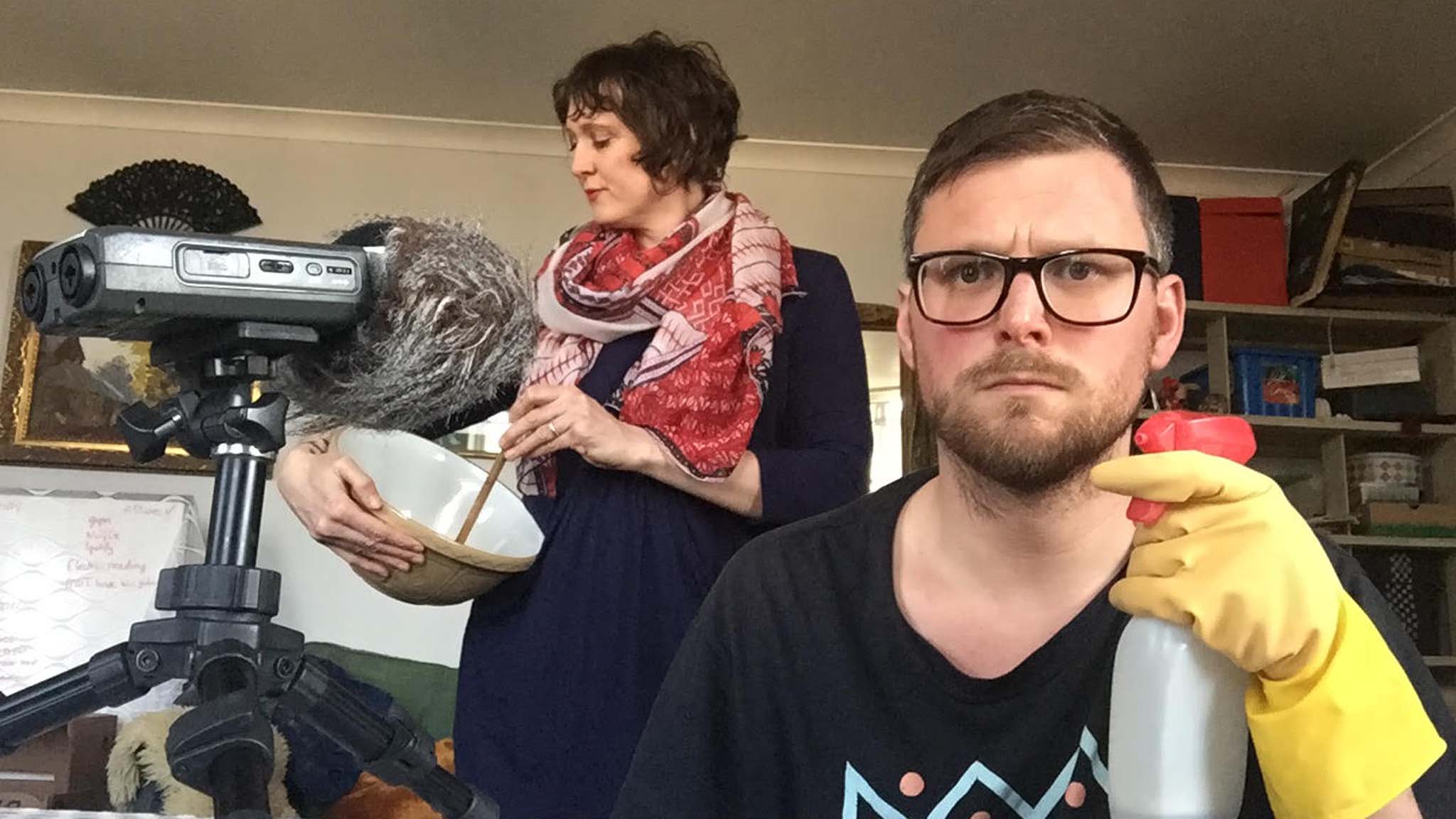 "It's been the perfect way to connect with the outside world whilst we were in quarantine," said Jenny.  "We made a simple studio from a recorder, our phones and a little speaker to take calls on- and we used our address books to catch up with family, friends and even some random acquaintances on the other side of the world, all human beings living and making do in this crazy situation.
"We had so much positive feedback from listeners – setting our show at dinner time allowed for a relaxed and friendly mood- listeners felt like we were all sat around the table together – sharing stories and concerns, hopes and jokes.
"It's been a highlight of our last 2 weeks and we wanted to Soundart Radio for the encouragement and support to make it happen."
The broadcast footprint of Soundart radio, in terms of their licence, means that anyone in the Dartington and Totnes area can tune in but, depending on the atmospheric conditions, people further afield can hear it.  In addition anyone around the world can tune in online.
Soundart Radio was started in 2006 by two Dartington College of Arts students, Lucinda Guy and Nell Harrison with small FM licence for the campus. Three years later they were granted a Community Radio licence by Ofcom for the Dartington and Totnes area.
The station has over 100 volunteer managers, programme makers, presenters, producers and studio engineers of all ages and backgrounds. Normally they produce the stations schedule of music shows, conversations, and original creative work, including dramas, poetry and improvisation.
"We are so lucky to have community owned media," Lucinda added.  "This is a time when many people have been relying very heavily on the internet but what would we do if that was not available? Radio is a very resilient type of communication. Having a transmitter is a real privilege."
Soundart Radio broadcasts on 102.5 FM or online.
Anyone who would like to contribute can contact the station at info@soundartradio.org.uk