Luvo Mafani is Sous Chef/Pastry Chef at The White Hart at Dartington Hall, holder of two AA rosettes for culinary excellence.
– More recipe blogs from the White Hart
---
This dish features on our current spring menu, as all the elements are now in season. 
Scallops are succulent, tender and sweet at this time, so you can't go wrong. The same goes for crab –  we use only the white meat for this dish, handpicked and freshly dressed with crème frèche and fresh juice from lemons and limes.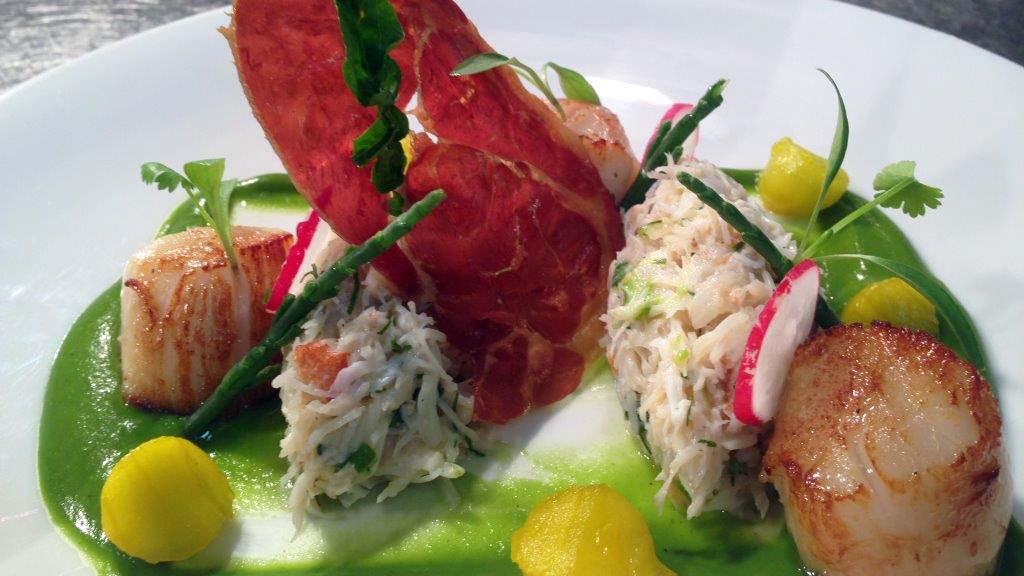 The addition of Serrano ham puts the whole dish into perspective – offering a crispy texture which compliments the scallop and crab.
A mouth-watering dish created the Dartington way. Give it a go!
Ingredients
Cooked white crab meat
Shallot, chopped
Chives, chopped
Lemon and lime zest and juice
Mayonnaise
Scallop
Olive oil
Sea salt and pepper
Watercress
Cucumber
Serrano ham
500g
1
few sprigs
1/2 of each
4-5 tbsp
8
4-5 tbsp
to taste
1 bunch
1, diced
8 slices
Method (serves 3-4)
Marinade crab with shallots, chives, and lemon and lime zest and juice.
Bind mix with mayonnaise and season it to taste. Keep aside in fridge.
Place the Serrano ham in the oven at 180C and bake for between 8 and 10 minutes until crispy.
Wash watercress for garnish.
Pan fry the scallops in a hot pan with a splash of olive oil for 30 seconds either side. Add salt and pepper to taste.