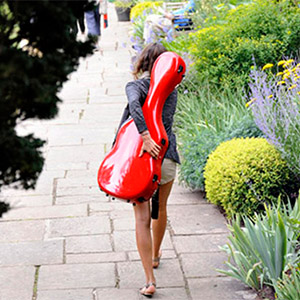 Dartington International Summer School and Festival is a four-week programme packed with courses, workshops and masterclasses aimed at undergraduate and postgraduate students, young professionals and amateur musicians. It also stages over eighty concerts performed by some of the most established musicians for members of the public to enjoy, right in the heart of Dartington's breathtaking estate.
Check out our blog each week in the lead up to and during the Summer School for festival highlights, news stories, behind the scenes gossip and interviews.
---
In Week 1 of the 2016 Summer School & Festival we explore early music and medieval instruments. Some early instruments you might have seen and heard but others may be more obscure.
First up, the crumhorn, or curved horn, which was first played in the 1400's. It is a woodwind instrument with a double reed and curving tube, a construction similar to a bagpipe.

The players' lips do not touch the reeds as they are encased within a chamber, and when blown it makes an even, nasal humming sound. The crumhorn has a limited range as the encased reed makes it very hard to play higher notes.
[button link="https://www.youtube.com/watch?v=a1VQQiGXbsw" target="1″ class="" colour="Dark Green"]Hear the crumhorn being played here[/button]
And now onto the sackbut! Played in the Renaissance and Baroque periods, a sackbut is an ancestor of the trombone. It has a telescopic slide that is used to vary the length of the tube, which in turn changes the pitch.

The sackbut has a double slide, unlike the earlier slide trumpet that only has one, which allows scales to be played in a lower range. Sackbuts can be tuned by lengthening or shortening the joint between the bell and slide.
The sackbut differs from modern trombones as it has a smaller, more cylindrical shape with a less-flared bell.
[button link="Link https://www.dartington.org/whats-on/event/?id=150800″ target="1″ class="" colour="Dark Blue"]Hear the sackbut at 'Sackbuts and Cornetts: Music in a Cold Climate' on Tuesday 2nd August in the Great Hall.[/button]
---
[button link="Link https://www.dartington.org/whats-on/event/?id=151198″ target="1″ class="" colour="Turquoise"]The crumhorn will be played as part of 'The Prince and the Piper: Music in the German Court and City' by The City Musick.[/button]
---