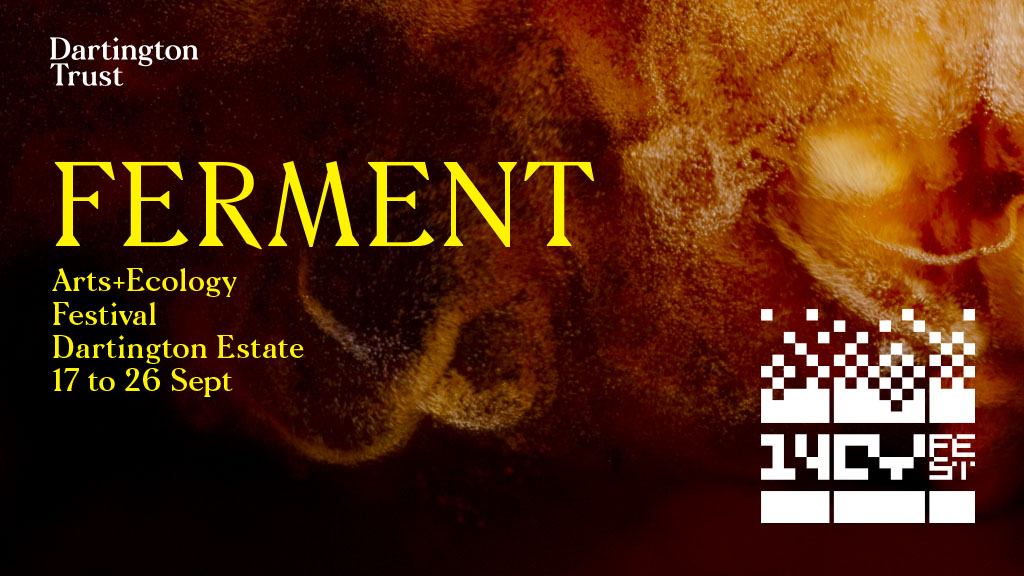 We like to look at things differently at Dartington, continuing the ethos behind 'The Dartington Experiment' which began nearly 100 years ago. It is this spirit of experimentation with which we are bringing an art and ecology festival to Dartington this September.
'Cyfest-14: Ferment' takes place from 17th to 26th September, and examines the theme of fermentation through the dual lenses of art and science. Through art installations, workshops and talks, we will be exploring the metamorphoses that fermentation represents.
Ferment is a collaboration with Cyfest, the biggest digital art festival in Eastern Europe, formed by Cyland, a Russian artists' collective. The festival began in St Petersburg in 2007 and explores new forms of art and high technology interactions, exposing audiences to works in the field of robotics, video art, sound art and net art. We are thrilled to host this new edition in the beautiful Devon countryside, which offers itself as a stark contrast to the artworks.
There will be FREE experimental art installations dotted around the estate for the full ten days of the festival – a map will be available in the Welcome Centre to show where they are and offer some background on each piece. You will also be able to participate in fermentation talks and workshops, watch films and enjoy food, music and take part in lively discussions.
During the opening weekend we have a packed series of events. We open the festival on Friday 17th September with an evening of free live music on the Great Lawn outside the White Hart. The team at Crock and Cole will be on hand selling food that includes some of their famous ferments, including Ogleshield cheese and kimchi toasties on Hylsten sourdough and crispy kimchi potato cakes with fermented chilli sauce.
You can also find them on the Saturday at our weekly Farmer's Market from 10am to 3pm, along with lots of other local producers. Head over to their stall for some fermentation workshops where anyone (kids especially!) can come and make a ferment such as sauerkraut or kimchi from a range of ingredients and take it home with them.
Delicious locally sourced food will also be available throughout the festival from the teams at the Green Table and the White Hart.
On Saturday 18th there are a series of free events between 10.30am and 3pm. Learn how to make your own cider vinegar, make your own kombucha or check out our science of fermentation class. All are free but need to be booked in advance here. You can also drop in to the Fermentation School for information and handouts and check out the fermentation library and bar.
On Sunday afternoon come and have a boogie at the White Hart! One for all the family, join us between 1 and 6pm to enjoy some great tunes courtesy of DJ Yoda, Jason Singh, Chris Hall, Keiko Yamamoto and Ru D using the power of soul, funk, jazz and global beats to provide feel good vibes. While there choose from a sparkling array of specially selected, locally fermented beer, cider and wine and more from the White Hart. You can drop in and out of this free event as you like – handy if you're taking part in miso and beer making workshops during the afternoon.
If the weekend tantalises you to find out more about the magic of fermentation then join us on Monday 20th for a talk with world-renowned fermentation expert Sandor Katz who will be in conversation with Schumacher College head gardener Colum Pawson. Alongside this Norwegian artist Eva Bakkeslett will be offering the first 30 people who arrive on the night a free gift of bacteria cultures, either yoghurt or sourdough, presented in hand sewn envelopes which can later be planted. Click here for more information and to book.
Finally, come along to our closing night at the Gallery on Saturday the 25th September (time TBC) to watch artists Alexey Grachev, Alexander Bochkov from Cyland perform their sound piece, Symphony for 2 Bicycles, which explores the fermentation of sound. This will be followed by a gallery talk at 6pm.
We very much look forward to you coming on this journey with us, we hope it encourages change and the fermentation of ideas.
ARTS & ECOLOGY RESIDENCY
In January 2022, the MA in Arts and Ecology will begin at Dartington Arts School. As a space for dialogue and exploration, we are establishing a residency alongside the academic programme. We are inviting applications for a three-week residency at Dartington, starting on 6 September and leading up to the Cyfest 14: Ferment festival. Find out more >