Karen Jonas is Sales and Marketing Manager for Dartington Hall, a social enterprise venue at the heart of the The Dartington Hall Trust estate running an award-winning restaurant and accommodation, as well as hosting weddings, conferences and other events.
---
My concentration is interrupted by the ring of the telephone phone. Following a short conversation, I call my colleague Sarah White, our Guest Services Manager: "our guests have arrived".
We head out to welcome our guests – a delegation of Chinese buyers who have been visiting the South West over the last few of days to experience some of the fantastic destinations and attractions the area has to offer.
A culmination of 18 month's hard work, the Chinese delegation are invited guests of Visit Britain and we are delighted to be part of this programme which encourages Chinese visitors to the South West.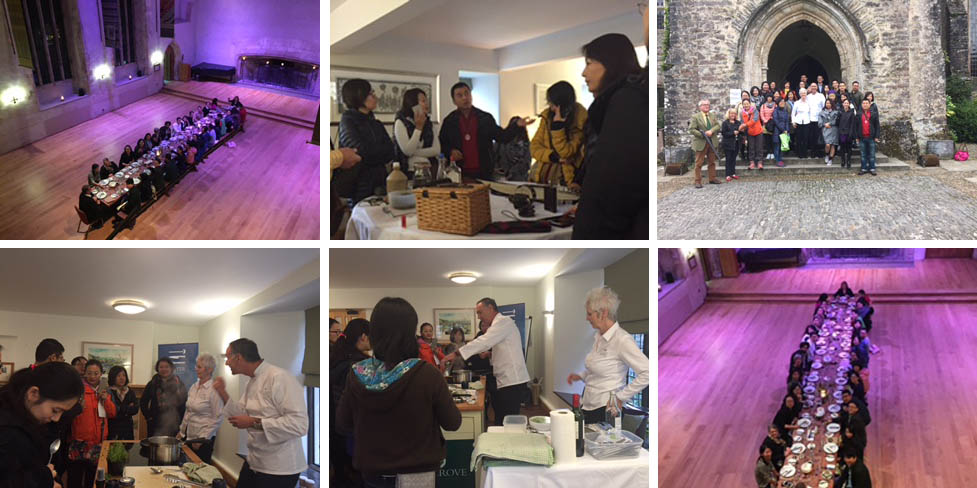 As the world has become more connected, we have looked more at how we could attract international visitors to Dartington Hall. Our focus was our heritage, culture and gardens  – all things which make Dartington such a special place for anyone who visits.
We decided upon China as this was a growing market – today, the UK is the eighth most popular choice for the Chinese traveller (we were number 22 last year), mostly due to relaxation of visas.
And so, with the support and funding available through Visit Britain and UK Trade and Investment (UKTI) our international journey began.
We engaged with SE Associates, a consultancy based in the South West with several years' experience of the international market, and signed up to UKTI's Passport to Export programme – a year-long programme that gave us advice, training and funding to get us started.
Our focus was to promote the South West to the Chinese market as a destination, working closely with Visit Britain's 'Countryside is Great' campaign to achieve this – and what better place to demonstrate that than Devon?
In the last year, we have hosted a few of familiarisation trips for Chinese travel agencies, featuring visits to Dartington and our partner organisations – Sharpham Vineyard, South Devon Steam Railway, and Agatha Christie's Greenway House.
But this visit today is the biggest achievement for us. We have a fabulous itinerary for our Chinese guests which begins this evening with a medieval banquet in the 14th century Great Hall. Our Head Chef has prepared a fantastic dinner menu with lots of green vegetables – the very best of local produce.
Following dinner, our tired guests head off to their bedrooms ahead of another full day of activities tomorrow.
Friday morning arrives; the weather is good.  As I walk across the Courtyard, I see a number of our guests taking pictures of the Hall and the gardens, and why not, they're amazing! One thing I have learned is that the Chinese love taking snaps –  I have never been so photographed!
To start the day, we head to The Shops at Dartington.  Our guests are met by Managing Director Barbara King for a short talk – and then, shopping!
On return to the Hall, it's Country Pursuits with Nick Agg-Manning* and an aromatic cooking demonstration with Jim and Lucy from the Exeter Cookery School. And as we make our way to the White Hart restaurant for lunch, the spotlight is on me as I provide an insight into our heritage.  Now that was a new experience for me – I haven't given a tour with an interpreter before!
Conversations over lunch exude enthusiasm for the country pursuits – they loved the idea of fly fishing on The Dart, a trip on the nostalgic steam railway or a stroll around our Gardens.
And now the time has come to say goodbye to our Chinese guests as they continue on their journey. And so, as we say our goodbyes, thoughts turn to our next challenge – our attendance at Visit Britain's next event, Destination Britain in Beijing.
---
*This blog is a retrospective look at a visit that happened several months ago. We are deeply saddened to learn that since the event took place, Nick Agg-Manning has passed away. Our thoughts are with his family and friends.