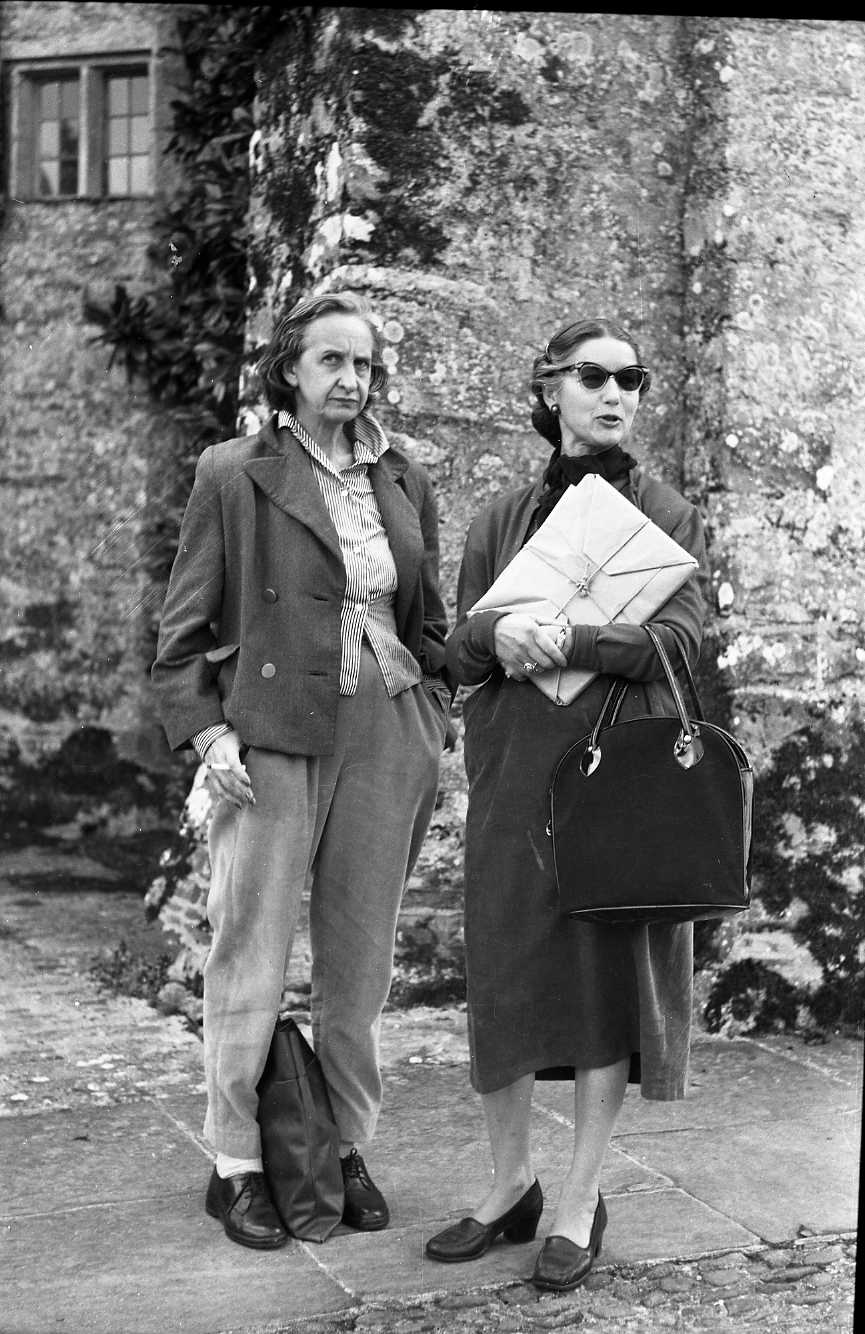 Elisabeth Lutyens with Ann Gloch (1957). Photo by Catharine Scudamore courtesy of the Dartington International Summer School Foundation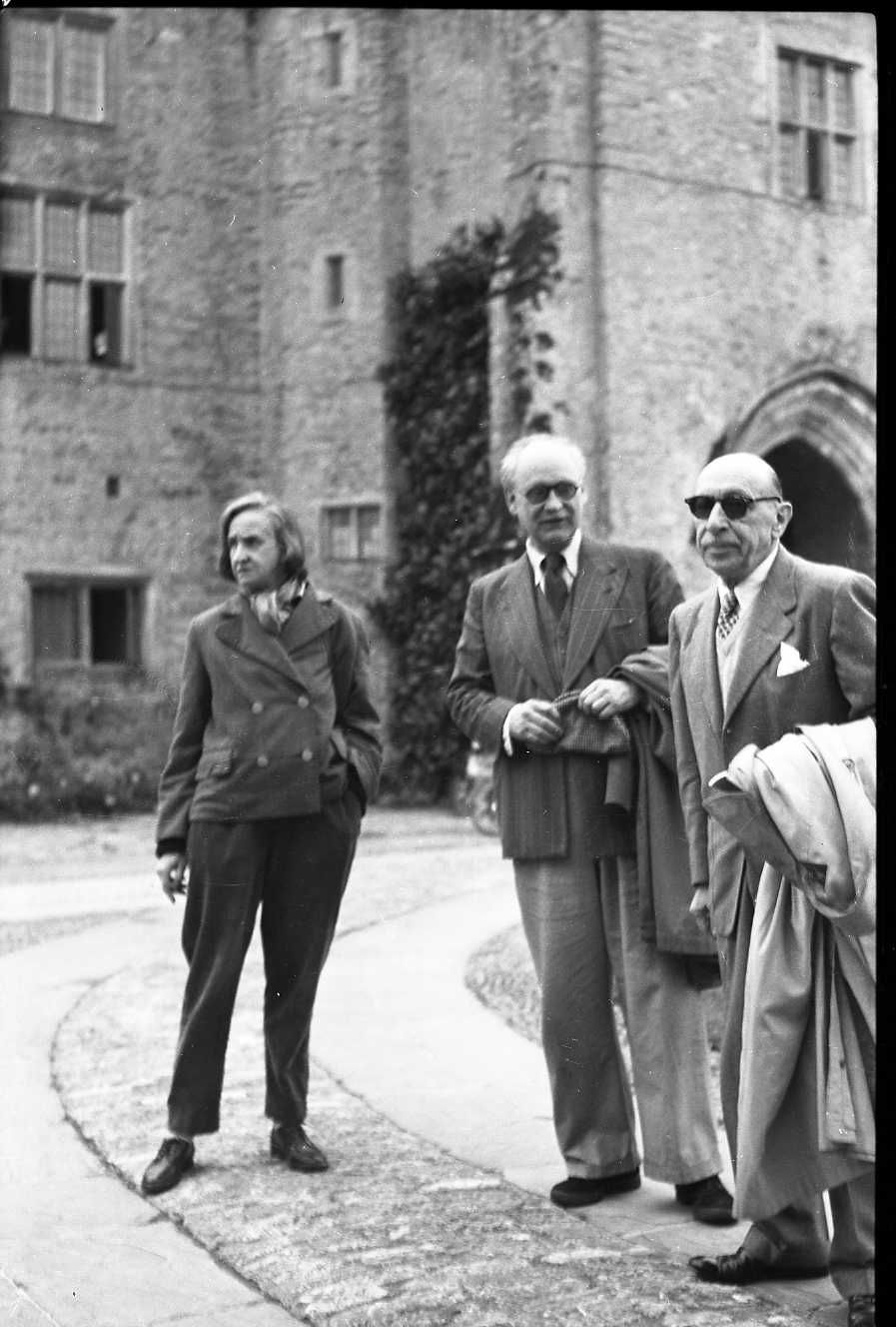 Elisabeth Lutyens with Edward Clark and Igor Stravinsky (1957). Photo by Catharine Scudamore courtesy of the Dartington International Summer School Foundation
On International Women's Day, we turn back the clocks to explore an influential 20th century composer with close connections to Dartington Summer School of Music, whose work deserves greater recognition for her groundbreaking modernism through to her horror film scores.
"Do you want it to be good, or do you want it Wednesday?"
Elisabeth Lutyens was one of the early adopters of an uncompromisingly modern style of classical music known as serialism, inspired by the work of Schoenberg and others that had shaken the status quo in European compositional circles. She was highly respected by and got her first notable commission from William Walton for the International Society for Modern Music in 1946 and went on to have a relatively successful career as a composer of classical music and film scores, though hampered by resistance to her style of music, a generalised prejudice against women composers as well as struggles with her own mental health, and alcoholism.
Lutyens' own style is fiercely modern, employing the twelve-tone scale with a minimalism and deftness of touch that makes it more approachable to broader audiences than many of her modern counterparts. Perhaps this is due to Lutyens' interesting approach to the importance of the ear:
"All music begins and ends with the ear and my own way of listening to a new work is to wonder what kind of ear, what degree of aural awareness the composer possesses and then what kind of mind he has that controls his ear."
Her "Five Bagatelles" for piano are a good place to start to get a sense of her unique form of pared-down serialism.
As well as her music, much of which was commissioned for and played on the BBC during the period William Glock was Director of Music, Lutyens achieved notoriety for a lecture she gave here at Dartington in the 1950s in which she coined the term "cowpat school" to describe much of early 20th century British music. Lutyens wanted to distance herself from the "folky‐wolky melodies on the cor anglais" typical to many composers of the period, but which she felt had become out dated and irrelevant after the horrors of World War Two (compare perhaps with Theodore Adorno's "poetry after Auschwitz is barbaric"). She was referring to composers like Vaughan Williams, who drew inspiration from English folk songs in many of his works, through to the likes of Frederick Delius or George Butterworth, whose work it could be argued evokes the pastoral scenes of a romanticised rural past.
Instead Lutyens was arguing for a brisker modernist energy, the insistent experimentalism and crunchy dissonant harmonies, which came to see Dartington Summer School itself at the cutting edge of contemporary classical music through this period and beyond. Our archives show that she was involved in teaching composition in the years 1953-4, 1957 and 1959. In the gallery below, the first image shows Lutyens is in conversation with her son Conrad Clark and a composer who would himself go on to direct the Summer School, Peter Maxwell Davies. Her works also drew from more high-minded and serious intellectual subjects, unthinkable from many of her more conservative counterparts, such as the "Motet on words of Wittgenstein", or incidental music for experimental poetry readings. 
Archive photos taken by Catharine Scudamore, courtesy of the Dartington International Summer School Foundation
At the same time, Lutyens work was found to be well suited for horror film scores, and she worked on a number of Hammer horrors throughout her career. She was in fact the first woman composer to pen a score for a feature film of any kind with Penny and the Pownall Case in 1948. Here's an example of some of her work in this genre.