An eel pass has been installed at Bidwell Brook in Dartington to enable young glass eels, known as elvers, to migrate upstream unimpeded.
The action is part of a 'European Union recovery plan for eels', following scientists' estimate that, across Europe, glass eel numbers have now fallen to less than 5% of their 1980s levels.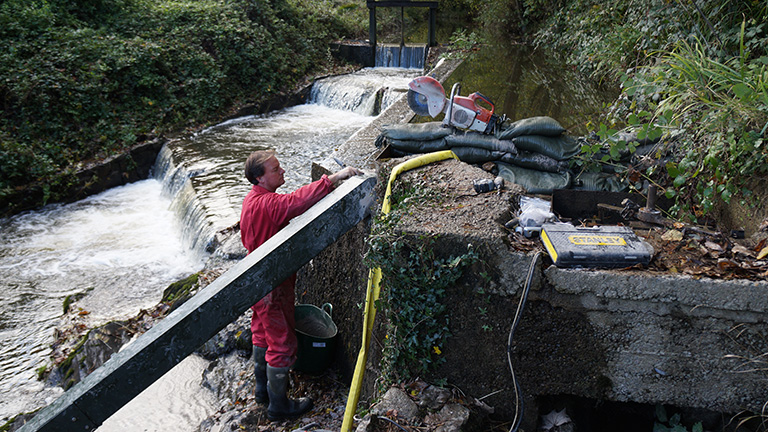 The Dartington Hall Trust has been working with
Westcountry Rivers Trust
since 2013 to improve eel migration over the weir and upstream habitat, after the
Environment Agency
highlighted the waterwheel sluice and weirs on the
Bidwell Brook at Lower Tweedmill
 as a barrier for eel migration.
Fisheries consultancy Fishtek, who are tenants of The Dartington Hall Trust, based at Webbers Way in Dartington, have designed a series of eel tile passes to tackle each pre-barrage and the large sluice barrier. Installed this week, the eel tiles have stud-like protrusions which allow large eels and very small elvers to ascend through the tile and hence over the weir.
"The velocity of the water over the existing pre-barrages was too high", explains Paul Gratton of Fishtek. "The elvers, which instinctively migrate upstream, were being washed downstream.
"We have designed and fitted a system with metal channels for the eels to get some purchase to wriggle their way up upstream to mature."
Olivia Durkin, Land and Fisheries Officer at Westcountry Rivers Trust added: "We are really pleased to work with Fishtek and The Dartington Hall Trust to install this eel pass. One of the main causes of decline in eels is migration barriers leading to a reduction in available habitat and this pass will have a direct impact on this issue."
John Channon, Estate Manager, The Dartington Hall Trust said "We are very lucky to have the support of Westcounty Rivers Trust and to have the expertise right here in Dartington with Fishtek to get this eel pass installed.
"Our conservation work sometimes goes unnoticed so it is always gratifying to see projects we have worked on over time happen."
The main causes of decline in eels are widely considered to be:
• Access/migration barriers leading to a reduction in available habitat
• Entrainment
• Exploitation
• Predation
• Water quality/pollution problems
• Pathogens and parasites
• Climatic/oceanic changes.
The work is a continuation of WRT involvement on the Bidwell Brook, with the existing fish pass funded through the DEFRA River Improvement fund.
It is funded by WRT under the Dart & Teign River Improvement Project, a Catchment Restoration Fund project administered by the Environment Agency. The eel passes will be maintained by The Dartington Hall Trust once they are in place.