The recent UK Fungus day prompted our Gardens, Conservation and Land Manager, Rafael Pompa, to think about the importance of the fungi to our ecosystem.  The Dartington Estate has 19 varieties that are considered 'at risk' of disappearing. Together with two knowledgeable and experienced volunteers Keith and Val Davies he went on a quest to the Dartington gardens, to find the striking and not-so-common Earthstars (Geastrum fornicatum).  Rafael writes:
I have always been fascinated by fungi, as it is such a varied group of organisms that have historically challenged taxonomists as their classification is far from being easy.
Fungi are something in-between animals and plants, and it wasn't until 1969 that fungi were recognised as an independent group.
It was a very rainy day when we found several colonies of Earthstars in an unusual and unexpected place. They can only be seen at certain times of the year. While being bashed by rain and wind, we were wondering how these fungi got there. The answer was literally underneath our feet.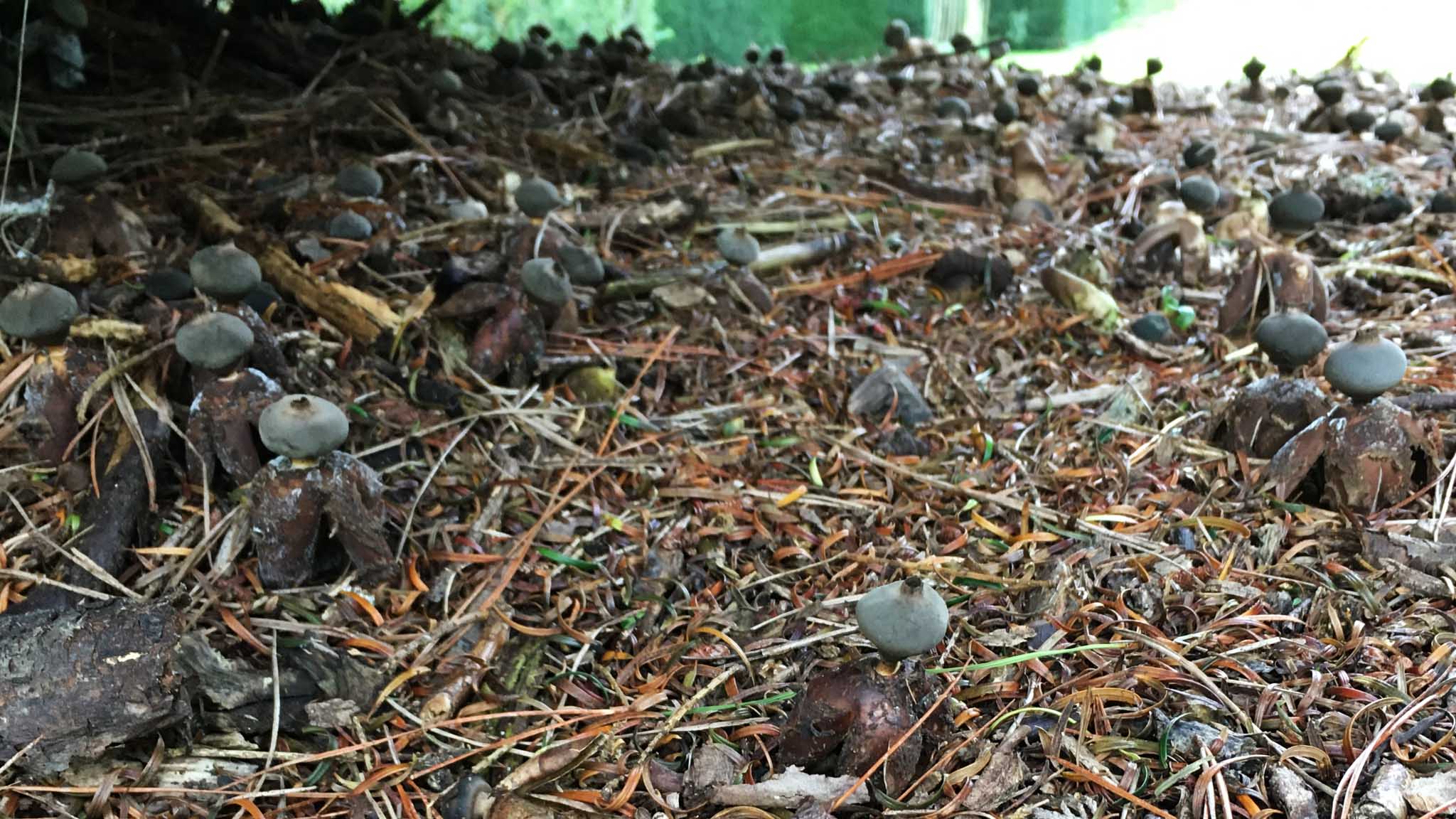 The wood chip, used to mulch the roots of these trees, came from a place where puffballs are common, and the spores might have inoculated the mulch. After taking several photos and explaining the characteristics of these and other species, Keith and Val invited me for a wander around the gardens.
As I was already soaked, I decided to go ahead without knowing how interesting it was going to be.
As I am more of a tree/woodland person, I tend to focus my attention on what is happening at and above my eyesight height, but how amazing was to see what was actually happening in the floor of the Dartington gardens.
Hundreds of fungi reproductive bodies were suddenly evident and after my sight was attuned to the fungi world, I was able to detect different specimens of the charismatic group.
We found several species of Armirallia or honey fungi, Russula species (an ectomycorrhizal fungus), slippery Jack mushroom (Suillus luteusI), fleecy milk-cap mushroom (Lactarius veleruis), and some other species that are in the queue to be identified.
It seems that several fungi enthusiasts have visited the gardens and are amazed by the huge variety of species.   We have now identified 19 varieties on the estate that are included in the International Union for Conservation of Nature's (IUCN) Red List under categories at risk of disappearing completely – that is a real conservation success story for the estate.
Keith and Val explained to me that this might be because the variety of trees and plants in the gardens has created a diverse association with fungi species. Around 360 species of fungi have been found just in the gardens!
Evidently the next topic of conversation was edible mushrooms. I knew from my degree course in mycology that, as humourist and author Terry Pratchett said: "All fungi are edible, but some fungi can be edible once."
Actually, not many species are particularly tasty, and most of them are called 'pot fillers', and even the edible fungi, can have different effects on people.
Foraging mushrooms is a tricky business and our policy at Dartington Trust is not to allow foraging unless it is for scientific, educational or conservation purposes.
The best-selling author Nicholas Evans,  author of The Horse Whisperer, along with members of his family, ended up in hospital after eating specimens of Cortinarius speciossimus which can cause kidney failure.
We have plans to develop a fungi tour in our gardens, together with a wildlife tour and several other conservation and ecology walks so keep an eye to our website.   Members have free access to our gardens all year round.
Love conservation and the natural world?
We're currently taking applications for our Holistic Science MSc at Schumacher College. At this moment of climate emergency, of extreme ecological and social challenges, this course questions the role of science as cause and solution to the world's problems. It presents a rigorous inquiry into the methods, techniques and philosophical underpinnings of science, to address whether they can take us beyond mere explanation to a deeper understanding of the world and our place within it. It asks if there is a way science could be done differently.