Audacity, Passion and Politics in the Written Word
An online writing course on nature...and human nature
BOOK NOW
Tuesday and Wednesday evenings from 2 – 24 November 2021
Online course with a mixture of 1:1 and group sessions
£270.00 (or £150 deposit, with the outstanding balance payable at the booking deadline specifed below). Short Course bursaries are available –
find out more here
.
About this course
This is an online writing course that seeks to address the sense of crisis that we are in, as far as the living world is concerned, and indeed as far as we humans are concerned. It will look to impart a sense of writing at the edge of time, how much it matters, how important it is to engage in the world through language which is inquisitive, significant, vivid and newly expressive. All levels of experience are welcome.
This course will hold at its heart the living world, and it will look at how very important writing is, right now. We will explore writers' tools, including research and editing, and will look at how to create narratives that draw in and engage the reader. We will also discuss how we use the personal voice, the motivation for writing, and the principle of seeing writing as something in service to the living world.
We will use a mixture of workshops, with all participants present, as well as one-to-one tutorials with the course leader for individual participants to talk about their own writing projects, and we will also use writing exercises as stimulation and writing prompts. We will discuss what makes good writing, and what fears prevent people from writing their best. The course will also involve short readings from books that are aimed at the core idea of the living world and human presence.
Who this course is aimed at
You have particular expertise or experience and could do with some help translating it onto the page. We will give you pointers.
You are part-way through a writing project and have got stuck. We will unstick you. Promise.
You have a book that has got out of hand and you can't rein it in. We will introduce you to the joys (yes) of editing.
You are on the edge of writing something, and are nervous of jumping right into the water. We will push you. Nicely.
submission of written work
If you have a sample of your work for Jay, please send it to brenda.nagy@schumachercollege.org.uk Pieces should be 2,000 words maximum and arrive at least one week before the course begins.
Pre-course reading
Why Rebel, Jay Griffiths, 2021
Pilgrim at Tinker Creek, Annie Dillard
The Book of Trespass, Nick Hayes
course schedule/format
Workshops (all students attend each session) – Tuesdays 2, 9, 16, 23 Nov, 7-9pm
You will be assigned one 20-minute 1:1 session with Jay during the course on one of the following dates – Wednesdays 3, 10, 17, or 24 Nov, 6-8pm
Celebratory reading of student work (all students attend) – Wednesday 24 Nov, 8-9.30pm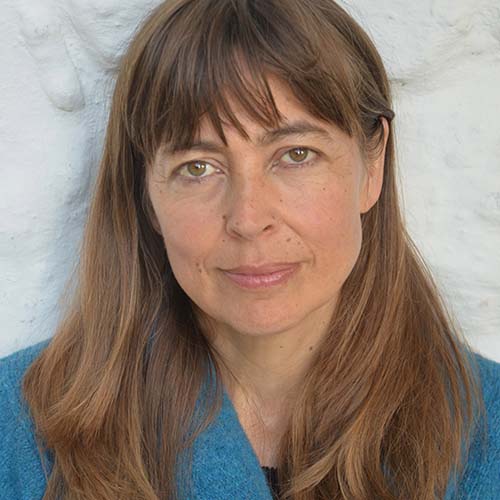 Jay Griffiths
Jay Griffiths is an award-winning writer, author of books including 'Why Rebel'; 'Wild: An Elemental Journey'; 'Kith: The Riddle of the Childscape' and others. She is a highly-experienced writing tutor.
Book now
*Courses are confirmed or cancelled based on the number of bookings approximately 6 weeks before the course start date. If the minimum number of bookings is achieved we confirm the course and sales continue. Courses are cancelled if uptake is below the minimum needed to run the course. Your deposit secures your place so please book early to avoid disappointment.
We are proud to be COVID-secure. Find out what we're doing to ensure you have a safe and enjoyable experience here >
Select a time below to begin your online booking. You will receive an e-ticket for this event. You are welcome to email us at shortcourseadmin@schumachercollege.org.uk with any queries you have.
---
---
Offer: Special rate for Dartington Members
Dartington Members will receive a 10% discount, applied when they log in during the checkout process. For more information about Membership,
click here
(opens in new tab).
Related Events
View All Schumacher College Short Courses