Blast from the Past: Syrinx
Details
Venue St Mary's Church, Totnes
Running time 120 minutes
Prices
Advance tickets £13 and Under 18s £5



On the door tickets £14 and Under 18s £5



Suggested age guidance 10+ years
Full details on booking and visiting

Next date 27th April 7:30 pm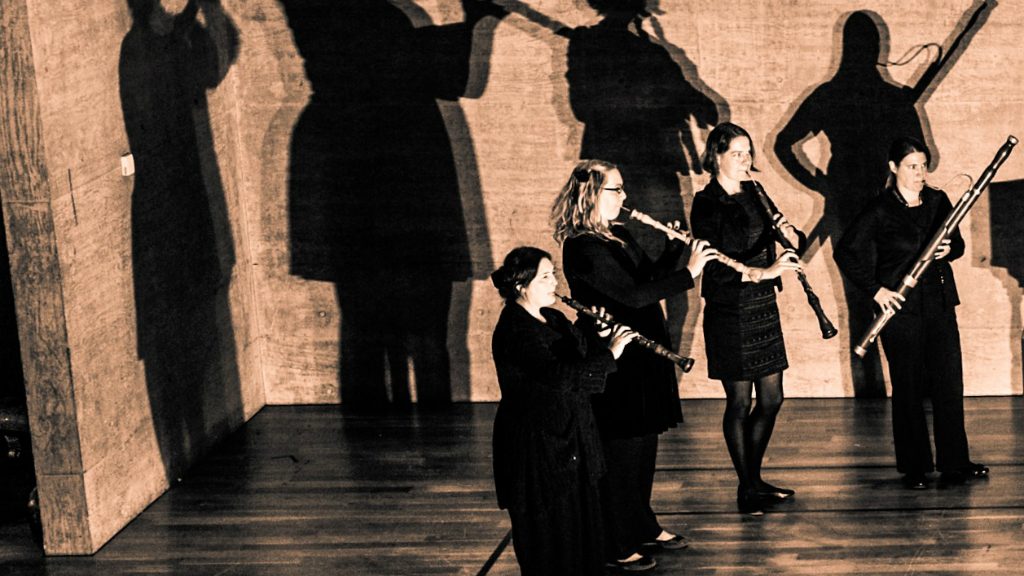 This concert is part of the Totnes Early Music Society Season 2018/19. Music for shawms, dulcians, oboes and bassoons from this outstanding wind band, a guaranteed good night!
From 14th-18th century, wind music could be heard everywhere from grand state occasions to the humblest village dance. Syrinx aim to recreate this impressive tradition playing shawms, dulcians, oboes and bassoons: their repertoire covers the rise of the professional wind band, with music from early anonymous masters, Dufay and Morley through to Handel and Telemann.
Syrinx received acclaim for their first album, The Saxon Alternative. Members play with leading period orchestras including the Academy of Ancient Music, The OAE, and the Akademie für Alte Musik Berlin, and in ensembles such as I Fagiolini, Mediva, Blondel and Concentus VII. Guaranteed to be a fun evening with a mix of sounds from the raucous to the refined!
This is the sixth and final concert in the new season from Totnes Early Music Society (TEMS) – see below for further concerts in this series. TEMS Members save at least one third on ticket prices: for more information see totnesearlymusic.org.uk.
Visiting Dartington Hall
At our 1,200 acre estate, based in South Devon, there's plenty to explore – from the natural beauty of the grounds, to our visitor attractions and year-round events programme. You can also make a stay of it with our historic hotel or campsite, and enjoy award-winning food and drink in our cafes and restaurants.
About us
Dartington is an old place with a new story.
The Dartington Experiment began in 1925 and was based on the idea that humans are many-sided – and how we need environments that encourage our whole being to flourish, in connection with nature and each other.
This idea is as true today is it ever was.