Blast from the Past: Syrinx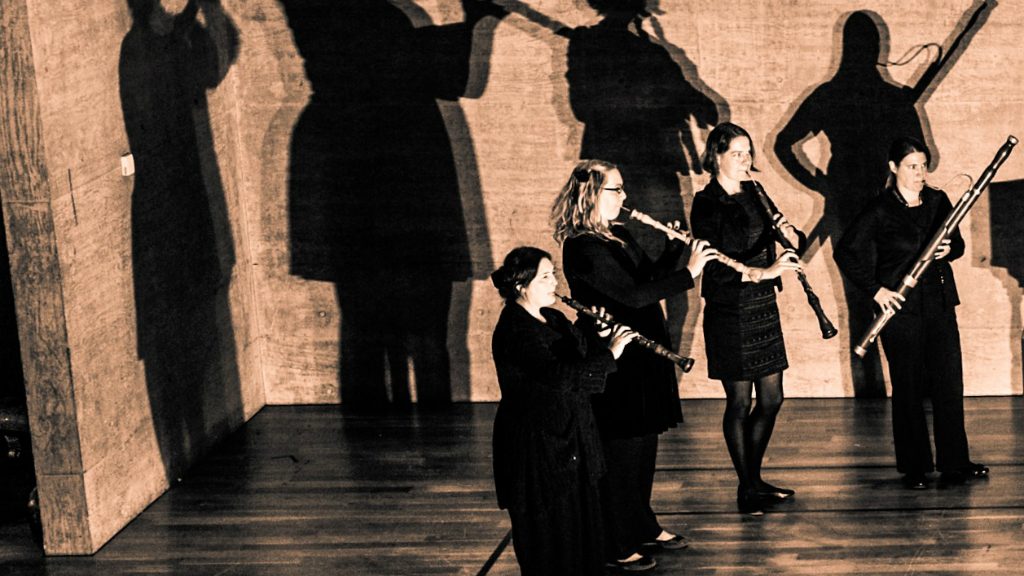 Venue St Mary's Church, Totnes
Running time 120
Prices
Advance tickets £13 and Under 18s £5



On the door tickets £14 and Under 18s £5



Suggested age guidance 10+ years
Full details on visiting Dartington

About this event
This concert is part of the Totnes Early Music Society Season 2018/19. Music for shawms, dulcians, oboes and bassoons from this outstanding wind band, a guaranteed good night!
From 14th-18th century, wind music could be heard everywhere from grand state occasions to the humblest village dance. Syrinx aim to recreate this impressive tradition playing shawms, dulcians, oboes and bassoons: their repertoire covers the rise of the professional wind band, with music from early anonymous masters, Dufay and Morley through to Handel and Telemann.
Syrinx received acclaim for their first album, The Saxon Alternative. Members play with leading period orchestras including the Academy of Ancient Music, The OAE, and the Akademie für Alte Musik Berlin, and in ensembles such as I Fagiolini, Mediva, Blondel and Concentus VII. Guaranteed to be a fun evening with a mix of sounds from the raucous to the refined!
This is the sixth and final concert in the new season from Totnes Early Music Society (TEMS) – see below for further concerts in this series. TEMS Members save at least one third on ticket prices: for more information see totnesearlymusic.org.uk.
Related events
---
More to Enjoy
---
About us
The Dartington Experiment began over 90 years ago when our founders, Dorothy and Leonard Elmhirst, set out to build a community inspired by the idea of a 'many-sided life'.
Today, we believe that their vision is more relevant today than ever before. We aim to be a place where people can realise their individual and collective potential, and are given a chance to connect with themselves, each other, and the environment.
Across the estate, a programme of events and visitor attractions operate year-round; artists, makers, farmers, educators, craftspeople and entrepreneurs live and work; and the community continues to 'learn by doing', finding inspiration in the Elmhirst's progressive ideas and experimental approach.
Find out more