Colour Works: exhibition of paintings by Anna Donaldson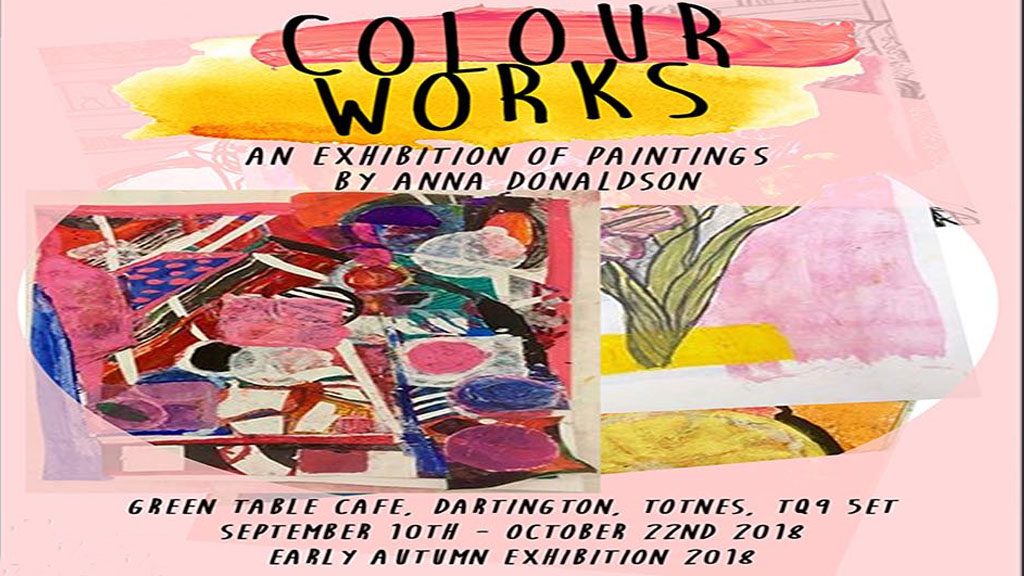 Details
Venue The Green Table
Artist(s) Anna Donaldson
When: Monday 10th September - Monday 22nd October, 9am-6pm
Prices
Free event
About this event
Colour Works is a selection of paintings on paper on themes ranging from buildings and interiors, to flowers and abstracts. All illustrate the increasingly distinct style of Anna's artwork – bold, brave and full of colour!
Anna Donaldson, 22, has been a young artist associate with Arts Lab since it started in 2016. The last couple of years have seen such a transformation in her creative ability that we wanted to celebrate her achievement with this exhibition.
Anna writes: 'When I work, I just go for it without thinking too much. I tend not to have any preconceptions and instead, enjoy just playing with the materials at hand. The sessions at Arts Lab have really boosted my confidence. Working in a big studio and learning from experienced artists in a place that I have always loved, has made me unafraid to try new things. Dartington itself has been a great place to be, always supportive of experimentation and with like-minded people.'
The place has been a focal point in her life since a child, most especially the river walks along the Dart and, more recently, the Dartington Live programme. For over 2 years now, Arts Lab has been a valuable resource for Anna: helping to build her portfolio of work for art college entry; providing work experience as workshop and social media assistant; enabling creative confidence through our programme of workshops and events.
'Freeing and full of surprises, I would wholly recommend signing up to any of the Arts Lab's workshops.' – Anna
All paintings in the exhibition are for sale. Anyone interested in making a purchase or speaking with Anna in person, please contact Anna on 01803 840926 / annalissadonaldson@gmail.com
About Arts Lab
Arts Lab CIC is an artist-run social enterprise that connects people with visual art and artists to help build happier and more connected communities.
Working in partnership with Dartington Arts from a large studio in the heart of the sumptuous Dartington Hall estate, Arts Lab provides a programme of events for all of workshops, exhibitions, talks and residencies, a research hub for artists, and outreach for youth, health and prison services, schools, colleges, refugee projects and local businesses.
Click here for more Arts Lab courses or find out more about the project at arts-lab.co.uk.
Related events
---
More to Enjoy
---
About us
Dartington is an old place with a new story.
The Dartington Experiment began in 1925 and was based on the idea that that humans are many-sided – and how we need environments that encourage our whole being to flourish, in connection with nature and each other.
This idea as true today is it ever was.
Find out more about what we do