Craft Revolution: Bookbinding with Mary Bartlett – 10-Week Course
Details
Venue Shippon Artists Studios
Running time 2 hour workshops minutes
Tutor(s) Mary Bartlett
Prices
Spring 2019 term: 10 sessions for £120 Summer 2019 term: (6 sessions for £60)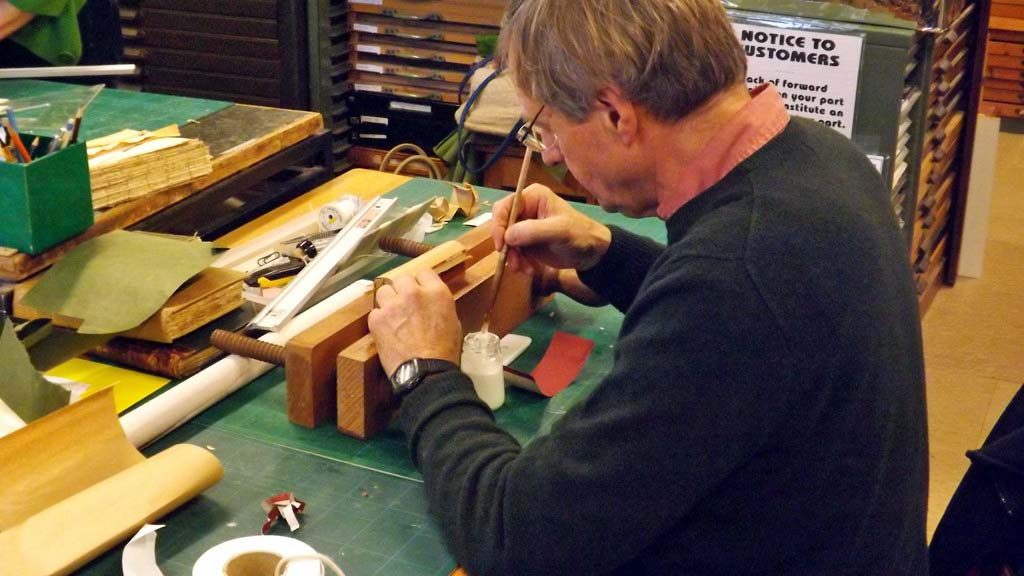 Learn the arts of lead and brass typography or embark on your own restoration project under the guidance of skilled tutor, Mary Bartlett.
Spring term starts week commencing 7 January 2019
Summer term starts week commencing 18 March 2019 (6 sessions for £60)
Classes on Tuesdays (2-4pm or 7.30-9.30pm)
Wednesdays (9.30-11.30am) or
Thursdays (9.30-11.30am or 2-4pm)
Enquires via info@dartington.org to Mary Bartlett
Students can choose to work on their own projects in restoration, artist books, boxes, portfolios or related subjects. There is a comprehensive library of reference books and numerous examples from non-Western traditions of bookmaking.
Regular newsletters are received from the Society of Bookbinders, the British Printing Society, the University of the West of England Books Arts, and the Illustrated Book Society. At the centre, the Society of Bookbinders offers specialist courses with visiting tutors, and students are encouraged to participate in the biennial competition and attend training conferences.
The classes are led by skilled bookbinder Mary Bartlett, author of several works including Inky Rags.
About the Craft Revolution
The Craft Revolution runs a vibrant programme of courses, projects, events and talks. It is a movement about making; a learning space, an ideas lounge, an action station. A story of 'doing' over 'not doing'.
Visiting Dartington Hall
At our 1,200 acre estate, based in South Devon, there's plenty to explore – from the natural beauty of the grounds, to our visitor attractions and year-round events programme. You can also make a stay of it with our historic hotel or campsite, and enjoy award-winning food and drink in our cafes and restaurants.
About us
Dartington is an old place with a new story.
The Dartington Experiment began in 1925 and was based on the idea that humans are many-sided – and how we need environments that encourage our whole being to flourish, in connection with nature and each other.
This idea is as true today is it ever was.