Craft Revolution: Build a Chair Intermediate Carpentry Course with Stefan Batorijs – 6 Week Course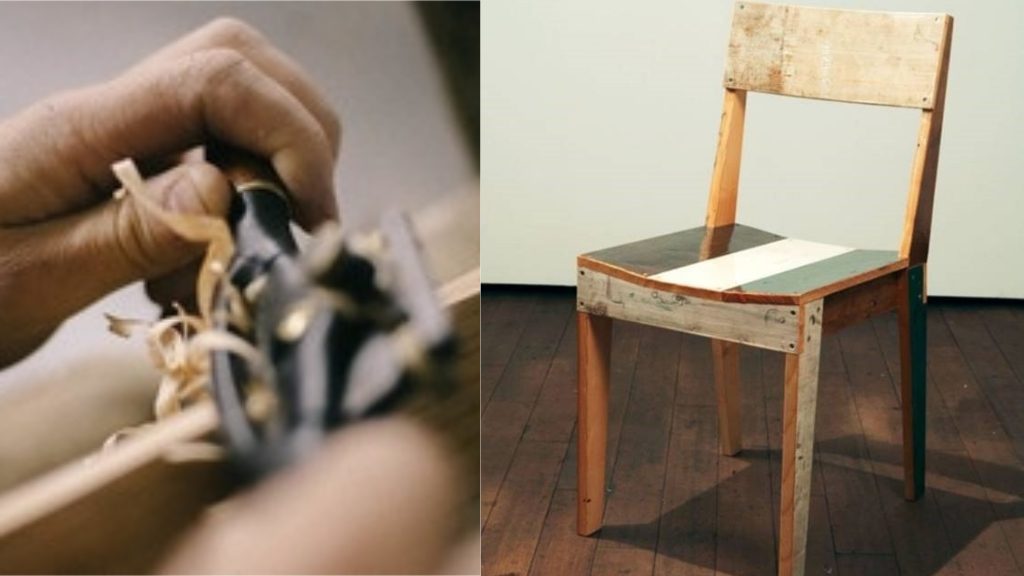 Wednesdays February 27th until April 3rd
6-9 pm

Develop your carpentry skills and learn to make a fabulous chair over the course of 6 weeks.
The Craft Revolution are huge supporters of the trash-to-treasure approach to design and making. Using repurposed, discarded and recycled materials is not only eco-friendly; giving new life to seemingly useless material, but provides a critique on modern consumer-based culture and individual value systems. In that spirit, here is a gorgeous chair course made from reclaimed timber.
This is an intermediate carpentry course for people who have had some introduction to carpentry.
Please contact Stefan to discuss stefan@natureandtherapy.co.uk
The chair pictured is a suggestion of what you could make)
Gift vouchers
Make someone's day (or even year) with the gift of a craft course! If you want to buy gift vouchers for this course or any other craft course please head to our Gift Voucher page.
Booking T&Cs
For more information, please contact: crafted@dartington.org
Advance booking only
Course details subject to change
Please note: 25% of your course fee is non-refundable should you need to cancel your place
About the Craft Revolution
The Craft Revolution runs a vibrant programme of courses, projects, events and talks. It is a movement about making; a learning space, an ideas lounge, an action station. A story of 'doing' over 'not doing'.
Offer: Special rate for Dartington Members
Dartington Members will receive a 10% discount, applied when they log in during the checkout process. For more information about Membership,
click here
(opens in new tab).
Visiting Dartington Hall
At our 1,200 acre estate, based in South Devon, there's plenty to explore – from the natural beauty of the grounds, to our visitor attractions and year-round events programme. You can also make a stay of it with our historic hotel or campsite, and enjoy award-winning food and drink in our cafes and restaurants.
About us
Dartington is an old place with a new story.
The Dartington Experiment began in 1925 and was based on the idea that humans are many-sided – and how we need environments that encourage our whole being to flourish, in connection with nature and each other.
This idea is as true today is it ever was.