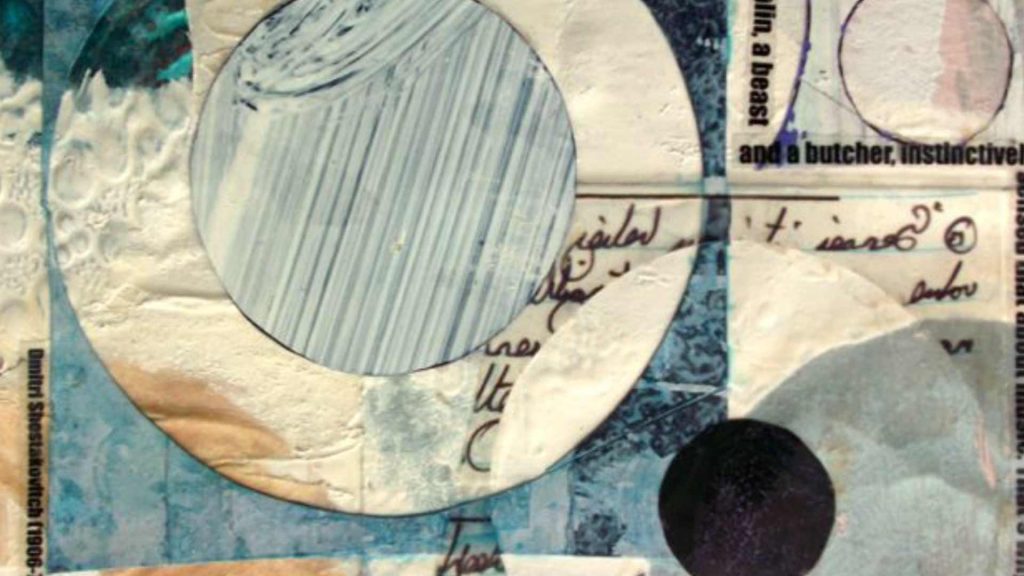 Venue Space: Garden Room Gallery
Artist(s) Sara Downham-Lotto
When: 27 July - 5 September, 9am-5.30pm each day
Prices
Free
About this event
Abstract paintings by Arts Lab's Sara Downham-Lotto made with, for and about music.
'What music can do is reinforce peoples' belief in themselves.
It reinforces peoples' hope in something bigger than themselves.
If they have that hope, they might work a little harder to solve some of the problems.'
– Joyce DiDonato 2016
Sara says:
It's important for my art to engage audiences in ways that take them away from the ordinary and every day. Shining a light on hope and difference, simple beauty is one way of making this connection. My approach is direct, honest and accessible. Through a personally evolved technique using collage and recycled paintings and focusing on colour and pattern, I try to create something fun, new and intriguing in each work.
Having had an early training in classical music in the eighties (French horn with Julian Baker of the RCM and Royal Opera) and subsequently studied Fine Art, my practice has always had a deep connection with music. Not only is there this recognition of shared values of the arts in instilling something of the transcendental. But more specifically, and very basically, the language is the same. If my paintings don't carefully consider nuance, contrast, rhythm and soul, then they have failed, just as listening to a piece of music or watching a film which does too much of one and not enough of the other would be boring.
The paintings in this exhibition all have a direct connection with music: intuitively responding to a Bach fugue or a Mahler symphony; incorporating in text what a musician might have written or said about his practice; sharing some of the formal values of what makes a good piece of work for both eyes and ears. My process is free and intuitive, starting quickly and becoming increasingly slow and deliberate as the piece comes closer to completion. I am entirely at home deconstructing, cutting up, scratching into and painting over in order to reconstruct and build back up to a harmonious whole.
About Arts Lab
Arts Lab is an artist-run project working in partnership with Dartington for artists, young people and the wider community to promote and benefit from the visual arts. Its mission is to transform lives so they exceed their potential and fall in love with their purpose through dynamic, experimental arts engagement working alongside professional artists. Arts Lab is closed for the August holidays, but will reopen in September with an all new Autumn programme which will be released soon.
Related events
---
More to Enjoy
---
About us
The Dartington Experiment began over 90 years ago when our founders, Dorothy and Leonard Elmhirst, set out to build a community inspired by the idea of a 'many-sided life'.
Today, we believe that their vision is more relevant today than ever before. We aim to be a place where people can realise their individual and collective potential, and are given a chance to connect with themselves, each other, and the environment.
Across the estate, a programme of events and visitor attractions operate year-round; artists, makers, farmers, educators, craftspeople and entrepreneurs live and work; and the community continues to 'learn by doing', finding inspiration in the Elmhirst's progressive ideas and experimental approach.
Find out more