Food Fair at The Shops at Dartington
Venue The Shops at Dartington
Event hosted by The Shops at Dartington
When: Sunday 27-Monday 28 May 2018
Prices
Free entry with £3 parking charge for the whole day.
About this event
Join us again for another fabulous Bank Holiday weekend filled with foodie fun for all the family!
Working alongside Food and Drink Devon, this events celebrates the very best of Devon's thriving food and drink community, with an emphasis on local, sustainable produce.
Enjoy exciting cooking demonstrations, tantalising tastings, street food, a variety of stalls by local producers and of course, plenty of local food and drink! Soak up the Bank Holiday atmosphere and celebrate the fabulous food that Devon has to offer!
With plenty of activities for both adults and children, including magic shows, face painting, pot-throwing, story-telling, craft activities and live animals to meet, there really is something for everyone!
On the menu at Food Fair 2018
Starters
Try before you buy – treat yourself to indulgent tastings in the Food Shop
Feeling lucky? Enter competitions available in various shops
Free glass engraving on Dartington crystal in the Glass Gallery on Monday 28th March
Enjoy three timed Magic shows per day
Make your very own amazing Putty plus Lego play pit and competition in the children's activity tent
Witness fascinating craft demonstrations in the Craft Centre – including artist participation with local artist Jo Mortimer!
Have a go pottery throwing with Crazy about Clay
Listen to live music – Spoil all of your senses with three bands playing on both days from 10am to 6pm
Caricature portraits 11-3 on both days
Fine art painting in the Mason-Laurence Gallery
Main course
Explore the Food Marquee that's filled with Devon delights to please your taste buds
Inspirational cooking demonstrations with local chefs and passionate producers
Be one of the first to taste the next edition of our Elmhirst Gin in the BRAND NEW Food Shop distillery
Let the fun be-GIN! Embark on our Gin Tasting Trail for the ultimate gin experience
Explore culinary diversity at its best in the Street Food area
Learn to be king of the grill with barbeque demonstrations at BIG-Fire
Foraging with expert Rachel Lambert the Monday
New for this year, the first ever Family Fun Run at Dartington! This must be booked in advance as numbers are limited. – click here to book
Desserts
Make an evening of it – The Courtyard Bar will stay open until 6pm on Sunday (until 5pm on Monday)
Luxury pop up Pizza evening from 6pm in Bayards Kitchen on Sunday – limited spaces!
Our 15 shops that make up the award-winning shopping village, The Shops at Dartington, will be open, providing seasonal food and drink tastings, special offers and exciting competitions!
---
Cooking demonstrations
Located in the demonstration area of the Food Pavilion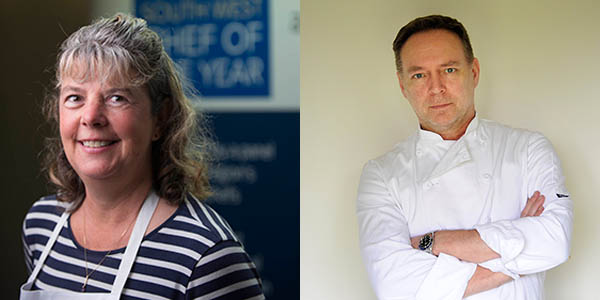 Sunday 27 May
11am – Sue Stoneman
South West Home Cook of the Year for two years running
12 – noon Ben Palmer
Proud owner of The Greedy Goose and acclaimed chef of Glazebrook House
1pm – Chris Sherville
Celebrated fine dining expert and private chef to the elite.
2pm – South Devon Pizza Co
The art of authentic pizza craftsmanship
3pm – Peter Alcroft
The skilled hand behind Artisan Chocolates Devon, Peter will be sharing the art of creating luxury truffles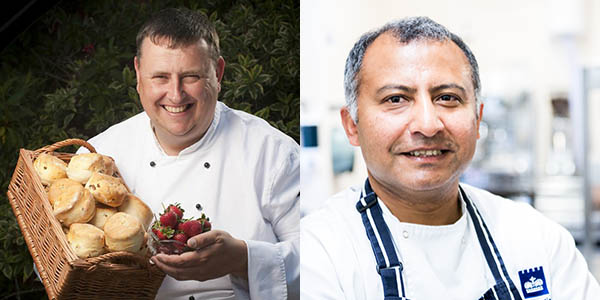 Monday 28 May
11am – Sue Stoneman
South West Home Cook of the Year for two years running
12 noon – Ankur Biswas
Head chef at The Royal Castle Hotel in Dartmouth, Ankur also boasts his very own product, Namoh Curry Sauce.
1pm – Chris Sherville
Celebrated fine dining expert and private chef to the elite
2pm – Susy Atkins
Renowned national wine correspondent, Susy Atkins, will be sharing her insights into the world of locally produced artisan drinks. Located in Devon Drinks.
2pm – South Devon Pizza Co
The art of authentic pizza craftsmanship
3pm – Richard Hunt
Cream tea connoisseur and founder of the Devon Scone Company
---
Key information
For information about getting to Dartington, click here. Parking charges will be £3 for the whole day and clear signage will be in place for Food Fair parking.
If you're a Devon food or drink producer who'd like to exhibit at Food Fair 2019, we'd love to hear from you – download a booking pack or email events@shops.dartington.org for more information.
All proceeds generated by the event go towards supporting The Dartington Hall Trust (a registered charity).
Mud Larks Fun Run
Join us for our first ever Mud Larks fun run at Dartington – guaranteed to leave you with a smile on your face! Book your place now
---
Related events
---
More to Enjoy
---
About us
The Dartington Experiment began over 90 years ago when our founders, Dorothy and Leonard Elmhirst, set out to build a community inspired by the idea of a 'many-sided life'.
Today, we believe that their vision is more relevant today than ever before. We aim to be a place where people can realise their individual and collective potential, and are given a chance to connect with themselves, each other, and the environment.
Across the estate, a programme of events and visitor attractions operate year-round; artists, makers, farmers, educators, craftspeople and entrepreneurs live and work; and the community continues to 'learn by doing', finding inspiration in the Elmhirst's progressive ideas and experimental approach.
Find out more