Julia Ponsonby and Colum Pawson. Facilitated by Caroline Walker
Schumacher College, Dartington Trust, South Devon
£385.00 (or £150 deposit, with the outstanding balance payable at the booking deadline specifed below). Short Course bursaries are available –
find out more here
.
Course fees include a two-night stay in private accommodation and all vegetarian meals from supper on the day of your arrival through until the lunchtime before your departure. Fee also includes any field trips, materials as well as all teaching sessions.
About this course
For our Gaia's Kitchen short course, we will cook together a menu of lunches and suppers using garden produce and including some favourite menus inspired by our college cookbooks. We will also prepare chutney, sauerkraut, minced fruit for minced pies and a fruit cake which can be eaten at Christmas.
October is a great time to start thinking about seasonal fayre. There is still lots of delicious produce coming in from the kitchen garden, as well as tasty apples and gorgeous squash in the store cupboard. In addition, there are the perennial dried fruits that make up much traditional Christmas fayre to call upon.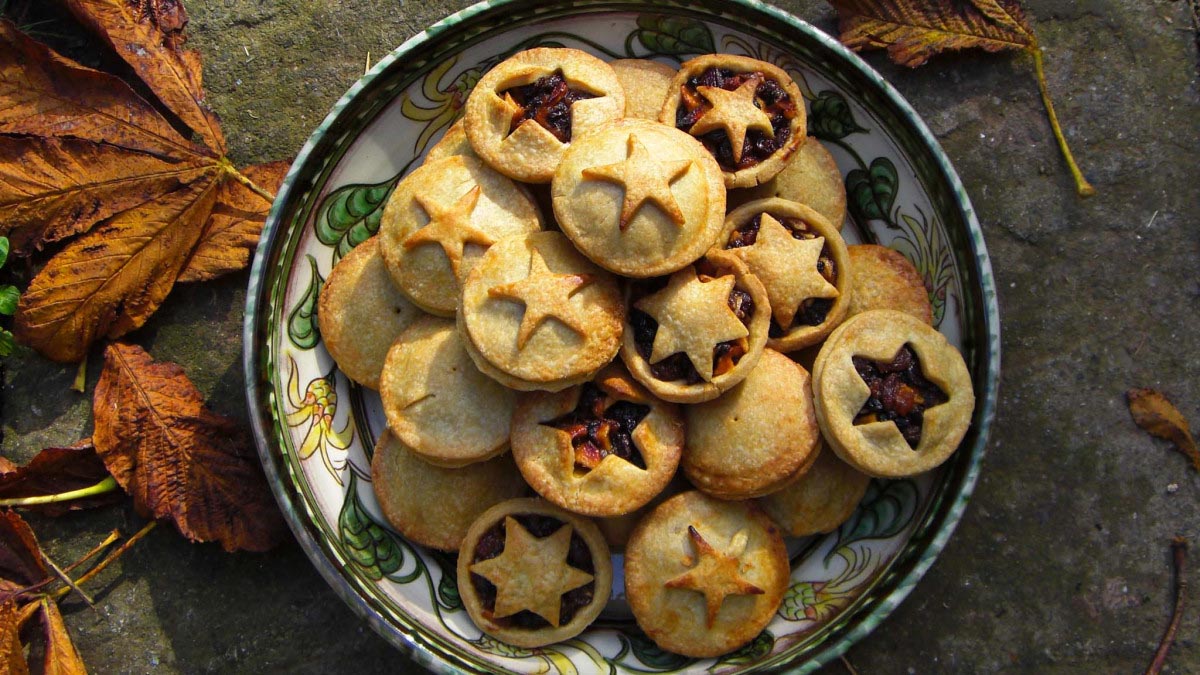 For our Gaia's Kitchen course we will cook together a menu of lunches and suppers using garden produce and including some favourite menus inspired by our college cookbooks – for our final meal we will prepare a cheese and nut roast which has become a favourite vegetarian Christmas entree for all participants coming to the college. In between preparing meals, we will also prepare chutney, sauerkraut, minced fruit for minced pies and a fruit cake which can be eaten at Christmas.
We'll cover bread including sourdoughs and show you how you can include some unusual ingredients in your bread – like roast squash. You will have the opportunity to work with our college chefs as well as spending time in the Schumacher gardens and Henri's Field with our experienced horticulture team gaining a few tips about planting and harvesting Gaia's produce. At the College we are able to provide half of the fresh food we cook from our extensive gardens which are run according to a variety of sustainable techniques.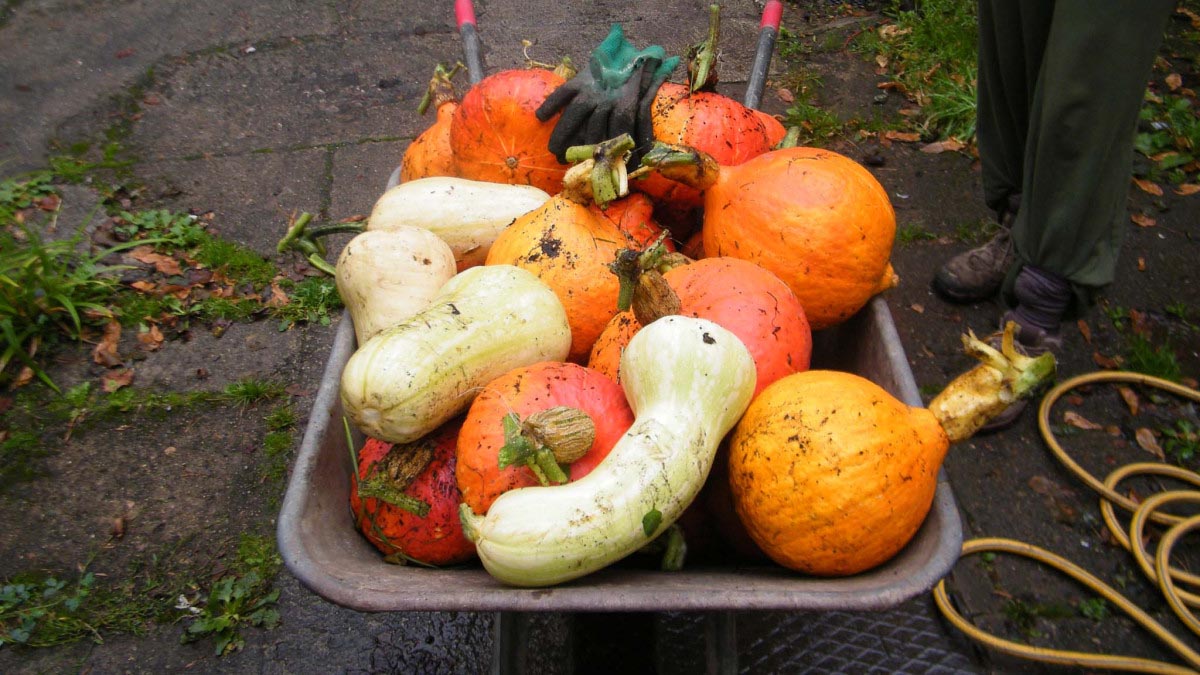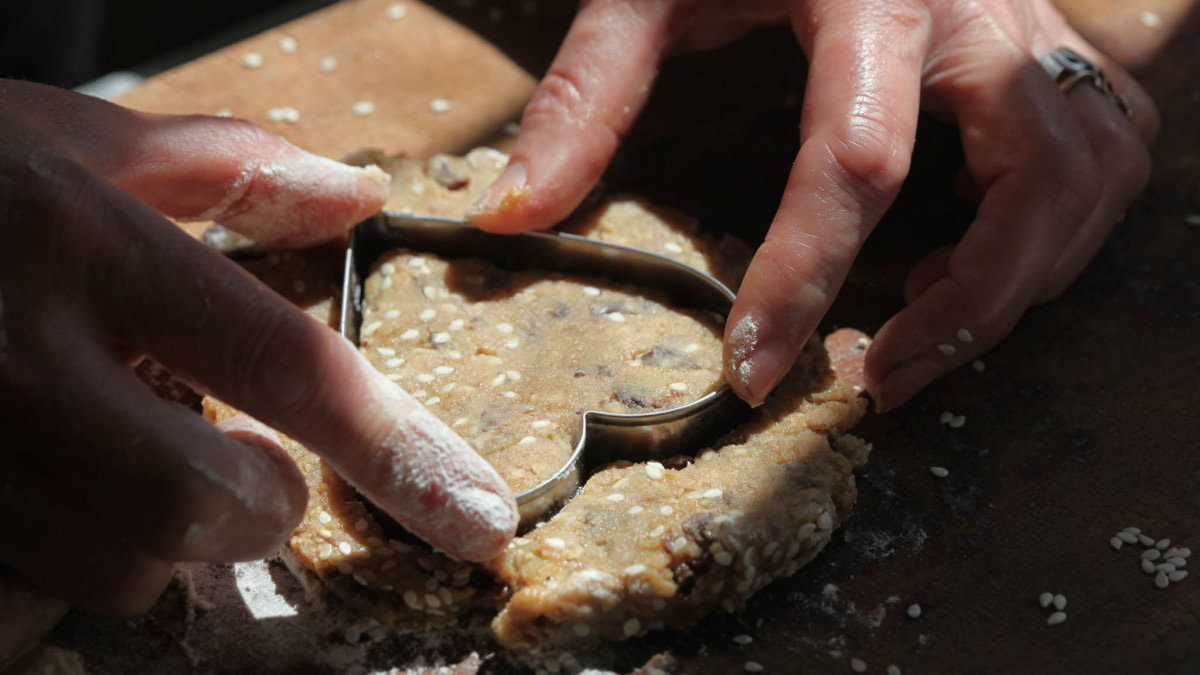 As well as polytunnels, a forest garden and perennial growing spaces we also have a 5 acre agroforestry field, where we combine tress with annual vegetable growing. On the course you will have a tour of the gardens with our Head Gardener Colum Pawson, do some gardening and harvest some of the produce you will be using while cooking on the course
WATCH
Get an insight into growing and cooking at Schumacher with these short films. (Please note that due to ongoing repairs to our Old Postern building, locations may differ for this course.)
Soil To Supper: Sustainability at Schumacher College
Inside the Schumacher College kitchens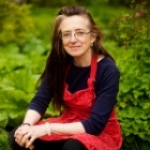 Julia Ponsonby
Julia has been at Schumacher College since it opened in 1991, when she was a student on the very first course (Gaia Theory 1991). As well as producing delicious meals for staff and students she has written a cookbook, Gaia's Kitchen, which won a Gourmand World Cookbook award for best vegetarian cookbook. She originally came to the College to deepen her knowledge of ecology so as to become a more effective member of the Green Party. She says: "It's exciting to see the importance of food (preparation, sourcing and growing) being put at the forefront of some of the cutting edge movements of today – the Transition movement and the Slow Food movement – and to realise that as a learning ground for holistic cooks, the College kitchen has a lot to contribute".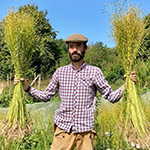 Colum Pawson
Colum manages the growing areas around Schumacher College and teaching our horticulture students. Born in Glastonbury, Somerset, Colum admits he is rarely happier than when in a muddy field. He has run a number of small agriculture businesses and also worked as a freelance horticulture consultant. He has run a market garden, worked with community supported agriculture, spent a year as part of an intentional community at Radford Mill, near Bristol, and WOOFed (worked on an organic farm) his way around France and Spain. His spare time is spent walking with his wife and two children, singing and improving his unicycling.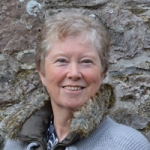 Caroline Walker
After eight years working in rural South India on village health and development projects, Caroline returned to the UK in 1987 to work at the Schumacher-inspired Small School in Hartland, Devon, where she taught for 14 years. Her MSc dissertation As if size mattered: education for sustainability and the human scale approach was published by South Bank University in the collection Journeys around education for sustainability (2008). For some years she worked for a regional regeneration programme, promoting a sustainable future for Devon market towns. A facilitator at Schumacher College since 2002, she is also a freelance writer, researcher and serial volunteer with local charities. She says: "For me, facilitation at Schumacher College is a wonderful opportunity to meet people from all over the world, and to work with participants and tutors to create a truly transformative learning experience. it's different every single time, but always inspiring".
Book now
*The booking deadline (see above) gives us an accurate idea of course participant numbers at approximately 6 weeks before the course is due to run, at which point we either confirm the course; add additional time for people to book; or cancel the course. We encourage people to register early for courses as places are limited.
We are proud to be COVID-secure. Find out what we're doing to ensure you have a safe and enjoyable experience here >
Select a time below to begin your online booking. You will receive an e-ticket for this event. Please note that individual orders will be restricted to six tickets per booking (on the assumption this rule will apply post-lockdown). No tickets will be available on the door as the box office remains closed due to Covid-19. You are welcome to email us at shortcourseadmin@schumachercollege.org.uk with any queries you have.
Offer: Special rate for Dartington Members
Dartington Members will receive a 10% discount, applied when they log in during the checkout process. For more information about Membership,
click here
(opens in new tab).