Gardening as a Spiritual Practice
Explore how gardening can feed the body as well as the spirit
BOOK NOW
Emma Clark, Satish Kumar and June Mitchell
Schumacher College, Dartington Trust, South Devon
£625.00 (or £150 deposit, with the outstanding balance payable at the booking deadline specifed below). Short Course bursaries are available – find out more here.
Course fees include private accommodation with shared bathroom and all vegetarian meals from supper on the day of your arrival through until the lunchtime before your departure. Fee also includes any field trips, materials as well as all teaching sessions. The programme will run from Thursday afternoon to Sunday afternoon. If you would like to take this course as a non-residential participant, please contact us via shortcourseadmin@schumachercollege.org.uk.
About this course
On this course, you'll experience gardening as a spiritual as well as a practical way of life, explore why humans are universally attracted to a beautiful garden, and understand the relationship between gardens, civilization, and the soul.
This beautiful course will help you to experience the Divine in Nature and will teach you how to recreate this in your very own garden. Satish Kumar will lead you on your personal journey to discover how we are all connected via the profound spiritual essence that is Nature and how, through gardening, we can connect intimately with nature.
Islamic garden designer Emma Clark will explore how gardening may be seen as a sacred art as well as the spiritual symbolism of the Paradise Garden. The course will also include walks around the beautiful Dartington Grade II listed gardens and Qigong bamboo exercises.
Join us and explore how gardening can feed the body as well as the spirit and gain not just pragmatic advice on gardening but also learn about heartfelt and heartful nurturing of the soul as well as the eyes and body.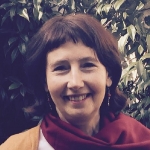 Emma Clark
Emma Clark designs gardens with a fundamentally spiritual and holistic outlook, undertaking them for private clients and public institutions, both in the U.K. and abroad. She specialises mainly in Islamic gardens, focusing on contemporary interpretations of traditional principles. She is Senior Tutor on the post-graduate Visual Islamic and Traditional Arts (VITA) Programme at The Prince's School of Traditional Arts, London (See 'Lectures/Teaching') Emma has published four books: The Art of the Islamic Garden; 'Underneath Which Rivers Flow', The Symbolism of the Islamic Garden; and two children's books, Mehmet the Conqueror and Sinan the Architect.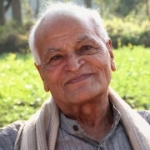 Satish Kumar
Satish is a former monk and long-term peace and environment activist. He has been quietly setting the Global Agenda for change for over 50 years. He was just nine when he left his family home to join the wandering Jains and 18 when he decided he could achieve more back in the world, campaigning for land reform in India and working to turn Gandhi's vision of a renewed India and a peaceful world into reality.
In 1973 Satish settled in the United Kingdom taking up the post of editor of Resurgence magazine, a position he has held ever since, making him the UK's longest-serving editor of the same magazine. During this time, he has been the guiding spirit behind a number of now internationally respected ecological and educational ventures including Schumacher College. Satish has authored numerous books including No Destination: Autobiography of a Pilgrim, Soul, Soil, Society: a new trinity for our time and most recently Elegant Simplicity: The Art Of Living Well.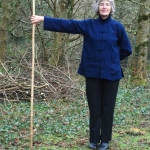 June Mitchell
The life-long partner of Satish, June Mitchell leads Qigong bamboo exercises.
Book now
*The booking deadline (see above) gives us an accurate idea of course participant numbers at approximately 6 weeks before the course is due to run, at which point we either confirm the course; add additional time for people to book; or cancel the course. We encourage people to register early for courses as places are limited.
We are proud to be COVID-secure. Find out what we're doing to ensure you have a safe and enjoyable experience here >
Select a time below to begin your online booking. You will receive an e-ticket for this event. Please note that individual orders will be restricted to six tickets per booking (on the assumption this rule will apply post-lockdown). No tickets will be available on the door as the box office remains closed due to Covid-19. You are welcome to email us at shortcourseadmin@schumachercollege.org.uk with any queries you have.
Offer: Special rate for Dartington Members
Dartington Members will receive a 10% discount, applied when they log in during the checkout process. For more information about Membership,
click here
(opens in new tab).