Friday 13 – Sunday 15 October 2023
 Dartington Trust, South Devon
Festival Pass – £215. Price includes:
– Wine tasting: browse and sip from a range of 100 Georgian wines
– Wine Masterclass: enjoy a deep dive into eight great wines with our Masters of Wine
– Traditional authentic Georgian Feast (Supra): bountiful Georgian food, with over 12 plentiful wines included.
– Access to Georgian Polyphonic Choral Music workshop
– Plus much more – see Event Programme for full details
Dartington Members get 10% off – find out more about Membership here
Can't do a weekender? You can also book events individually with tickets starting from just £10. See event programme below for details.
Please note that accommodation must be booked separately – see below for options.
About this event
You are invited to join us for an unforgettable weekend of wine, song and joy!
The country of Georgia in the Caucasus Mountains is often called 'The Cradle of Wine', and there is archaeological evidence of a continuous winemaking culture dating back 8,000 vintages.
Georgia has an incredibly rich culture, with unique styles of polyphonic singing, dance, poetry and myth. Georgian cuisine has been shaped by influences from Turkey and Asia, and displays a wonderfully diverse set of flavours, including the famous cheesy bread staple served with every meal, called 'Kachapuri'.
With over 500 unique grape varieties not found elsewhere, Georgian traditional winemaking techniques involve clay pots called Qvevri, and since their 'rediscovery' following their independence from the USSR, their wines are becoming revered around the world.
We are bringing all of this cultural and gastronomic richness to Dartington for an very special weekend that you will remember for years to come.
Please come and join in!
event programme
Three action-packed days of Georgian wine and culture, headlined by our lavish Supra (feast) in the Great Hall!
All the below events are included in your Weekend Pass. Some events are available to book on an individual basis – please see each event description for details.
Wine, song and stories
BBC journalist Natia Abramia, who has written books on the culture of her home country, hosts an evening of traditional storytelling, poetry, song, wine and street food in The White Hart pub.

Storytelling and poetry from 7:30pm to 8:30pm. Folk singing from 8:30pm to 9:30pm.
BOOK THIS EVENT
This event is open to all, no ticket required.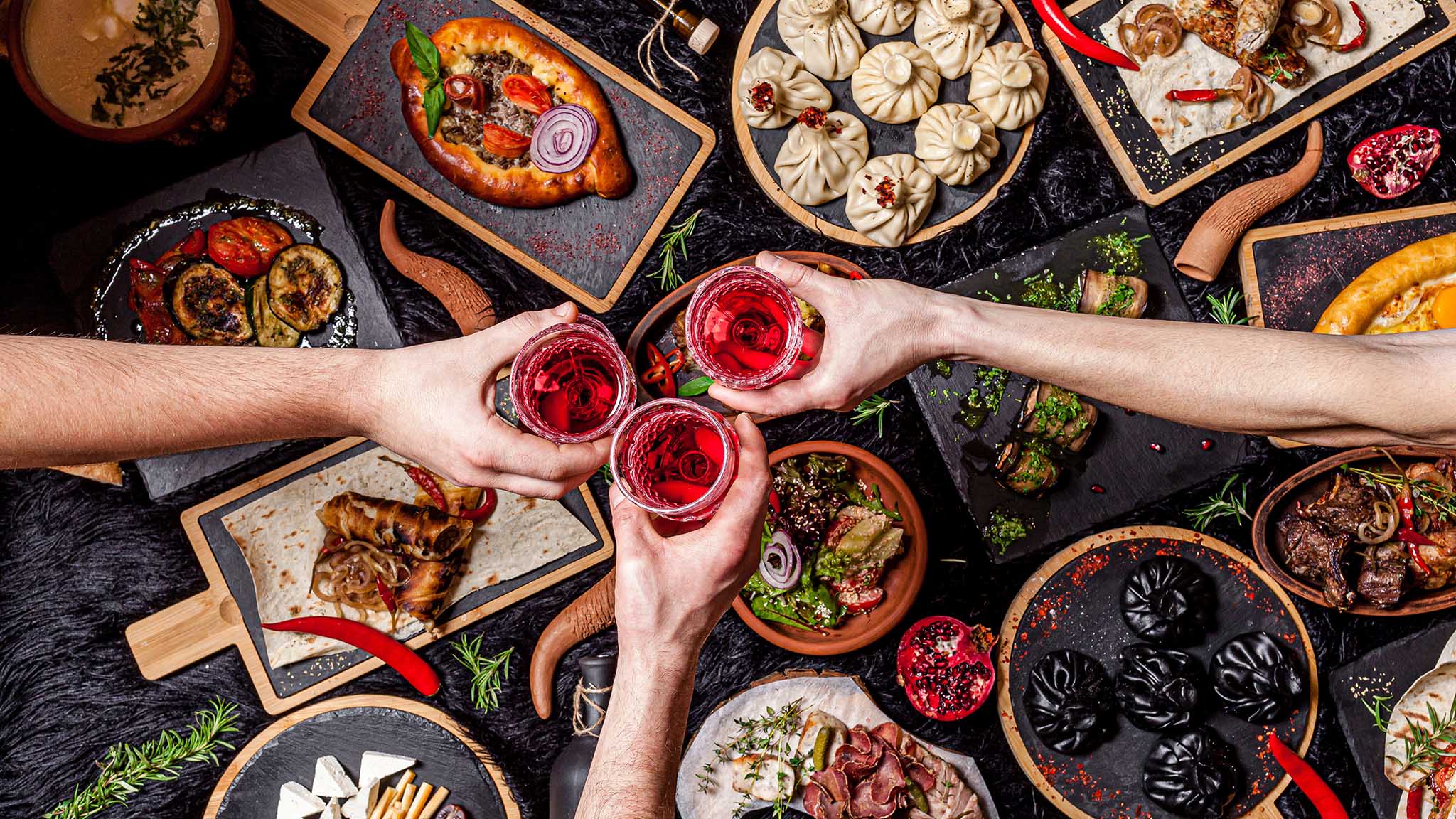 The highlight of the weekend! The Georgian Supra is a lavish feast and social gathering which combines great wine, delicious food, heartfelt toasts, traditional music, warm hospitality, and a sense of shared celebration.
You'll be treated to a wine flight with 12 wines included! 
It represents the essence of Georgian culture, emphasizing the importance of community, friendship, and the joy of coming together around a table.
We are truly delighted that the Supra will be bought to you by London's leading Georgian Restaurant, Kartuli. Their team of chefs draw inspiration from their experiences of family cooking – alongside an unparalleled understanding of the traditional cooking methods and unique flavours of Georgian cuisine.
Read more
Being part of a Georgian Supra is an unforgettable experience, and not only because of the endless rounds of delicious food and wine. The feast is a unique social gathering that holds a special place in Georgian culture.
The Supra is led by a "Tamada", which translates as "Toastmaster", who sets a relaxed pace of consumption, with a series of toasts on set themes throughout the feast.
Georgia's vibrant cuisine has been shaped by diverse influences from Asia, the Levant, Arabia and Turkey. Our Supra will feature some of the most famous dishes, including "khachapuri" (cheese-filled bread), "pkhali" (tasty vegetable and nut pâtés shaped into tasty little rounds), and "satsivi" (chicken in walnut sauce).
Wine is the drink of the Supra, and Amber qvevri (clay vessel fermented) wines are preferred because of their versatility with the different dishes that are served. You can expect a range of Georgian wines, from fruity and aromatic dry whites, to complex orange, and rich velvety reds.
GROUP OFFERS
Buy 5 tickets and get 1 free, or buy 8 tickets and get 2 free. Applies automatically at checkout.
The first 3 group bookings of 5 or more will receive a free box of 10 Georgian wines from Swirl Wine Group.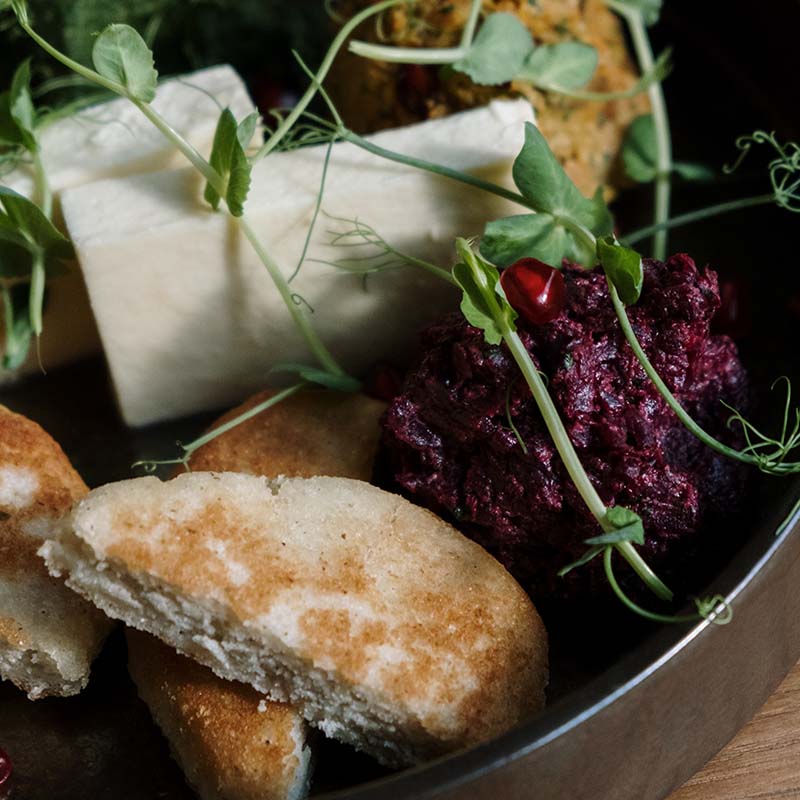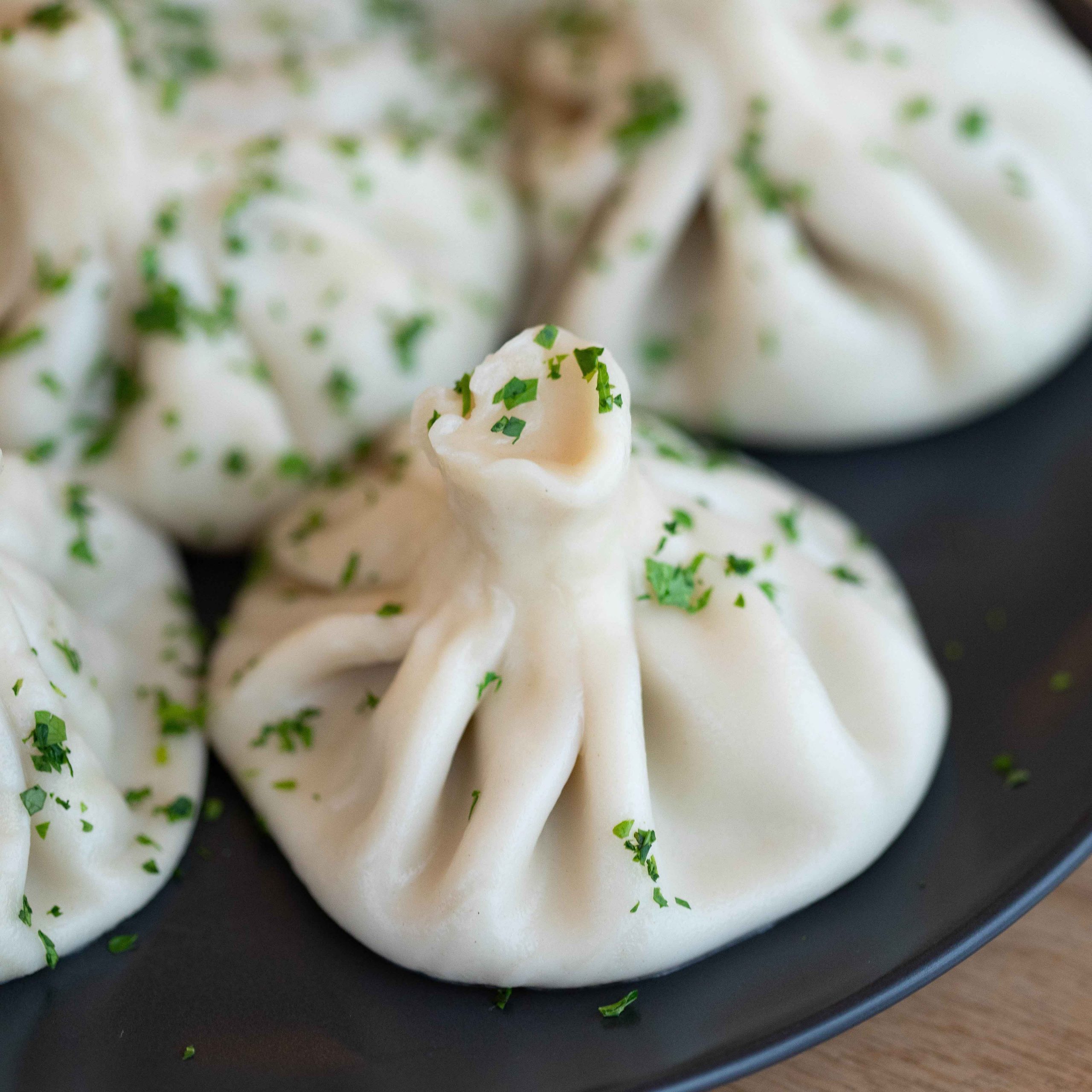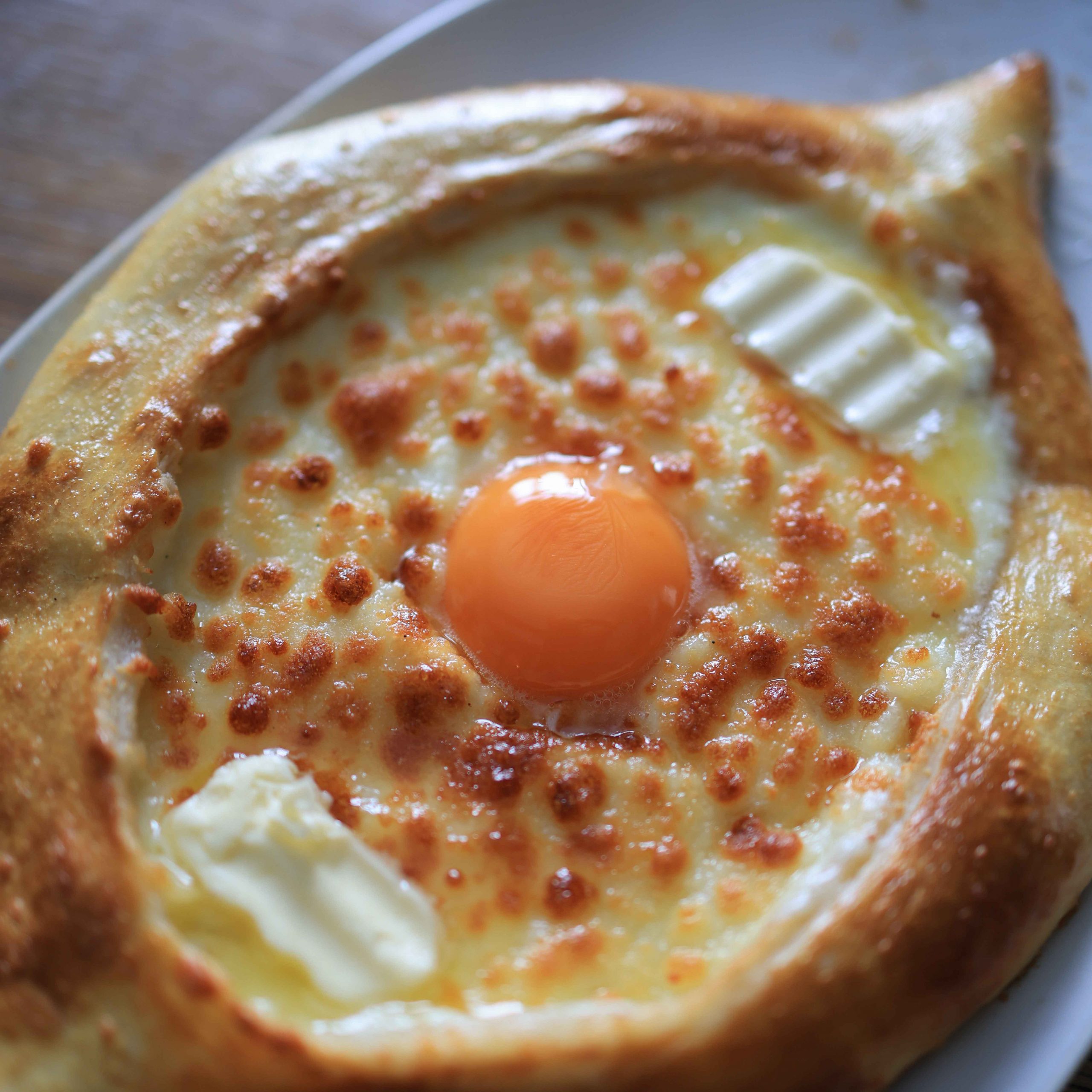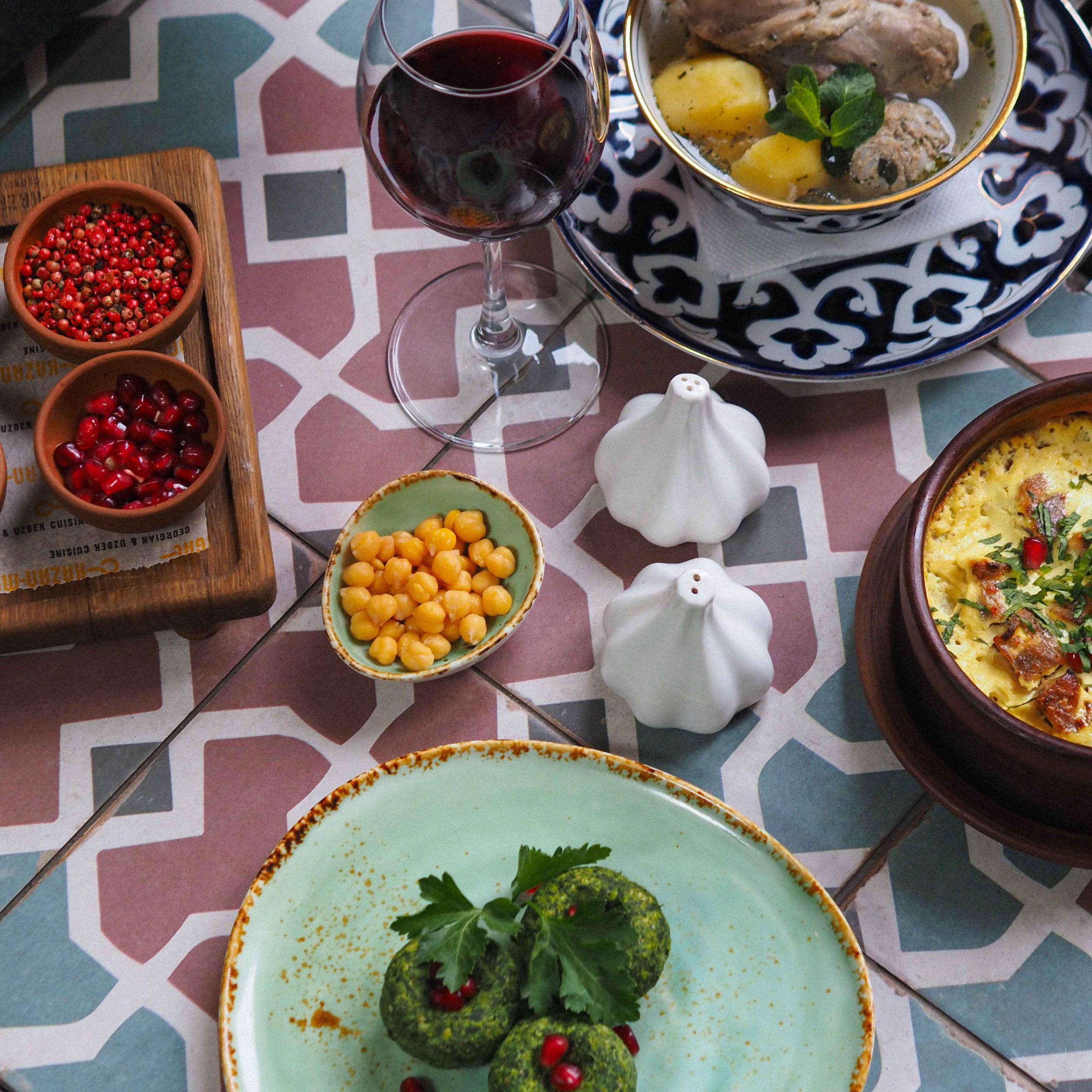 Georgian film: Dede [PG]
A young woman tries to defy centuries of strict tradition in her remote village in the Caucasus Mountains. Since its release in 2017, the film has won multiple awards including for Best Director, and Best Film.
We are delighted that director Mariam Khatchvani will be joining us for the screening and introducing the film. Khatchvani is the co-founder of Svaneti International Film Festival.
Sponsored by Teliani Valley.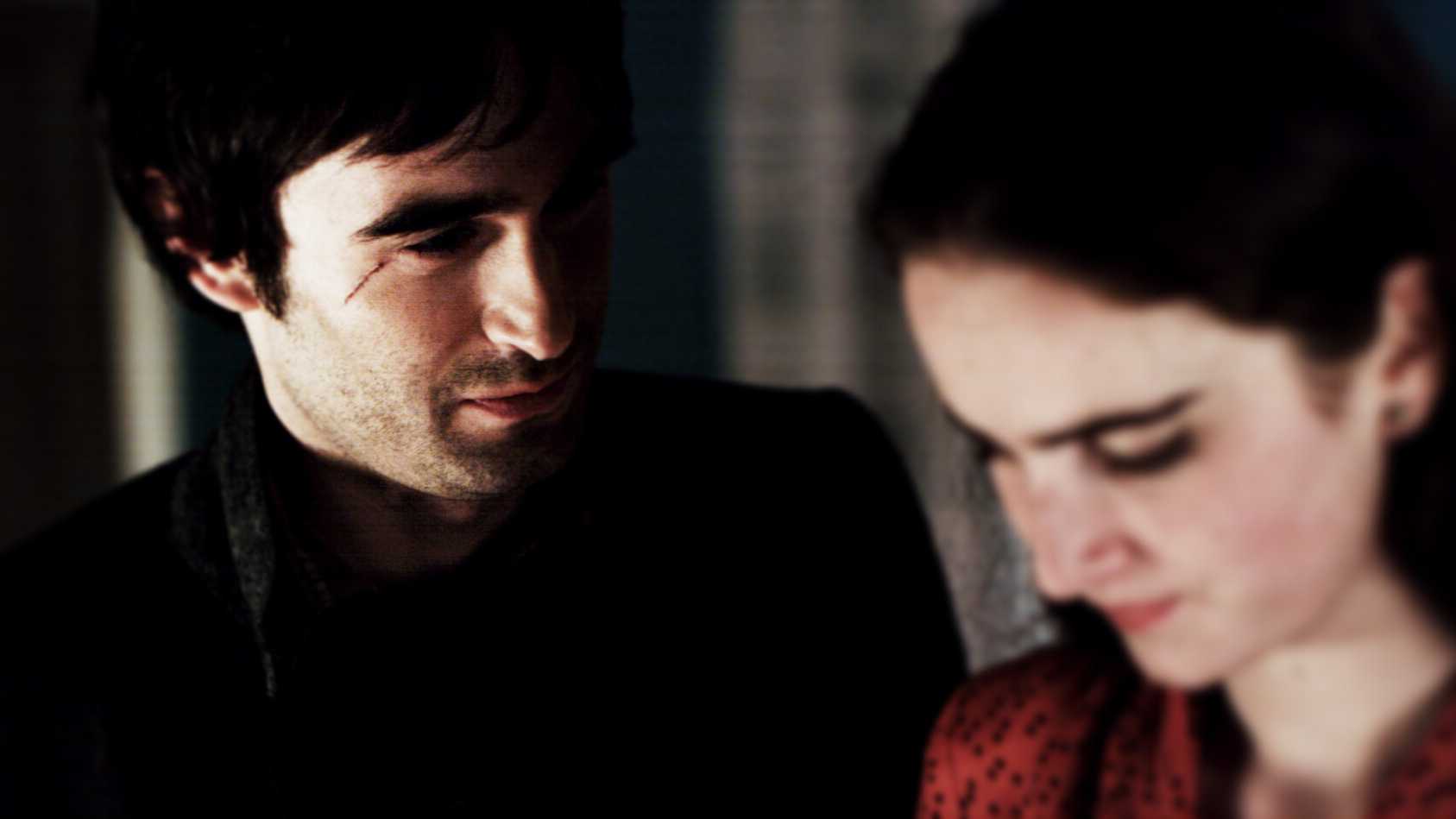 BOOK THIS EVENT
This event is free for all. Reserve your seat for 14 Oct, 3pm
saturday 14 & sunday 15 October
Georgian film: Shindisi [PG13]
Based on true events, this 2019 drama tells the story of soldiers and civilians in the sleepy village of Shindisi during the Russian military intervention in Georgia in 2008. After Russian forces sieged Georgian military, ordinary villagers risked their lives to save wounded soldiers.
Shindisi was awarded the Grand Prix of Warsaw International Film Festival in 2019 and Dito Tsintsadze was awarded Best Director.
Sponsored by Teliani Valley.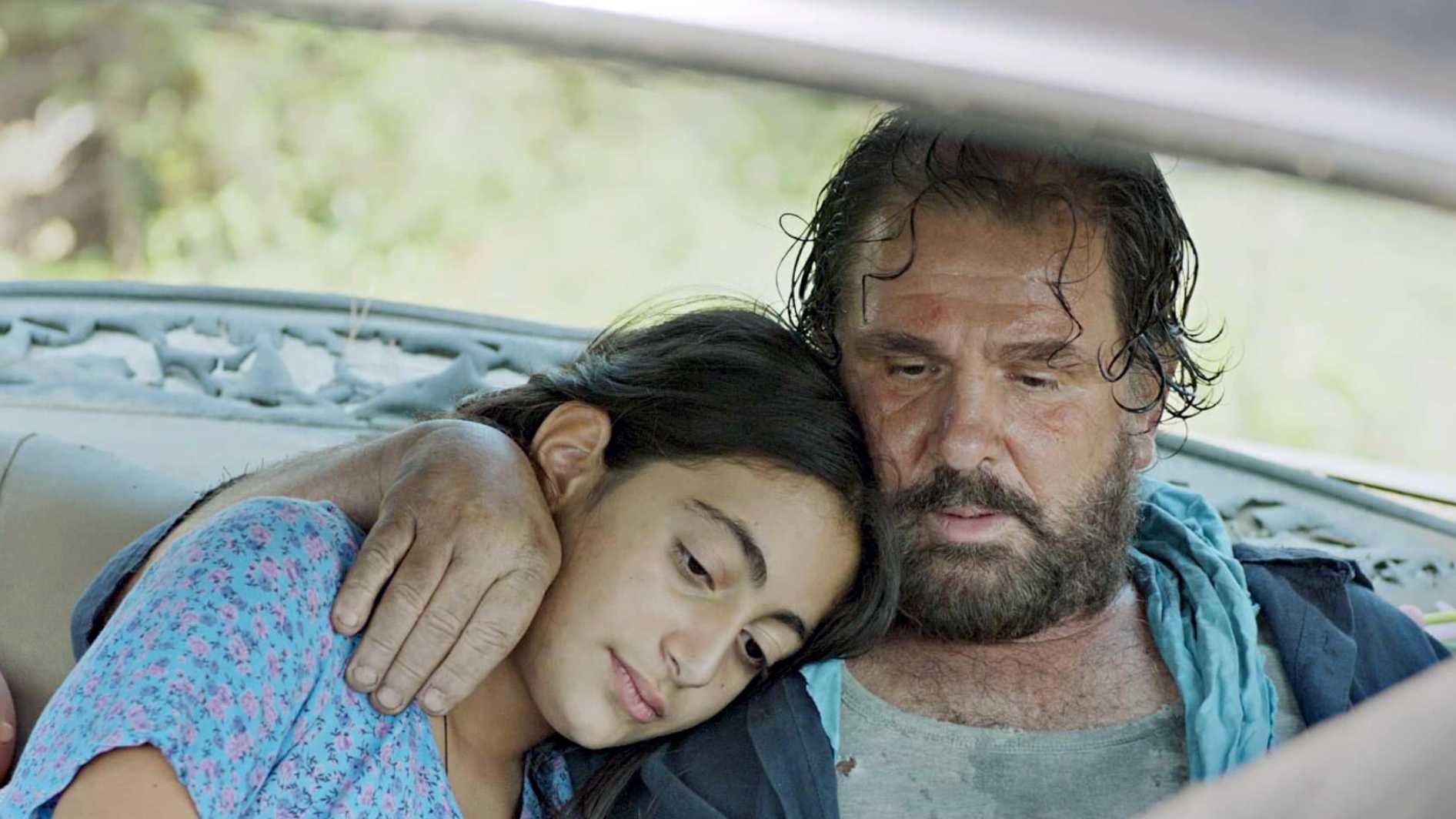 BOOK THIS EVENT
This event is free for all. Reserve your seat for 14 Oct, 5:15pm
Wine masterclass
The Georgian Wine Masterclasses, led by Masters of Wine Sarah Abbott and Justin Howard Sneyd, are a key part of the weekend's festivities.
Each masterclass will feature 8 beautiful wines that tell the story of Georgia's unique and ancient varieties, vineyards and winemaking methods.
Read more
The range of wines will have something for every taste. From fresh and aromatic Kisi (Georgia's answer to Sauvignon Blanc), to tawny spicy Amber wines made in Qvevri (Georgia's UNESCO recognised clay fermenting eggs). In reds, expect sumptuous Saperavi from the eastern slopes of the Caucasus, and lively, silky Ojaleshi from the high peaks of the snowy west.
The masterclass will be seated, and guests will receive a booklet and Georgian wine map to keep.
The session will include slides of the culture, the stunning scenery, information about each wine and images of the vineyards and producers behind them.
about justin and sarah
Justin Howard Sneyd MW
Justin is Dartington's Associate Director of Wine and leads our popular courses on winemaking and regenerative viticulture. A well-known leader and mentor in the world of wine, Justin also consults to a wide range of international clients, sourcing wine and advising them on how to optimise their wine businesses. Prior to his career as a consultant, Justin spent 17 years as a wine buyer in the UK off-trade, including leading the Wine team at Waitrose. His interest in Georgia began when, as a supermarket buyer, he was one of the first to add Georgian Saperavi and Rkatsiteli to the range. Since then he has visited Georgia's wine regions several times, as well as heading up into the trekking paths of the Svaneti mountains for (wine-lubricated) holidays.
Sarah Abbott MW
Sarah is one of the UK's foremost experts on Georgian wine. A marketing specialist, wine judge, and educator, she advises the Georgian government on building connections and business for Georgian wine in the UK. First attracted to Georgia by her interest in ancient civilisations, she believes Georgia one of the most dynamic and interesting new-old wine regions of the world. She presents frequent masterclasses and training courses on Georgian wine, and visits Georgian wine regions several times a year for both work and pleasure.
Wine tasting
The Georgian Wine Festival is a walk-around wine festival of one hundred great Georgian wines.
This is an informal tasting hosted by the importers and producers of Georgian wine, at which you can browse different tables, taste an incredible range of Georgian wine, ask questions from the experts, and even order wines that take your fancy.
Read more
On arrival, you will be given your wine glass and a tasting booklet with useful information on the wines and makers. You set your own pace, browsing and tasting at the tables that take your fancy, and exploring the wines. The range of Georgian wine available in the UK has expanded greatly in the last 3 years, and this is a great opportunity to meet the specialist suppliers who are their champions.
The wines shown will range from light and breezy dry whites, perfect for mid-week sipping, to serious premium reds built for long-term ageing. There will also be some of Georgia's trademark orange wines made in qvevri – the clay egg-shaped fermenting vessels in use in Georgia for 8,000 years, and recognised by UNESCO as intangible cultural heritage. You can also expect sparkling, rosé and sweet reds, perfect for sipping with cheese, or chocolate.
Tasting Georgian snacks will be available to keep you going and show the affinity of Georgian wine for food.
Masters of Wine Sarah Abbott and Justin Howard Sneyd will host wine walks through the day, visiting each table and highlighting their picks from each.
food tastings
During the course of the weekend, in addition to the Supra on the Saturday night (see above), there will be the chance to sample various Georgian culinary traditions, such as Churchkhela – walnuts and hazelnuts dipped in a sweet grape juice paste – and one or two different varieties of Georgian bread-making.
Destination Georgia
A space dedicated to highlighting the entourism, eco tourism and cultural tourism opportunities in Georgia.
Everyone welcome, no ticket required.
Polyphonic singing workshop
Georgia has a rich and vibrant tradition of music, which is known as arguably the earliest polyphonic tradition of the Christian world.
In our 90 minute workshop, you will be guided by choirmaster Anthony Johnston to learn the basics of singing together in harmony, and sing through some simple Georgian songs.
Suitable for beginners and those with previous singing experience.
Read more
Popular singing has a highly valued place in Georgian culture.
Polyphonic singing, in the Georgian language, is a secular tradition in a country whose language and culture have often been oppressed by invaders.
There are three types of polyphony in Georgia: complex polyphony, which is common in Svaneti; polyphonic dialogue over a bass background, prevalent in the Kakheti region in Eastern Georgia; and contrasted polyphony with three partially improvised sung parts, characteristic of western Georgia.
Some of these songs are linked to the cult of the grapevine and many date back to the eighth century.
Traditional Georgian music is under threat, thanks to a exodus from the rural population and the increasing popularity of pop music. UNESCO has recognised Georgian Polyphonic singing as an intangible cultural heritage of humanity, in order to try to preserve the traditions.
As well as this chance to have a go yourself, you will be able to enjoy performances of Georgian singing from a professional choir throughout the weekend.
Traditional Georgian Music
Award-winning Georgian vocal ensemble, Shvidkatsa, will perform a mix of traditional polyphonic, ancient folk and church songs throughout the weekend.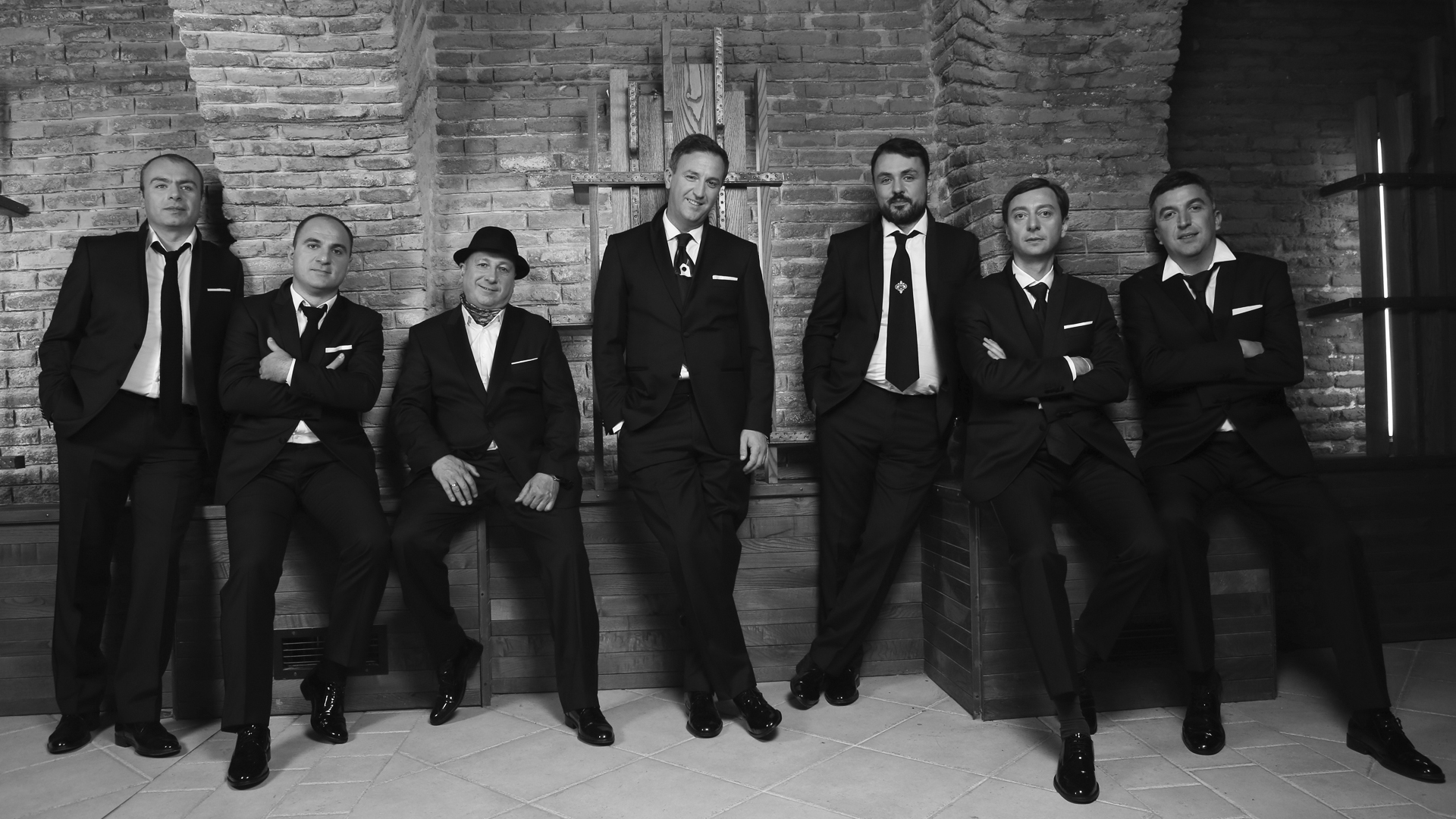 Georgian Dance workshop
Georgian traditional dance is an integral part of the country's cultural heritage and has deep connections to Georgian wine. Both are often celebrated together during various events and gatherings.
Shalva Kavtaradze, choreographer of the London based Georgian dance group LILEO, will teach you the basics of traditional Georgian dance, as well as some regional folk dances.
Saperavi harvest in Telavi
view of Racha vineyards and fields
Punching down the cap in a qvevri (image: Miles Willis)
Qvevri cellar (aka Marani) at Nekresi
You'll need to book your accommodation in addition to your Festival pass.
Our historic Courtyard Rooms offer comfort and privacy in the heart of our venue. On booking your Festival pass, you'll receive an email with a private link to allow you to book a room, if you wish.
Alternatively, our cosy Glamping Pods are a short walk away. Both are limited availability, so book soon to avoid disappointment.
Totnes is a five-minute taxi journey away – head to visittotnes.co.uk to explore options.
Our 1,200-acre estate in situated in the South Hams, Devon. 
Ample parking is available and Totnes Train Station is just a mile away. 
For longer visits, Dartington is the ideal base for exploring Dartmoor, the beaches of the English Riviera, and a wealth of vibrant, beautiful towns and villages – including, of course, Totnes itself.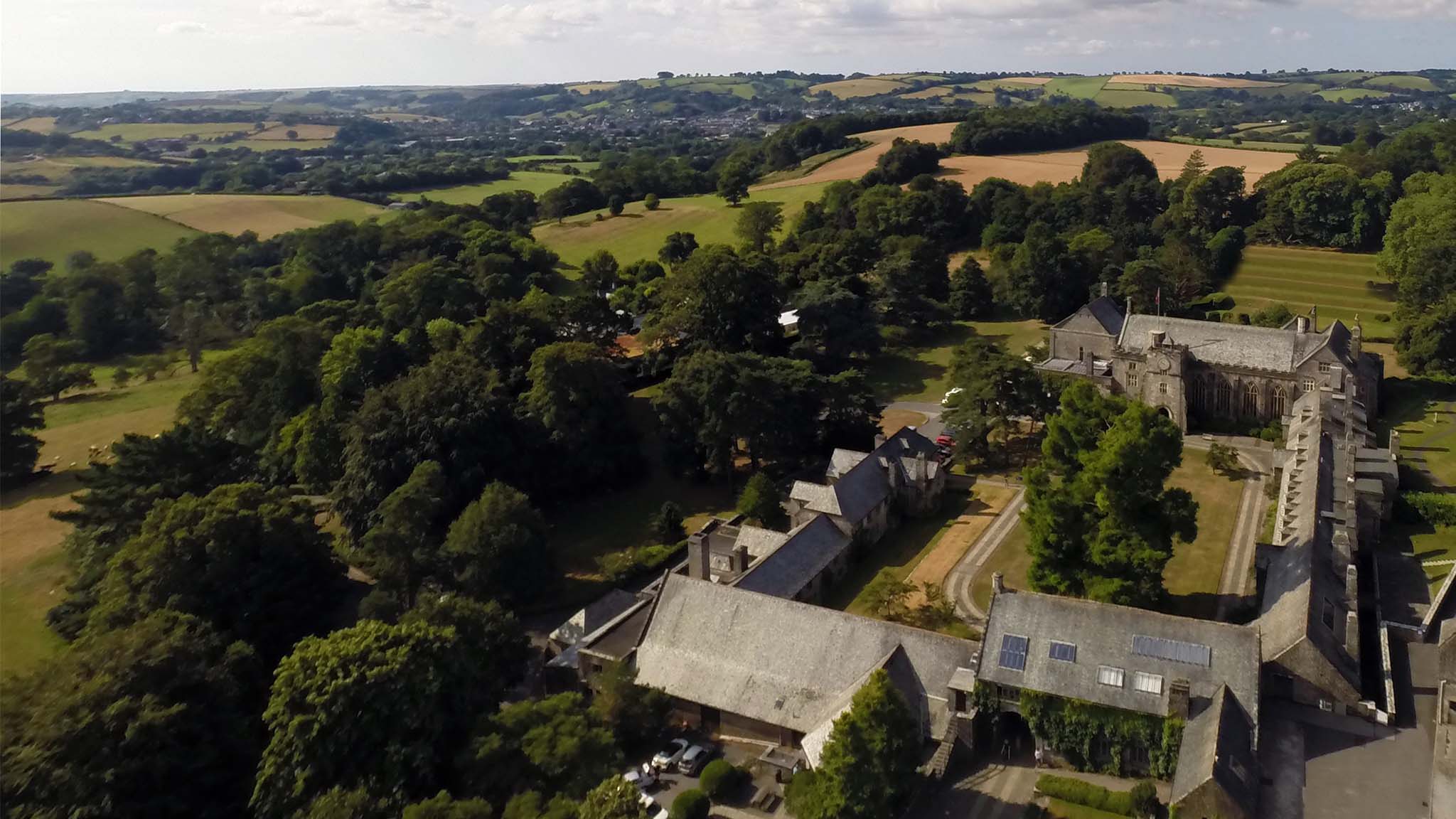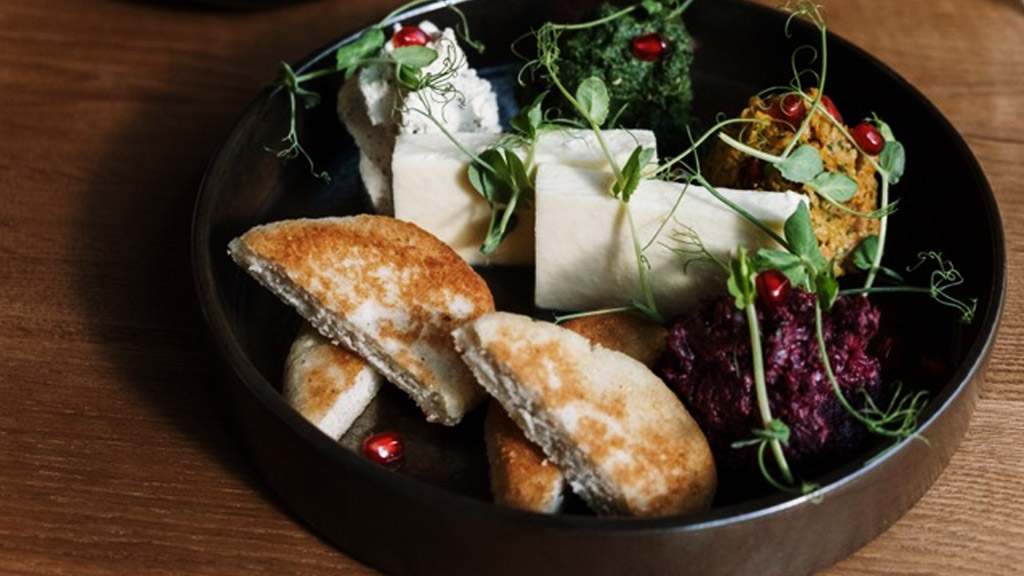 In addition to the Georgian delicacies planned for the festival – including our showpiece Georgian Feast event – you'll be able to enjoy the very best of the south west, thanks to our award-winning teams in our White Hart pub and Green Table café.
Book now
Click below to begin your online booking. You will receive an e-ticket for this event.
If you are a Dartington Member, your 10% discount will apply automatically when you log in during checkout.
You are welcome to email us at boxoffice@dartington.org with any queries you have. Full T&Cs >
…or book individual Festival events:
Supra Feast: £125, 14 Oct, 7pm
Wine Masterclass: £45, 14 Oct, 10am or 15 Oct, 10am
Wine Tasting: £15, 14 Oct, 12 noon or 15 Oct, 12 noon
Polyphonic Singing Workshop: £10, 14 Oct, 10am or 15 Oct, 10am
Teliani Valley
From humble beginnings in a converted car workshop, Teliani's tremendous vineyards and winemaking skill have seen them go from strength to strength. They are now one of the biggest and most influential producers in Georgia.
Instagram: @telianivalley
Tbilvino
Based in Kakheti (the heart of Georgian winemaking), Tbilvino marries ancient techniques with modern expertise. Their wines embody exceptional quality and have led the way for Georgian wine in the UK, with bottles available in Majestic and M&S.
Instagram: @tbilvinowines