How We Remember the Wildest Songs of Ancient Land
Explore the raw earth of these islands from an ancient moorland farm
BOOK NOW
Carolyn Hillyer and Nigel Shaw. Facilitated by Fiona Tilley
Schumacher College, Dartington Trust, South Devon
£785.00 (or £150 deposit, with the outstanding balance payable at the booking deadline specifed below). Short Course bursaries are available – find out more here.
Includes accommodation, and all vegetarian meals from supper on the day of your arrival through until the lunchtime before your departure.
About this course
Will you reach for this primordial memory that long time ago belonged to you?
Will you hold this powerful intuition, for once you knew it to be true?
Will you trust to this unfettered spirit, for it is free and surely yours?
Will you take this ferocious courage left for you by those who came before?
This workshop journey, created and guided by Carolyn Hillyer (Dartmoor writer, artist, musician, drum maker and teacher) and Nigel Shaw (Dartmoor composer, musician, flute maker, and teacher) takes place at both Schumacher College and on their ancient farm in the heart of the moors.
It will offer a richly-textured weave of ancestral resonance, drum, flute, song, mythic tale, ancient imagery, intuitive ritual, totemic craft and teachings born from the raw earth of these islands. The workshop will be facilitated, kindled and tended by Fiona Tilley.
Day 1: with Carolyn and Tilley at Schumacher College.
How we become vessels of the wildest songs? How do we find and follow hidden ancestral tracks across the land? How do we braid those anciently rooted threads of understanding into new dynamic cloth? A day of introduction, preparation and teaching circles for the week ahead. Working with ritual drum and chant (including ancestral language) as well as oracle, intuitive understanding and threshold initiation.
Day 2: with Carolyn, Nigel and Tilley at Schumacher College.
This is a day of making ceremonial instruments for music and sacred sound. Participants will be divided into two groups, each working with Carolyn or Nigel in turn. Nigel will teach the crafting of wooden bowl or owl flutes, using Dartmoor-sourced birch, yew and oak wood. Carolyn will guide the making of reindeer bone ancestral sound scrapers, using bone from the Sami community in Arctic Sweden. The two instruments will be used by participants during pilgrimage and ritual on the moor.
Day 3: with Carolyn, Nigel and Tilley at Lower Merripit Farm, including night vigil
The morning will consist of a journey into the open moor to a remote Neolithic shrine to explore sacred sound in the wild landscape and within ancestral ritual space. The afternoon will offer teaching circles at the farm and further preparations for the night vigil and ceremonies. Participants will share in the preparation and cooking of ritual food then enter the ceremonial roundhouse at the farm to begin a night of dream, vigil and experience of this wild sanctuary place. There will be the chance to sleep for some period in the Deer Camp (Arctic style choom tent) in between periods of vigil around the ancient roundhouse hearth.
Day 4: day with Carolyn, Nigel and Tilley at Lower Merripit Farm, including dawn ritual. Evening with Tilley at Schumacher Collage.
Dawn will bring us to the hill stream for a ritual cleansing. The morning will offer a gentle resting and quiet assimilation of the night's journey, following by a sharing circle in the afternoon and group completion of the workshop experience. After a closing ritual participants will leave the farm to return for supper at Schumacher.
Day 5: with Tilley at Schumacher College [morning session only, course completes at 11.45am].
A chance to discuss the experiences of the week.
Participants will need to bring:
For the entire week: their own drum or rattle if they have one; notebook and pen; warm shawl or light blanket for ritual use; At the farm: own bed roll for sleeping in the choom tent or roundhouse (sleeping bag, blanket); torch; water bottle; hot water bottle (optional); boots or shoes that are easy to remove when entering roundhouse and choom; walking boots or comfortable wellies for the moor; waterproof and warm clothing; thick socks for roundhouse; small rucksack or bag for the moor; sunscreen (just in case!)
Please note that participants will be asked to hand in their phones upon arrival to the farm – these will be returned at the end of the visit. (There will be a telephone number in case of emergencies).
At the farm, all water is pumped from Carolyn and Nigel's spring-fed well so all taps provide sweet drinking water. At the farm Carolyn and Nigel provide sheepskins for sleeping on.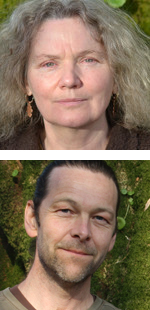 Carolyn Hillyer and Nigel Shaw
Carolyn and Nigel are internationally renowned musicians & artists who live on a 1000-year old farm in the wild centre of Dartmoor, southwest England. Their creative output ranges from over 30 music albums to paintings, woodcarvings, traditional flute and drum making, writings, workshops, exhibitions and the creation of wild shrines.
The inspiration for their work comes from the raw power and beauty, hidden spirit and deep memory of the ancestral land. For 25 years they have hosted many festivals, gatherings, ceremonies and workshops on their land, where they have built a large ceremonial ancestral roundhouse using granite, oak and thatch.
Carolyn teaches workshop journeys about ancient spirit, ancestral roots and the deep experience of weaving courageous life paths, braiding together song and chant, ritual drum, rites of passage, simple ceremony, ancient mythology and direct interaction with the wild land. Her books include Sacred House: Where Women Weave Words into the Earth (2010), Weavers' Oracle (2016) and Book of Hag (2018).
Nigel composes and records with many ancient instruments including wooden, bone and clay flutes, traditional whistles, smallpipes, fujara and overtone flutes. He performs regularly with Bamboo Cedar Oak, a brotherhood of master flute players from the USA and Japan.
Carolyn and Nigel travel widely around the world with their work; recent tours included concerts with reindeer-herding tribal singers in the Siberian Arctic tundra, along the northwest Pacific Ocean rim and in burning heart of the Negev Desert.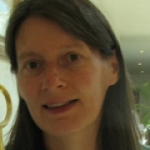 Dr Fiona Tilley (Facilitator)
Dr Fiona Tilley completed her PhD research into the environmental practices of small and medium sized enterprises in 1998. A career in academia followed with positions at Durham University Business School and latterly the Sustainability Research Institute at the University Leeds. She has published extensively in the field of sustainability entrepreneurship and emerging new business models. From 2009 she stepped back from conventional education in sustainability social sciences to explore alternative and transformational learning practices. Finding Schumacher College has been a significant place of influence. More recently the College has offered opportunities to facilitate short courses and to convene modules on the MA Ecology and Spirituality and to be the Programme Co-ordinate for Becoming Indigenous.
Book now
*Courses are confirmed or cancelled based on the number of bookings approximately 6 weeks before the course start date. If the minimum number of bookings is achieved we confirm the course and sales continue. Courses are cancelled if uptake is below the minimum needed to run the course. Your deposit secures your place so please book early to avoid disappointment.
We are proud to be COVID-secure. Find out what we're doing to ensure you have a safe and enjoyable experience here >
Select a time below to begin your online booking. You will receive an e-ticket for this event. Please note that individual orders will be restricted to six tickets per booking (on the assumption this rule will apply post-lockdown). No tickets will be available on the door as the box office remains closed due to Covid-19. You are welcome to email us at shortcourseadmin@schumachercollege.org.uk with any queries you have.
Offer: Special rate for Dartington Members
Dartington Members will receive a 10% discount, applied when they log in during the checkout process. For more information about Membership,
click here
(opens in new tab).