Iron-Brow and Thorn-Coat by Hedgespoken
Details
Venue Space: Studio 1
Prices
Tickets £8 | Concessions £6
Suitable for all story-seekers and particularly aimed at inter-generational audiences from 5 - 105
Full details on booking and visiting

Next date 12th April 7:00 pm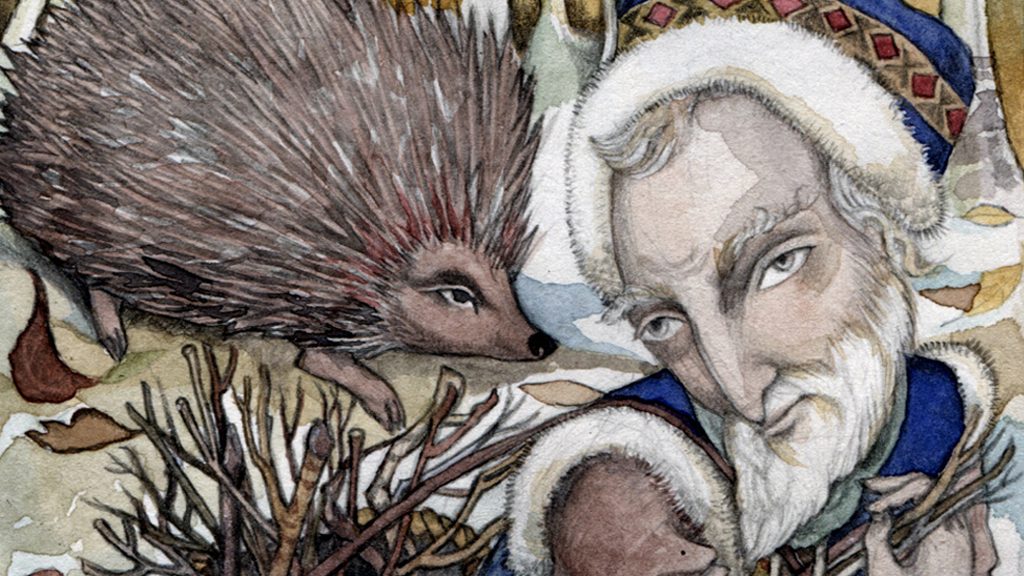 "When the sea-foam is red at the end of the Earth, only then will you see me again – until then you will wander the earth and all that you touch will turn to iron…"
A curious hedgehog with high hopes and his iron-browed bride journey to the ends of the Earth. Will they find true love and happiness, or witches and dragon-flames? Beyond a limitless ocean, a woman covered in moss begs for forgiveness, while under a crone's stone doorstep, two toads endure winter for love's sake.
Hedgespoken presents preview performances of IRON-BROW AND THORN-COAT, our retelling of a classic Lithuanian folk-tale. Steeped in old magic and half-familiar memories, this beguiling tale of magical transformation, love, betrayal and endurance brings together storytelling by Tom Hirons, puppetry and masked performance by Helen Aldrich, music by Louis Bingham and Griselda Sanderson and artistic direction from Rima Staines and Sarah Vigars.
Suitable for all story-seekers and particularly aimed at intergenerational audiences from 5 – 105
About Hedgespoken
Storyteller, mask-maker and writer Tom Hirons and internationally-respected artist, puppeteer and musician Rima Staines tell tales and spark imaginations from the Hedgespoken truck wherever they can, from busy festivals and family camps to quiet laybys and secluded forests.
Hedgespoken specialise in retelling East European and British folktales and also stories from the wide world of the Traveller and Gypsy communities.
Audience feedback
"Utterly enchanting – I loved every minute."
"My grandson will remember the magic of this night for the rest of his life."
"Magic of a real, old, golden kind."
"Oh! What suspense, what laughs, what horrors! Hedgespoken wove a tale of adventure and wonder tonight and we're full of it, can't stop talking about it."
Offer: Special rate for Dartington Members
Dartington Members will receive a 10% discount, applied when they log in during the checkout process. For more information about Membership,
click here
(opens in new tab).
Visiting Dartington Hall
At our 1,200 acre estate, based in South Devon, there's plenty to explore – from the natural beauty of the grounds, to our visitor attractions and year-round events programme. You can also make a stay of it with our historic hotel or campsite, and enjoy award-winning food and drink in our cafes and restaurants.
About us
Dartington is an old place with a new story.
The Dartington Experiment began in 1925 and was based on the idea that humans are many-sided – and how we need environments that encourage our whole being to flourish, in connection with nature and each other.
This idea is as true today is it ever was.