Live Chat: Regenerative Economics
Meet the lecturers on the Regenerative Economics MA programme and put your questions to them ahead of making your application to join our learning community.
BOOK NOW
16:30 [UK time] Wednesday 19 and 16:00 [UK time] 26 April 2021
Jonathan Dawson and Jay Tompt
About this event
This open event gives prospective students for the Regenerative Economics MA programme at Schumacher College the opportunity to speak directly with the Programme team, Jonathan Dawson and Jay Tompt, ahead of the preferred application deadline (1 May).
MA Regenerative Economics challenges and offers alternative perspectives to mainstream economics programmes by looking through the lens of ecology as if both people and planet mattered equally. The programme adopts an interrogative approach, exploring diverse global economic philosophies and models. The low-residency structure of this programme enables professionals to combine work and study.
The Regenerative Economics programme is organised into four taught modules and one dissertation module – Ecology and Economics, Beyond Growth, Regenerative Enterprise, and Changing the Frame. Diversity is part of the DNA of the programme. Each of these modules frame an inquiry into the problematics of the current dominant paradigm and explore alternatives across a broad range of perspectives and disciplines. Each of these modules include guest presenters and faculty, and topics include deep ecology, complexity, phenomenology, ecological economics, 'neo-Schumpeterian', Degrowth, solidarity economy, complexity economics, Doughnut Economics, wellbeing and care economics, 'community wealth building', new municipalism, 'relocalisation', and more.
To find out more about the course and put you questions to the team, register your place via the booking link below.
Photo credit: Craig Whyte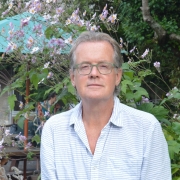 Jonathan dawson
Jonathan is a sustainability educator and a former President of the Global Ecovillage Network, He has around 20 years experience as a researcher, author, consultant and project manager in the field of small enterprise development in Africa and South Asia and before joining the College he was a long-term resident at the Findhorn ecovillage.
Jonathan is the principal author of the Gaia Education sustainable economy curriculum www.gaiaeducation.org(link is external), drawn from best practice within ecovillages worldwide, that has been endorsed by UNITAR and adopted by UNESCO as a valuable contribution to the UN Decade of Education for Sustainable Development. He teaches this curriculum at universities, ecovillages and community centres in Brazil, Spain and Scotland. He has also adopted the curriculum to virtual format and teaches it through the Open University of Catalunya in Barcelona.

Jay Tompt
Jay is a co-founder of the Totnes REconomy Project, an associate lecturer in economics at Plymouth University as well as a regular teacher on our postrgraduate economics programmes. He co-developed the Transition Network REconomy Project's Local Economic Blueprint course and handbook, co-founded the REconomy Centre, and developed the Local Entrepreneur Forum model. He has worked with groups in many communities picking up these models. He has also developed a course on 'Citizen-led Economics', as well as led workshops and given talks in Europe, USA and Japan.
Before moving to the UK Jay was based in Silicon Valley in the US as an entrepreneur and consultant in the 'green business movement'. He holds an MBA from the Middlebury Institute of International Studies and a BA in Philosophy from San Jose State University. He's also a fellow of the Royal Society of Arts.
Book now
We are proud to be COVID-secure. Find out what we're doing to ensure you have a safe and enjoyable experience here >
Select a time below to begin your online booking. You will receive an e-ticket for this event. Please note that individual orders will be restricted to six tickets per booking (on the assumption this rule will apply post-lockdown). No tickets will be available on the door as the box office remains closed due to Covid-19. You are welcome to email us at boxoffice@dartington.org with any queries you have.