Monty Python and the Holy Grail [12A]
Details
Venue Barn Cinema
Running time 105 minutes
Cast Graham Chapman, Terry Gilliam, Terry Jones, John Cleese, Eric Idle, Michael Palin
Directors Terry Gilliam, Terry Jones
Full details on booking and visiting

Next date 23rd January 8:00 pm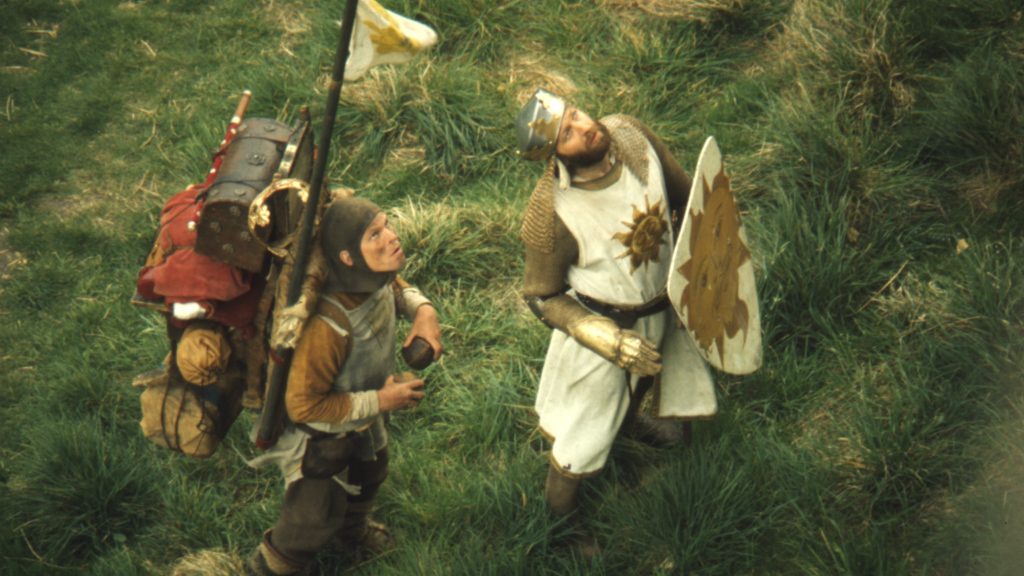 The legendary Monty Python troupe's first feature is a quest movie set in an almost historically accurate England, circa 932 A.D. Wise-cracking, irreverent and hilariously funny, Monty Python and the Holy Grail brings you laughter, coconut-halves and a much needed dose of anarchic daring-do.
Clad in medieval garb, King Arthur (Graham Chapman) and his trusty servant Patsy (Terry Gilliam) seek knights to join the round table at Camelot. But it isn't a simple process – as they find when they encounter constitutional-obsessed peasants, a Three-Headed Knight and a raft of other strange and bizarre characters along the way. Trotting the line between sublime comedy and the downright ridiculous, this endlessly quotable British comedy makes a welcome comeback to the big screen.
1975 | UK 
★★★★★
"An anarchic daring and pure helium zane that no one would attempt now."
Peter Bradshaw, The Guardian
With the support of the Independent Cinema Office and BFI, awarding funds from The National Lottery
About the Barn
The Barn Cinema offers a truly unique experience: a wide-ranging film programme, including independent arthouse, world and mainstream cinema, all within a truly beautiful, renovated 15th century barn.
Pre-Cinema dining at The White Hart
Attending an evening film? Take advantage of our Devon O'Clock Feasting – and we'll make sure you get to your film on time.
Click here for details
(opens in new tab).
Offer: Barn Cinema discount for Members
Dartington Members will receive a £1 discount, applied when they log in during the checkout process. For more information about Membership,
click here
(opens in new tab).
Visiting Dartington Hall
At our 1,200 acre estate, based in South Devon, there's plenty to explore – from the natural beauty of the grounds, to our visitor attractions and year-round events programme. You can also make a stay of it with our historic hotel or campsite, and enjoy award-winning food and drink in our cafes and restaurants.
About us
Dartington is an old place with a new story.
The Dartington Experiment began in 1925 and was based on the idea that humans are many-sided – and how we need environments that encourage our whole being to flourish, in connection with nature and each other.
This idea is as true today is it ever was.