Moving Heaven and Earth to Tackle Climate Change
Jonathon Porritt asks: How can we get politicians to act?
BOOK NOW
gift this course
Monday 14 February – Friday 18 February 2022
Jonathon Porritt, with Satish Kumar and Stephan Harding
Schumacher College, Dartington Trust, South Devon
£825.00 (or £150 deposit, with the outstanding balance payable at the booking deadline specified below) – includes accommodation and meals.
£675 – includes meals, with no accommodation.
PLEASE NOTE: This is a vital conversation, and as such we're keen for the price of this course not to be a barrier to participants from all walks of life. If you need financial assistance, please apply for a Short Course bursary – find out more here.
Full course fees include a stay in private accommodation with shared bathroom and all vegetarian meals from supper on the day of your arrival through until the lunchtime before your departure. Fee also includes any field trips, materials as well as all teaching sessions. If you would like to take this course as a non-residential participant for £675, please contact us at shortcourses@dartington.org.
About this course
At the recent COP26 in Glasgow, world leaders agreed on a raft of measures to combat the climate emergency – but there is scepticism that these commitments go far enough, if they are even honoured at all. 
So what comes next? Technology to the rescue? Democratic renewal? XR2? Intergenerational solidarity? Post-growth economics? Grass roots flourish as never before? A new non-proliferation treaty for fossil fuels? Religions rise up?
No-one doubts that this is the decisive decade in terms of transforming the economic model that has brought us to the brink of collapse, but we still don't have a sense of what will replace it.
Hope constantly triumphs over experience, and we can pretty much guarantee that will be the case with COP26. Even if commitments made by governments (both before and during the Conference) do somehow add up to a sufficiently ambitious decarbonisation roadmap to keep us below an average 2oC average temperature increase by 2100, experience tells us that those governments still won't deliver on those promises.
So what more will it take to get politicians, finally, 'to move heaven and earth' in our collective endeavour to avoid runaway climate change?
A message from jonathon: what to expect on this course
"What I'd love to do, for this one precious week, is to share answers to that question. To spend the time looking at what I've heard described as 'the palette of the possible', but with an unapologetic emphasis on the end game: shifting dominant political and economic systems.
"I love blue-sky dreaming as much as the next person, but we have to be realistic here: ultimately, things shift because politicians (ideally, elected with a democratic mandate) make things happen.
"Simply said, that means we're going to have to force those politicians to do what they are still, deep down, disinclined to do.
"So what will that entail? I just love the sheer abundance of people and organisations stepping up with ideas to fill that space:
Technology to the rescue.
Democratic renewal.
XR2.
Intergenerational solidarity.
Post-growth economics.
Grass roots flourish as never before.
A new non-proliferation treaty for fossil fuels.
Religions rise up.
"I could go on. So let's celebrate the breadth, creativity and potentially transformative impact of this incredible portfolio of this 'ways forward'.
"And let's come together in February 2022 to add our two pennies'-worth to this all-important area of investigation!"
related event
Jonathon will be delivering an Earth Talk on the same subject later in 2022 – date TBC.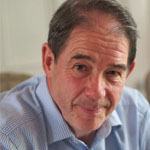 Jonathon Porritt
Jonathon Porritt, Co-Founder of Forum for the Future, is a 'veteran campaigner' and eminent writer, broadcaster and commentator on sustainable development.
He is also a Non-Executive Director of Willmot Dixon Holdings, Chancellor of Keele University, and is involved in the work of many NGOs and charities as Patron, Chair or Special Advisor. See Affiliations.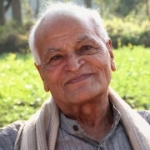 Satish Kumar
Satish is a former monk and long-term peace and environment activist. He has been quietly setting the Global Agenda for change for over 50 years. He was just nine when he left his family home to join the wandering Jains and 18 when he decided he could achieve more back in the world, campaigning for land reform in India and working to turn Gandhi's vision of a renewed India and a peaceful world into reality.
In 1973 Satish settled in the United Kingdom taking up the post of editor of Resurgence magazine, a position he has held ever since, making him the UK's longest-serving editor of the same magazine. During this time, he has been the guiding spirit behind a number of now internationally respected ecological and educational ventures including Schumacher College. Satish has authored numerous books including No Destination: Autobiography of a Pilgrim, Soul, Soil, Society: a new trinity for our time and most recently Elegant Simplicity: The Art Of Living Well.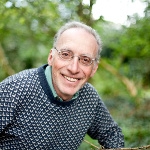 Stephan Harding
In 1990 Stephan was one of the founding members of Schumacher College where he worked closely with James Lovelock, with whom he has maintained a long-lasting friendship and scientific collaboration. Stephan coordinated and lectured on the college's MSc Holistic Science for nearly two decades, teaching on the core models of the programme, as well as on several short courses at the College. They were jointly appointmed as founding chair holders of the Arne Naess Chair in Global Justice and the Environment at the University of Oslo. At Schumacher College Stephan has taught alongside many of the world's leading ecological thinkers and activists, including Arne Naess, Fritjof Capra, Brian Goodwin, Vandana Shiva, David Abram, James Lovelock and Lynn Margulis. He is now the Deep Ecology Fellow at Schumacher College.
Book now
*Courses are confirmed or cancelled based on the number of bookings approximately 6 weeks before the course start date. If the minimum number of bookings is achieved we confirm the course and sales continue. Courses are cancelled if uptake is below the minimum needed to run the course. Your deposit secures your place so please book early to avoid disappointment.
We are proud to be COVID-secure. Find out what we're doing to ensure you have a safe and enjoyable experience here >
Select a time below to begin your online booking. You will receive an e-ticket for this event. You are welcome to email us at shortcourses@dartington.org with any queries you have.
---
---
Offer: Special rate for Dartington Members
Dartington Members will receive a 10% discount, applied when they log in during the checkout process. For more information about Membership,
click here
(opens in new tab).
Related Events
View All Schumacher College Short Courses