Nature Immersion: Reconnect and Rewild
Total immersion in the natural world and its revitalising energy
BOOK NOW
Monday 27 September – Friday 1 October 2021
Kara Moses and Robin Bowman
Schumacher College, Dartington Trust, South Devon
£795.00 (or £150 deposit, with the outstanding balance payable at the booking deadline specifed below). Short Course bursaries are available –
find out more here
.
Course fees include a stay in private accommodation with shared bathroom and all vegetarian meals from supper on the day of your arrival through until the lunchtime before your departure. Fee also includes any field trips, materials as well as all teaching sessions. If you would like to take this course as a non-residential participant, please contact us at shortcourseadmin@schumachercollege.org.uk.
About this course
Join us in this deep dive into the natural world, as we immerse ourselves in the revitalising energy of nature. Rewilding ourselves helps us to remember and refuel – to regain the power and nourishment that comes from deep nature connection, recollecting who we are and what we are part of.
Forming a temporary tribe around a flickering fire in the woods, we'll experience how ecological consciousness arises through relationship, as an emergent property between humans and the wider natural world. Spending precious time in solitude on the land, we'll come back to ourselves and the Earth.
Together we'll practice broadening our sphere of awareness and minimising our sphere of disturbance, to observe nature on its own terms, and harvest the wisdom it has to offer. We'll uncover the secrets of the wild wood, learn to read the landscape and understand its stories through bird language, tracking, and nature awareness techniques. We'll make friends with fire, learning the ancient craft of creating fire with hands and friction. We'll explore and live in deep time, honouring the deep-time processes which connect us with a vast evolutionary journey and all of life on Earth, and reflecting on the human story and place in the unique times we are living through. We'll share a transformational journey that supports a wider perspective of time, space and awareness.
This is a chance to check out from all things digital, resource yourself, reflect and harvest the fruits of a strange year.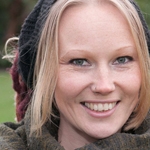 Kara Moses
Kara Moses is a facilitator of rewilding and socio-ecological regeneration. She is passionate about the transformation of self and society to become more deeply connected to nature as an essential part of rewilding, alongside widescale ecological restoration. She lives a wild life in a remote off-grid barn in the foothills of the Cambrian mountains, tracking, exploring, hunting and foraging for food and medicine, and crafting with wild materials, with a particular love of traditional tanning of animal skins.
As an educator, she co-holds the Radical Nature Connection strand of work at the Ecodharma/Ulex education centres in the Catalan Pyrenees. She is Vice Chair of the 350-acre Cambrian Wildwood project, which is restoring ancient wildwood and other wild habitats and creating opportunities for immersion in wild nature. She also lectures on nature connection, rewilding and woodland management on Masters degrees at the Centre for Alternative Technology.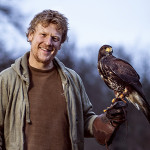 Robin Bowman
Woodsman, tracker, falconer and bird language expert, Robin has 18 years' experience of running nature connection , wilderness skills and bushcraft programs and courses. As the co-founder of The Old Way program Robin offers a deep dive into human rewilding, exploring the hunter- gatherer lifeways in 21st century Devon. Within this program Robin also runs expeditions to the Kalahari desert in Africa to work with and support the remote San Ju/Hoansi Bushman communities.
He has taught at Schumacher for 7 years on various programs with themes around tracking, nature connection, beyond development, trees as well as on the Call of the Wild program. When he's not tracking cheetahs in Africa, he may be mentoring teenagers whilst running the Hunger Games themed camps he founded with WildWise or working with prisoners and people in addiction recovery with the charity Write to Freedom.
Book now
*The booking deadline (see above) gives us an accurate idea of course participant numbers at approximately 6 weeks before the course is due to run, at which point we either confirm the course; add additional time for people to book; or cancel the course. We encourage people to register early for courses as places are limited.
We are proud to be COVID-secure. Find out what we're doing to ensure you have a safe and enjoyable experience here >
Select a time below to begin your online booking. You will receive an e-ticket for this event. Please note that individual orders will be restricted to six tickets per booking (on the assumption this rule will apply post-lockdown). No tickets will be available on the door as the box office remains closed due to Covid-19. You are welcome to email us at shortcourseadmin@schumachercollege.org.uk with any queries you have.
Offer: Special rate for Dartington Members
Dartington Members will receive a 10% discount, applied when they log in during the checkout process. For more information about Membership,
click here
(opens in new tab).