Nature's Alchemy with Tania Bryson, Emma Capper & Myrtle Cooper
Nourish the soul through the power of plants
BOOK NOW
Monday 23 August, 3pm – Friday 27 August 2021, 2pm
Tania Bryson, Emma Capper & Myrtle Cooper
Upper Gate House, Studio 20 & Dartington Gardens, Dartington Trust
£465 non-residential | £685 residential – see below for full details on what's included
About this course
Join this guided journey into deepening your relationship with plants, with three wyse women; Emma Capper, Myrtle Cooper, and Tania Bryson. Spend the week immersed in nature, foraging, forest bathing, and creating plant based medicines in the beautiful surroundings of Dartington, including the gardens, river, and forest.
FORAGING with Myrtle Cooper
Experience the ancient art of foraging, and how it can bring our senses alive.
You will encounter the restorative power of plants, as you are guided through relaxing and immersive ways to become fully present in your surroundings, tuning into the natural world with the senses our ancestors used to thrive and survive. As you journey through the woodlands, meadows, and hedgerows together, you will learn how to forage safely and appropriately, encounter a range of wild plants and learn about their folklore and traditional uses, nutritional and medicinal qualities.
Gathering from the wild, you will learn how to prepare delicious foraged food, gathering wild offerings for the Beggar's Banquet. 
FOREST THERAPY with Emma Capper
"Forest Therapy is a research-based framework for supporting healing and wellness through immersion in forests and other natural environments. Forest Therapy is inspired by the Japanese practice of Shinrin-Yoku, which translates to "forest bathing." Studies have demonstrated a wide array of health benefits, especially in the cardiovascular and immune systems, and for stabilizing and improving mood and cognition. We build on those benefits and look beyond, to what happens when people remember that we are a part of nature, not separate from it, and are related to all other beings in fundamental ways." – ANFT
On this course you will step out on two forest therapy wanders as a group. The first will be to meet and greet each other, and all the beings that live in the stunning gardens of Dartington Hall. On the second you will spend several hours in the woods, connecting more deeply with your intuition and allowing your natural soul to come out, create and play.
This is not a hike, or a nature walk where you might identify species, but an opportunity to be fully present in your senses, experiencing the forest from an authentic place of heart with the curiosity of a child. It is a deeply relaxing and playful experience as you tune into the plant and animal world with the senses our ancestors used to thrive and survive. Unlike other wilderness programs, this practice is accessible to anyone and easy to incorporate in your day to day life – in fact, you can practice forest therapy with your house plants.
PLANT-BASED MEDICINE with Tania Bryson
The world of plants and herbal wisdom is a powerful one. Tania Bryson has twenty years' experience and a thorough understanding of the wealth of components in plants and how to harness their energy in plant-based medicines.
Tania will share her mastery of plant preparation and respect of traditional techniques for making plant based remedies including herbal approaches to common conditions. You will explore the many ways you can extract the benefits from herbs and other plants. Tania will share her knowledge and experience in an informal yet professional setting, ready and open to answer any question you may have.
Information for Participants
WHAT TO BRING
Much of this course will be spent outside exploring woodland and nature, so please bring appropriate footwear, preferably waterproof walking boots/shoes and good socks.  We also ask you to bring full waterproofs (ready for Devon's Springtime downpours!) and sun screen (because Devon's weather is just unpredictable!).
Other items to bring are:
– Notebook and writing materials
– Folding chair and/or sit mats
– Medication
– Formal clothes for the banquet
Lunch will be provided from Tuesday through to Friday. These communal meals are a vital part of the learning experience and we strongly recommend you attend them. Tea and coffee will be available throughout the course.
Please make sure that we know any dietary requirements before your arrival. You can let us know by getting in touch with the box office.
SCHEDULE
Monday – Arrival day:
3pm: Residential participants can check into their accommodation before making their way to meet the tutors in the Upper Gate House for refreshments and registration. Non-residential participants can head straight to the Upper Gate House on arrival.
3pm – 5pm: Introductory session with Forest therapy arrival invitation with Emma in the gardens.
5pm – 6.30pm: Sensory Tea Circle in Dartington's Private Garden.
6.30pm: Dinner and drinks will be provided for all participants in the Solar, with an introduction and presentation from the tutors.
Tuesday – Foraging & Wild Food with Myrtle Cooper (Outdoor day):
9.15am: Meet in the Upper Gatehouse.
9.15am – 3pm: Outdoor crafting including foraging, fire circle, science and detail of plant drawing. (Lunch included, 1pm – 2pm)
3pm – 5pm: Drawing and crafts in the Upper Gate House.
Wednesday – Herbal Delights with Tania Bryson (Indoor day):
9.15am: Meet in Studio 20.
9.15am – 5pm: During this day you will learn how to make a variety of plant-based medicines and tonics including Dandelion syrup-tonic, cleansing detoxifying tincture, plantain balm, with hazel foot spray and an oil based love potion from Romany folklore.
Thursday – Forest Therapy with Emma Capper:
9.15am – 3pm: Forest Therapy with Emma Capper
3pm onwards: 'Beggar's Banquet' preparation. Participants will co-create wild banquet decorations with Emma and prepare food foraged by Myrtle for an evening feast.
6.30pm: Beggar's Banquet.
Friday – Final Day Ceremony:
9.15am – 1pm: An opportunity to discuss the shared experiences from the course and what participants will take away and apply to their own lives. Tutors will also use this time to share any final practical or useful tips on nutrition, health and well-being and how to apply that to your daily life.
1pm – 2pm: Lunch together in medieval setting of the Solar, before departure.
WHERE TO GO
Registration and check-in for Residential Participants is from 3pm on Monday 23 August, in Guest Services, which is located under the Archway to the Main Courtyard at Dartington.
For most of the course you will be based in the Upper Gate House and Studio 20 (at SPACE). 
Each day will start at 9.15am, please make sure that you arrive 15 minutes before the start of the course.
PRE-COURSE DINNER & presentation
All participants are invited to an evening meal and drinks in The White Hart Solar Room at 6:30pm on Monday 23 August. Dinner will be in a beautiful medieval room.
Please note this information is subject to change, please check back here before the start of your course.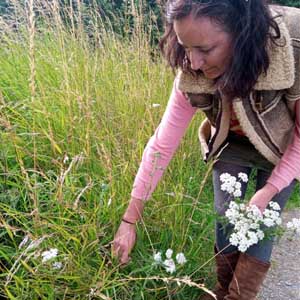 Tania Bryson
Mother, teacher and herbal educator Tania Bryson is the wild-crafter of heartfelt herbal creations at Dream Thyme Herbal in Devon.
Tania's many years of living amongst vast swathes of Australian rainforest gave her a deeper appreciation of nature, and her first-hand experience of the plight of orangutans and loss of their habitat fuelled her determination to educate people about unethical cosmetics and provide them with a palm-free, effective alternative. Tania's teachings and experience allow her to go that one step further and actually guide people through the making process using simple, local ingredients, whilst being mindful of our impact on the global environment.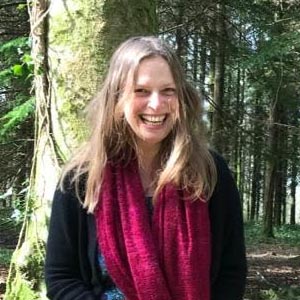 Emma Capper
Emma is an ANFT certified Nature and forest therapy guide, artist and workshop facilitator with over 25 years of experience delivering workshops in the expressive arts. In 2013 she founded Creative Journeys in Nature, weaving her love of art and nature together to curate workshops and forest therapy walks to connect adults and children with their innate creativity and our natural world.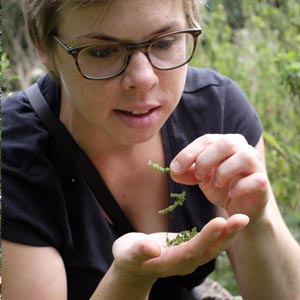 Myrtle Cooper
Wild/edible-plant specialist Myrtle Cooper followed the call to share her plant passion following an MSc at Schumacher college, developing a practice that powerfully connects us back with the land and to our own inner nature through the ancient art of foraging. Featured on BBC One's River Walks, her work explores sensory techniques to develop deep relationship with plants, taking inspiration and learning from plant lore and communication.
FOOD AND DRINK
On this course, dinner and welcome drinks will be provided on Monday at 6pm before an introductory talk from the tutors, and lunch will be provided on Tuesday through to Friday. These communal meals are a vital part of the learning experience and we strongly recommend you attend them.
Tea and coffee will be available throughout the course.
Residential option
We recommend that if possible, you stay on-site during your course. All of our courses are best experienced holistically: through working, relaxing, eating and staying with other course participants and tutors.
Breakfast and dinner each day – made with fresh, locally-sourced produce by our award-winning team – are included: one less thing to worry about during your stay.
The residential course fee is based on staying in one of our student style single rooms with shared facilities and easy access to the wider estate, the White Hart and the spaces in which you will be learning. They are the perfect base to rest your head, relax and recharge.
It is also possible, subject to availability, to upgrade your accommodation to a single or double en-suite bedroom in our beautiful and historic courtyard. An upgrade to a single room with en-suite bathroom is an additional £25 per night and a double room with en-suite bathroom is an additional £40 per night.
If you would like to upgrade, please contact our Guest Services team on 01803 847101 or email guestservices@dartingtonhall.com to check availability. Our Guest Services department is open daily, 8am–8pm.
Choose this option by selecting 'residential' at checkout (head to 'Book now', below). Please note:
– Accommodation is available at a discounted rate for course attendees.
– For this course, you will be arriving on Monday 23 August and departing on Friday 27 August 2021 .
– Breakfast and dinner are included from Monday-Thursday and breakfast on Friday morning. (Dinner on Sunday is a communal experience and part of the course fee – see above).
– Check-in for all rooms is from 3pm on the day of arrival
– Check-out for all departures is 11am on the day of departure
– Accommodation is booked on a first come, first-served basis only
---
---
Offer: Special rate for Dartington Members
Dartington Members will receive a 10% discount, applied when they log in during the checkout process. For more information about Membership,
click here
(opens in new tab).
Related Events
View All Art and Craft Courses