No Wonder with Nick Hayes
Percieve nature more deeply through printmaking, canoeing and writing
BOOK NOW
Monday 17 May 2021, 6pm – Friday 21 May, 2021 4pm
Dartington Trust, South Devon
£465 Non-residential | £685.00 Residential – see below for information on what's included
about this course
Spend the week with Nick Hayes, writer of The Book Of Trespass, a book of eloquent writing evoking the woodlands, the wildlife, the landscapes, and ecologies of the countryside. Take a closer look at the natural world, and consider what it does to us. Combine printing techniques, sketching, singing, and writing to explore the connection we feel with nature, what it gives us, and what we can do to give something back to it.
You will be invited to consider both nature and art in their political context, how so much of the land has been enclosed from us, and how art can help bring us back that connection we have lost so many centuries ago. Through kayaking and walking, listening, and observing nature; create your own written manifesto; a personal goal towards helping yourself and nature.
Find space to write and draw, and swim and canoe in the river. Find time to write from the heart and engage with nature as a metaphor and a guide. Take a risk on something that might change you.
What you will learn
You will explore the art of the sketchbook and the notepad, and gain deeper insight into the process of capturing thoughts and sights and moments as they happen – before you lose them – and how to go about shaping this into more focused works of art.
You will learn how artworks have been used as a means of protest, and how folk song, illustration, and writing are currently being used to progress towards opening up more of the land to public access.
This course includes:
– Night canoe trips here on the river Dart
– Printmaking in our studios
– Writing in the woods
Information for Participants
WHAT TO BRING
There will be opportunities during the week to explore the beautiful Grade II listed gardens at Dartington and the countryside on the estate. Please bring appropriate outdoor footwear, clothing, and a waterproof jacket.
Lunch will be provided on Tuesday-Friday and you are also invited to a pre-course dinner and talk on Monday 17 May (see 'food and drink', below). These communal meals are a vital part of the learning experience and we strongly recommend you attend them. Tea and coffee will be available throughout the course.
Please make sure that we know any dietary requirements before your arrival. You can let us know by getting in touch with the box office.
WHERE TO GO
Registration and Check-in for residential participants is from 3pm on Monday 17 May, in Guest Services, which is located under the Archway to the Main Courtyard at Dartington.
For most of the course, you will be based in The Upper Gate House (Number 27 on the core-estate map).
Each day will start at 10am, please make sure that you arrive 15 minutes before the start of the course.
Please note this information is subject to change, please check back here before the start of your course.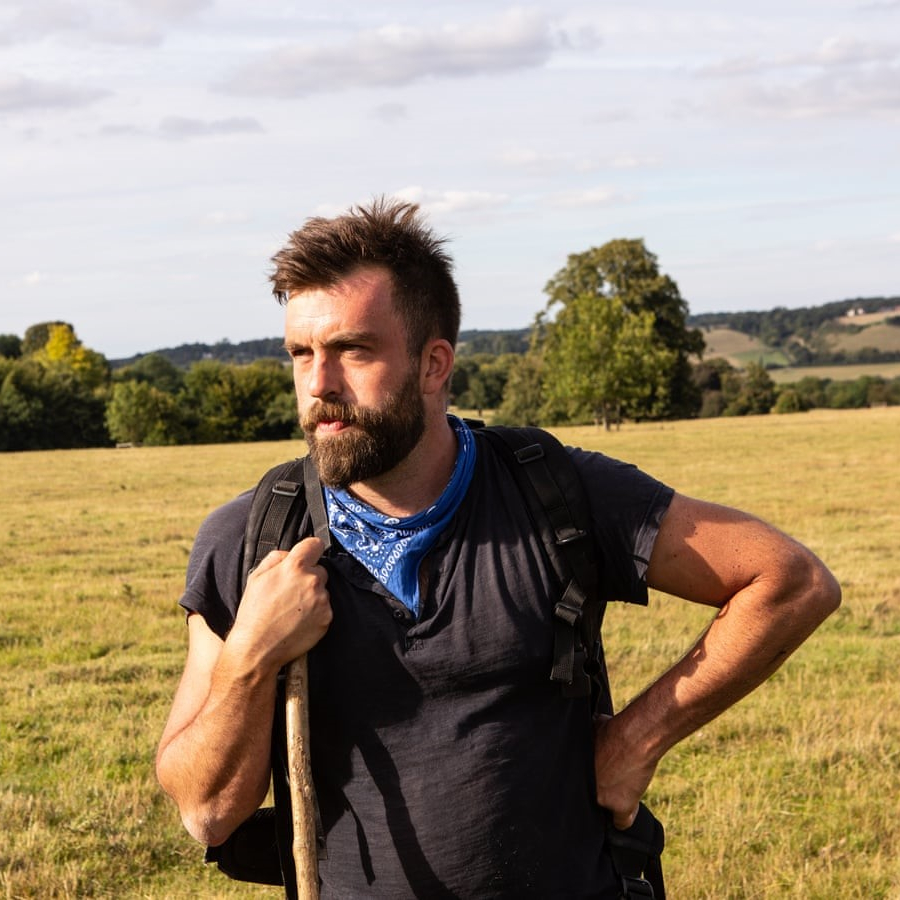 About the tutor
Nick Hayes
Nick is an artist, printmaker, and writer, living on a boat on the Kennet and Avon Canal.  All four of his previous graphic novels look at the connection between the human and non-human.
A lifetime's interest in the wonder of nature has recently culminated in his first non-fiction book The Book Of Trespass, which explores the fences, laws, and orthodoxies that have severed our connection with them.
FOOD AND DRINK
On this course, lunch will be provided Tuesday – Friday. These communal meals are a vital part of the learning experience and we strongly recommend you attend them.
In addition to the above, all participants are invited to an evening meal and drinks in The White Hart Solar Room at 6:30pm on Monday 17 May. Dinner will be socially distanced in a beautiful medieval room.
After the meal, Nick Hayes will introduce the week and there will be an oportunity to share your pracetice and your intentions from the course.
Tea and coffee will be available throughout the course.
RESIDENTIAL OPTION
We recommend that if possible, you stay on-site during your course. All our courses are best experienced holistically: through working, relaxing, eating and staying with other course participants and tutors.
Our beautiful rooms have all the character and personality you'd expect, but not at the expense of comfort. With easy access to our wider estate, they are the perfect place to relax and recharge.
Breakfast and dinner each day – made with fresh, locally-sourced produce by our award-winning team – are included: one less thing to worry about during your stay.
Choose this option by selecting 'residential' at checkout (head to 'Book now', below). Please note:
– Accommodation is available at a discounted rate for course attendees.
– For this course, you must book for 4 nights, arriving on Monday 17 May and departing on Friday 21 May.
– Dinner on Monday, breakfast and dinner on Tuesday – Thursday and breakfast on Friday morning are all included.
– Check-in for all rooms is from 3pm on the day of arrival.
– Check-out for all departures is 11am on the day of departure.
– Accommodation is booked on a first come, first served basis only.
Offer: Special rate for Dartington Members
Dartington Members will receive a 10% discount, applied when they log in during the checkout process. For more information about Membership,
click here
(opens in new tab).