Noisy Holiday – Kid Carpet & the Noisy Animals
Details
Venue Space: Studio 1
Prices
Tickets £8 | Concessions £6 | Family Ticket £24
Suggested age guidance 3 - 8 years.
Full details on booking and visiting

Next date 8th March 11:00 am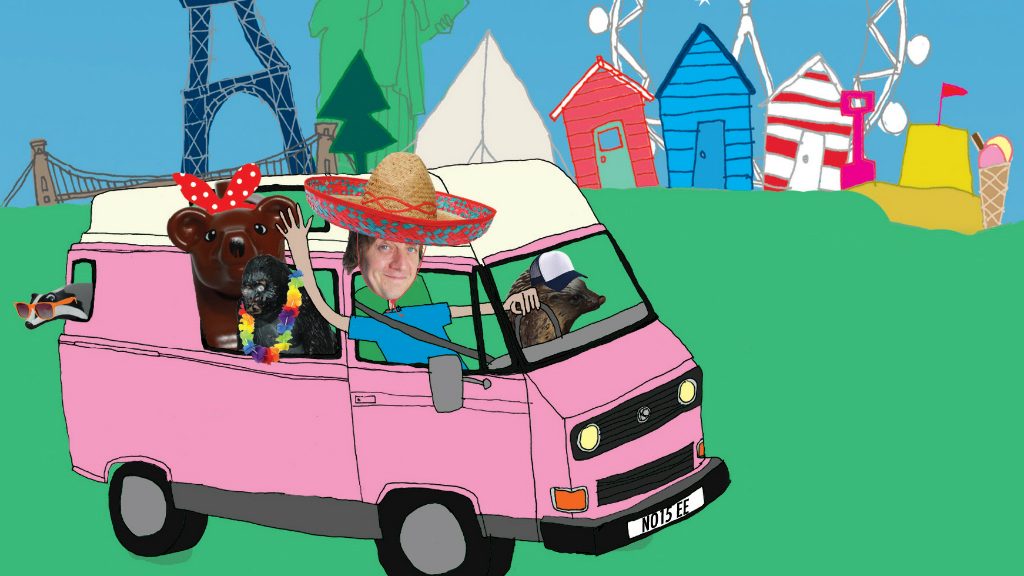 A ridiculous and funny story of going on your holidays with silliness and mischief for the whole family. Expect flying tents, diving bears, massive carrots and Ibiza anthems.
This lively show contains a mix of live music, theatre, comedy, puppetry and animation. Hot new tracks from Kid Carpet include; "Rollercoaster", "Swimming with the Fishes" and "Get in the Car".
The Noisy Animals are looking forward to their dream holidays and have some brilliant ideas about where in the world they want to go. Kid Carpet just wants them all to be together but will he be able to keep everyone happy when he can't even get them in the car?
Ed Patrick (aka Kid Carpet), is a Bristol-based maker of nonsense music and rock'n'roll theatre shows. Noisy Holiday is the fourth instalment of the Noisy Animals adventure, they've had a dance contest, they've been to space, they've caused bedlam in Bethlehem; now, it's time for a nice relaxing holiday…
"The Mighty Boosh for kids!" Stike A Light Festival
"Anarchy, irreverence and belly laughs for adults and children alike." Theatre Bristol
Offer: Special rate for Dartington Members
Dartington Members will receive a 10% discount, applied when they log in during the checkout process. For more information about Membership,
click here
(opens in new tab).
Dartington Live - Noisy Holiday Family Ticket package
£24 ticket available for families of 4, the discount will be applied automatically at checkout.
Visiting Dartington Hall
At our 1,200 acre estate, based in South Devon, there's plenty to explore – from the natural beauty of the grounds, to our visitor attractions and year-round events programme. You can also make a stay of it with our historic hotel or campsite, and enjoy award-winning food and drink in our cafes and restaurants.
About us
Dartington is an old place with a new story.
The Dartington Experiment began in 1925 and was based on the idea that humans are many-sided – and how we need environments that encourage our whole being to flourish, in connection with nature and each other.
This idea is as true today is it ever was.