13th March, 17 April, 4pm – 5.30pm
Online. Booking closes 24 hours before the course start time and joining instructions will be sent out soon after that point.
£12 per session – 10% Dartington Members Discount applied at checkout
Booking will close at 5pm the day before each session
about this course
Join artist Anthony Garratt in this online painting course, teaching you the fundamentals of painting through a series of inspiring lessons. With easy to follow instruction, analysis of famous paintings, and demonstrations from Anthony's studio, these workshops will help you improve your painting skills.
Over three sessions, you will explore themes of Darkness and Light, Collage and Colour Theory. Discover the influence of modernism on landscape painting, find different approaches to perspective and new methods for composition, tone, and lighting.
By the end of these three sessions, you should be able to:
• Paint with both the brush and other tools to achieve a variety of light and weather effects.
• Make use of tone to add drama to your paintings.
• Put to use some composition techniques to structure a landscape painting.
• Identify a variety of contemporary approaches to painting.
The course will be aimed at students of all levels.
"This has been one of the most enjoyable things I have done since lockdown. I have recommended the course to all my friends and I hope Anthony would consider doing more like this." – Online participant, December 2020
What you will Learn
Collage (Saturday 13 March)
Explore how you can use collage elements in painting without being overwhelmed by the collage image. Using other media such as painting and drawing, we will lean that a collage painting is more paint than collage elements. Watch how the collaged parts merge and meld seamlessly into the whole.
You will be looking at work by Picasso and Braque and contemporary artists Linder Sterling and Richard Rauschenberg
You are invited to collect images from magazines and packaging and bring your own images, including photographs, text, and your own sketches and handwriting. You can try copying the same images in various sizes.
What you will need:
• A selection of paintbrushes suitable for oil or acrylic painting. Glue PVA and glue stick
• A selection of suitable painting paper.
• Studio kit – rags, water pot, easel, palette
• Acrylic paints, inks, household paint, artists' board or greyboard.
• A4 and A3 heavy black and white paper
Colour Theory (Saturday 17 April)
Want to understand colour and how to organise your palette to get the pictures you want?
This colour theory course has been designed to give artists of all abilities a hands-on, practical approach to the world of colour. Spend time exploring the importance of tone and temperature when attempting to mix accurate colours.
Develop a greater understanding of colour theory, which will enhance your knowledge of art and make your own painting process much easier.
You are welcome to work in either oils or acrylics.
What you will need:
• A selection of paintbrushes suitable for oil or acrylic painting.
• A selection of suitable painting paper.
• A selection of your chosen paints
• Studio kit – rags, water pot, easel, palette
• A4 and A3 heavy black and white paper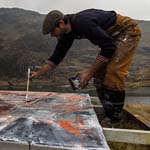 Anthony Garratt
Anthony's painting practice is concerned with the weather; its impact on the landscape and himself, his research often finds him in heavy weather conditions in remote locations. Inspiration continually comes from the landscape, its history, and the ever-changing climate. He lives in South Devon with his family and his studio is on Dartington Estate.
Book now
We are proud to be COVID-secure. Find out what we're doing to ensure you have a safe and enjoyable experience here >
Select a time below to begin your online booking. You will receive an e-ticket for this event. Please note that individual orders will be restricted to six tickets per booking (on the assumption this rule will apply post-lockdown). No tickets will be available on the door as the box office remains closed due to Covid-19. You are welcome to email us at boxoffice@dartington.org with any queries you have.
Offer: Special rate for Dartington Members
Dartington Members will receive a 10% discount, applied when they log in during the checkout process. For more information about Membership,
click here
(opens in new tab).