20th February, 20th March, 24th April, 2pm – 3.30pm
Online. Booking closes 24 hours before the course start time and joining instructions will be sent out soon after that point.
£12 per session | 10% Dartington Members Discount applied at checkout
Booking will close at 5pm the day before each session
about this course
Join poet, naturalist, and bestselling author Anna Selby on these three in depth writing courses, exploring themes of intimacy, life, and nature.
Whether you are relatively new to writing poetry or a more experienced writer, this course will encourage you to find techniques to thoroughly immerse yourself in your subject and create authentic and personal writing.
Through online exercises, you will produce a wealth of fresh material and learn new writing methods to freshen your writing techniques. Learn the creative process of writing a poem, the structure, and the editing process.
IMMERSED (20th February)
How do we write poems about the intimacy of life and nature without being fully exposed to them, or immersed in the subject?
This online class is all about finding ways to connect deeply with our subject in order to find our own authentic voice.
I COME FROM (20th March)
Based on Dean Atta's poem I Come From we explore what makes us, us. What has shaped us and made us who we are?
Writing exercises and workshop techniques will bring your past and heritage and family history to life in an epic poem
MORE THAN DAFFODILS (24th April)
Looking at nature as a metaphor, find out what makes a classic poem and what does it mean to be a poet. Do we have to wander lonely as a cloud to write a classic poem?
During this time of isolation why not share your poetry with your fellow writers on this fabulous online course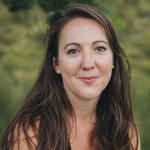 Anna Selby
Anna Selby is a poet and naturalist. Her poetry often explores our connection with water and the natural world. She works collaboratively with dancers, choreographers and conservationists, writes poetic-studies of different species in the field, directly from life, often underwater, and aims for these poems to share a sense of compassion and attentiveness to the environment.
Book now
We are proud to be COVID-secure. Find out what we're doing to ensure you have a safe and enjoyable experience here >
Select a time below to begin your online booking. You will receive an e-ticket for this event. Please note that individual orders will be restricted to six tickets per booking (on the assumption this rule will apply post-lockdown). No tickets will be available on the door as the box office remains closed due to Covid-19. You are welcome to email us at boxoffice@dartington.org with any queries you have.
Offer: Special rate for Dartington Members
Dartington Members will receive a 10% discount, applied when they log in during the checkout process. For more information about Membership,
click here
(opens in new tab).