Organic Gardening for Soil Health
A beginner's guide to growing soils for healthy produce and people
BOOK NOW
Jane Gleeson, Colum Pawson and Julia Ponsonby
Schumacher College, Dartington Trust, South Devon
£375.00 (or £150 deposit, with the outstanding balance payable at the booking deadline specifed below). Short Course bursaries are available –
find out more here
.
Course fees include field trips, materials, all teaching sessions, and all vegetarian meals from supper on the day of your arrival through until the lunchtime before your departure. The programme will run from Friday afternoon to Sunday evening and includes two nights private accommodation. If you would like to take this course as a non-residential participant, please contact us at shortcourseadmin@schumachercollege.org.uk. A proportion of your course fee will go towards supporting the work of the Schumacher horticulture team.
About this course
This course will set you up with the basics of how to garden in a way that looks after the people, the plants and the whole ecosystem. Learn how to sow seeds, make great compost, look after your soil all in a way that restores the connection between human life and soil life.
Traditional growing has often used methods that harm the soil and its many inhabitants and contribute to environmental problems. The good news is that it is easy to garden and grow food in such a way as to enhance biodiversity, create healthy and beautiful gardens and help put carbon back into the soil. Under guidance of the gardens team at Schumacher College you can discover how we grow food and flowers whilst regenerating the ecosystem. You will learn about how to grow different plants together in a way that benefits them all; how to create healthy compost; bring wildlife back and have a beautiful and highly productive garden. We will sow seeds, make compost, harvest organic nutrient rich tasty vegetables and cook them in our famous kitchens and eat together in a complete 'fork to fork' experience.
A proportion of your course fee will go towards supporting the work of the Schumacher horticulture team.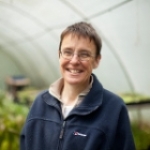 Jane Gleeson
Jane graduated in Medical Sciences at Cambridge University in 1990 and spent over ten years working within the field of mental health. She also studied theology, looking at religion and mental health. 20 years ago she started gardening and soon was completely hooked. "I was simply bowled over by plants and how endless fascinating they are". She studied and worked at Royal Botanic Gardens Kew for three years and then taught Horticulture at Hadlow College. Jane ran the Schumacher Gardens and Practical residency in sustainable Horticulture at Schumacher College for 7 years and is now teaching short courses in Sustainable horticulture and food production.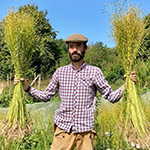 Colum Pawson
Colum manages the growing areas around Schumacher College and teaching our horticulture students. Born in Glastonbury, Somerset, Colum admits he is rarely happier than when in a muddy field. He has run a number of small agriculture businesses and also worked as a freelance horticulture consultant. He has run a market garden, worked with community supported agriculture, spent a year as part of an intentional community at Radford Mill, near Bristol, and WOOFed (worked on an organic farm) his way around France and Spain. His spare time is spent walking with his wife and two children, singing and improving his unicycling.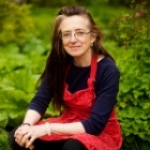 Julia Ponsonby
Julia has been at Schumacher College since it opened in 1991, when she was a student on the very first course (Gaia Theory 1991). As well as producing delicious meals for staff and students she has written a cookbook, Gaia's Kitchen, which won a Gourmand World Cookbook award for best vegetarian cookbook. She originally came to the College to deepen her knowledge of ecology so as to become a more effective member of the Green Party. She says: "It's exciting to see the importance of food (preparation, sourcing and growing) being put at the forefront of some of the cutting edge movements of today – the Transition movement and the Slow Food movement – and to realise that as a learning ground for holistic cooks, the College kitchen has a lot to contribute".
Book now
*The booking deadline (see above) gives us an accurate idea of course participant numbers at approximately 6 weeks before the course is due to run, at which point we either confirm the course; add additional time for people to book; or cancel the course. We encourage people to register early for courses as places are limited.
We are proud to be COVID-secure. Find out what we're doing to ensure you have a safe and enjoyable experience here >
Select a time below to begin your online booking. You will receive an e-ticket for this event. Please note that individual orders will be restricted to six tickets per booking (on the assumption this rule will apply post-lockdown). No tickets will be available on the door as the box office remains closed due to Covid-19. You are welcome to email us at shortcourseadmin@schumachercollege.org.uk with any queries you have.
Offer: Special rate for Dartington Members
Dartington Members will receive a 10% discount, applied when they log in during the checkout process. For more information about Membership,
click here
(opens in new tab).