3 – 5 September 2021 (SOLD OUT) or 11 – 13 February 2022
Satish Kumar and June Mitchell
Schumacher College, Dartington Trust, South Devon
£390.00 (or £150 deposit, with the outstanding balance payable at the booking deadline specifed below). Short Course bursaries are available – find out more here.
Course fees include private accommodation, as well as all field trips, materials, teaching sessions, and vegetarian meals from supper on the day of your arrival through until the lunchtime before your departure. 
About this course
This is a chance to spend an intimate weekend, hosted by Satish Kumar, to consider the role of love in our lives and how we can use it to live in a more fulfilling way. It will be an opportunity for discussion and deep reflection, incorporating the wisdom of poets and mystics, to consider the most powerful force on earth.
We prioritise our work, our families and our friends but how often do we put love at the top of our list? Love is the nourishment that feeds all aspects of our lives but sometimes we neglect it. As a result we can feel isolated, lonely and dissatisfied with our lives.
This weekend has been specifically designed to give time and space to consider the importance of love in our lives. True love takes courage and means letting go of fear but how do we cultivate this? Before we can love others we need to love ourselves but how is this possible?
Satish Kumar will lead group work as well as sessions for those seeking answers to these questions.
Throughout the weekend there will be opportunities for quiet meditation and reflection as well as a Qigong session led by June Mitchell. Participants will also spend time in the tranquil surroundings of the historic Dartington estate and discover how love can bring joy in life.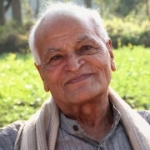 Satish Kumar
Satish is a former monk and long-term peace and environment activist. He has been quietly setting the Global Agenda for change for over 50 years. He was just nine when he left his family home to join the wandering Jains and 18 when he decided he could achieve more back in the world, campaigning for land reform in India and working to turn Gandhi's vision of a renewed India and a peaceful world into reality.
In 1973 Satish settled in the United Kingdom taking up the post of editor of Resurgence magazine, a position he has held ever since, making him the UK's longest-serving editor of the same magazine. During this time, he has been the guiding spirit behind a number of now internationally respected ecological and educational ventures including Schumacher College. Satish has authored numerous books including No Destination: Autobiography of a Pilgrim, Soul, Soil, Society: a new trinity for our time and most recently Elegant Simplicity: The Art Of Living Well.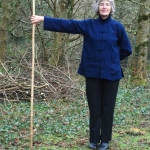 June Mitchell
The life-long partner of Satish, June Mitchell leads Qigong bamboo exercises.
Book now
*Courses are confirmed or cancelled based on the number of bookings approximately 6 weeks before the course start date. If the minimum number of bookings is achieved we confirm the course and sales continue. Courses are cancelled if uptake is below the minimum needed to run the course. Your deposit secures your place so please book early to avoid disappointment.
We are proud to be COVID-secure. Find out what we're doing to ensure you have a safe and enjoyable experience here >
Select a time below to begin your online booking. You will receive an e-ticket for this event. You are welcome to email us at shortcourses@dartington.org with any queries you have.
---
---
Offer: Special rate for Dartington Members
Dartington Members will receive a 10% discount, applied when they log in during the checkout process. For more information about Membership,
click here
(opens in new tab).
Related Events
View All Schumacher College Short Courses