Sassy Saturdays – Arts Lab
Details
Venue Space: Studio 20 (Arts Lab)
Tutor(s) Sara Downham-Lotto
Prices
£30
Suggested age suitability 15+ 3 hour workshop With apologies, the workshop on Saturday 15 December has been cancelled.
Full details on booking and visiting

Next date 9th February 10:00 am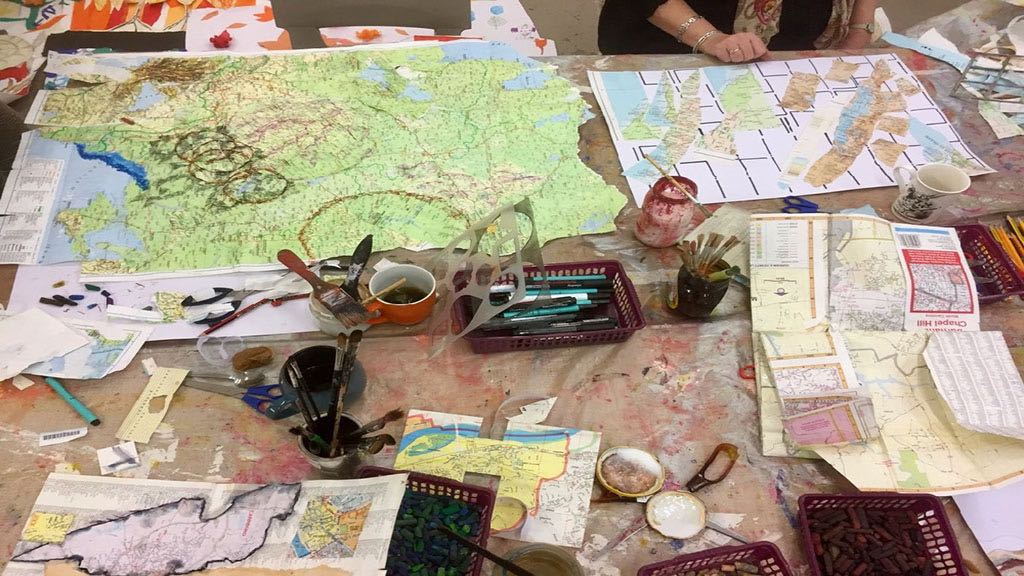 For those feeling adventurous to try something new! Spend a morning with abstract artist Sara Downham-Lotto and make some original artwork to take home with you. Explore playful new approaches to seeing and making with drawing, painting and collage.
In a spacious studio situated in the heart of the Dartington estate, Sara will share with you her unique technique of painting and collage. Tap into your younger, playful self and be guided in fun and free explorations in mixed media, creating beautiful, individual pieces of artwork to take home with you.
This is a great chance to meet people, enjoy building creative confidence and expand your horizons. Fort a taster of what you'll get up to, see films and images on https://arts-lab.co.uk/
Sara Downham-Lotto is an abstract painter with over 30 years experience exhibiting, teaching and running art projects in the UK and abroad. She is also the founder and creative director of Arts Lab at Dartington.
About Arts Lab
Arts Lab CIC is an artist-run social enterprise that connects people with visual art and artists to help build happier and more connected communities.
Working in partnership with Dartington Arts from a large studio in the heart of the sumptuous Dartington Hall estate, Arts Lab provides a programme of events for all of workshops, exhibitions, talks and residencies, a research hub for artists, and outreach for youth, health and prison services, schools, colleges, refugee projects and local businesses.
Click here for more Arts Lab courses or click here for more about the project at arts-lab.co.uk.
Visiting Dartington Hall
At our 1,200 acre estate, based in South Devon, there's plenty to explore – from the natural beauty of the grounds, to our visitor attractions and year-round events programme. You can also make a stay of it with our historic hotel or campsite, and enjoy award-winning food and drink in our cafes and restaurants.
About us
Dartington is an old place with a new story.
The Dartington Experiment began in 1925 and was based on the idea that humans are many-sided – and how we need environments that encourage our whole being to flourish, in connection with nature and each other.
This idea is as true today is it ever was.