Science and the Soul of the World
How participatory ways of knowing can transform the natural sciences
BOOK NOW
Saturday 8 January – Saturday 12 February 2022
Online course: Two hours per week, 6-8pm UK time, via Zoom
£240.00 (or £150 deposit, with the outstanding balance payable at the booking deadline specifed below). Short Course bursaries are available –
find out more here
.
About this course
This short course explores how participatory ways of knowing can transform the natural sciences. It focuses on two towering exemplars of this approach, the German poet and naturalist Johann Wolfgang von Goethe (1749-1832) and the British mathematician and philosopher Alfred North Whitehead (1861-1947).
The course begins in the late eighteenth century by setting out the revolutionary cultural, philosophical, and scientific context within which Goethe developed his participatory understanding of Nature. Goethe is still primarily known as a poet, but students will come to see how the rise of Newton's clockwork vision of the cosmos and the development of Kant's nascent theory of living organization led Goethe (with help from the German Idealist Friedrich Schelling) to imagine a more organic and relational way of doing science. The course then turns to explore Goethe's novel approach to the study of light and colour, geology, plant metamorphosis, and animal morphology.
During the nineteenth century, Goethe's participatory way of doing natural science was largely forgotten, especially in the English-speaking world. Modern physics and biology followed Descartes and Newton's lead by becoming increasingly mechanistic, while organic ways of thinking were dismissed as childish medieval holdovers. But at the turn of the twentieth century, physics underwent a series of revolutions that upset the mechanistic world-picture. It was the relativistic and quantum paradigm shifts that brought Whitehead out of mathematics and into cosmology. The course examines the reasons for the breakdown of the mechanistic view of Nature and unpacks Whitehead's organic alternative, placing him alongside Goethe and Schelling as part of a legacy of participatory thinkers.
The course culminates in an exploration of organic science in our own day, looking at the enduring influence of participatory thinking in physics, biology, and spirituality. Students will be invited to reimagine the scientific world view in the context of an ensouled universe.
This course is designed for students of intellectual history who are fascinated by subversive streams of thought that have not yet been given their due. Some background in the history of European philosophy and science will be helpful, but the lecturer will attempt to make the ideas accessible to everyone.
Recommended reading prior to course start date
1) Goethen Science By Rudolf Steiner (available free online)
2) Physics of the World-Soul: Whitehead's Adventure in Cosmology By Matthew Segall (130 pages, available to buy online)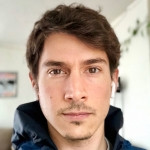 Matthew D. Segall
Matthew D. Segall is a process philosopher who teaches courses on process-relational thought and German Idealism for the Philosophy, Cosmology, and Consciousness program at the California Institute of Integral Studies in San Francisco, CA. His most recent course is 'Process and Difference in the Pluriverse', which applies process-relational metaphysics to the present social, political, and ecological crises. He has published articles on a wide-array of topics, including philosophy, Gaia theory, religious studies, psychedelics, and architecture, and his most recent book is titled Physics of the World-Soul: The Relevance of Alfred North Whitehead's Philosophy of Organism to Contemporary Scientific Cosmology (2016). He blogs regularly at footnotes2plato.com.
Book now
*Courses are confirmed or cancelled based on the number of bookings approximately 6 weeks before the course start date. If the minimum number of bookings is achieved we confirm the course and sales continue. Courses are cancelled if uptake is below the minimum needed to run the course. Your deposit secures your place so please book early to avoid disappointment.
We are proud to be COVID-secure. Find out what we're doing to ensure you have a safe and enjoyable experience here >
Select a time below to begin your online booking. You will receive an e-ticket for this event. You are welcome to email us at shortcourseadmin@schumachercollege.org.uk with any queries you have.
---
---
Offer: Special rate for Dartington Members
Dartington Members will receive a 10% discount, applied when they log in during the checkout process. For more information about Membership,
click here
(opens in new tab).
Related Events
View All Schumacher College Short Courses