Satish Kumar and June Mitchell. Facilitated by Caroline Walker
Schumacher College, Dartington Trust, South Devon
£265.00 (or £150 deposit, with the outstanding balance payable at the booking deadline specifed below). Short Course bursaries are available –
find out more here
.
Includes online sessions every Friday evening 6-8pm with Satish and June and the whole group, plus facilitated group sessions every Saturday morning, 10.00-11.30am with Caroline.
About this course
Join Satish Kumar, June Mitchell and Caroline Walker for this three-week online course caring for the soil, soul and each other.
By participating in this course, you will learn how to enhance your ecological, social and personal wellbeing. You will discover how to be a happy activist and how to 'be the change' in order to change the world. This course is designed to help you to learn how to transform problems into solutions. By joining in this course you will benefit from the wisdom of Satish Kumar in the comfort of your own living room.
The course will include sessions with Satish and June on a Friday evening followed by small group discussions on Saturday morning facilitated by Caroline Walker, as well as meditation and deep relaxation with June Mitchell.
course detail
Caring for the soil is of paramount importance. In this course we will learn how to take care of the soil. Taking care of the soil, of mother nature, of our precious planet earth, is everyone's responsibility. We all come from the soil and return to the soil. We need to remember this truth. If we take care of the soil then the soil will take care of everything else
In this course we will also learn how to take care of the soul. Taking care of ourselves, even loving ourselves is important too. Inner transformation is prerequisite for outer transformation. How to cultivate a sense of joy and how to learn to live happily and blissfully will be explored and explained in this course.
As we learn to take care of the soil and of soul we will also learn how to care for society and live in harmony with all people irrespective of our differences. We may have different religions, nationalities and other backgrounds but first and foremost we are all human beings. In this course will learn how to rise above identity politics and embrace the politics of unity, how to celebrate diversity and transcend divisions.
The course will include meditation, relaxation, conversation and facilitated participant small group discussions.
Join Satish Kumar and June Mitchell in this delightful journey of joy and inner as well as outer transformation.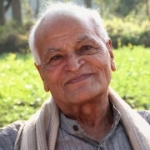 Satish Kumar
Satish is a former monk and long-term peace and environment activist. He has been quietly setting the Global Agenda for change for over 50 years. He was just nine when he left his family home to join the wandering Jains and 18 when he decided he could achieve more back in the world, campaigning for land reform in India and working to turn Gandhi's vision of a renewed India and a peaceful world into reality.
In 1973 Satish settled in the United Kingdom taking up the post of editor of Resurgence magazine, a position he has held ever since, making him the UK's longest-serving editor of the same magazine. During this time, he has been the guiding spirit behind a number of now internationally respected ecological and educational ventures including Schumacher College. Satish has authored numerous books including No Destination: Autobiography of a Pilgrim, Soul, Soil, Society: a new trinity for our time and most recently Elegant Simplicity: The Art Of Living Well.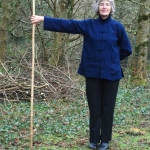 June Mitchell
The life-long partner of Satish, June Mitchell leads Qigong bamboo exercises.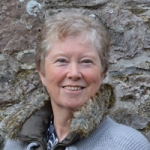 Caroline Walker
After eight years working in rural South India on village health and development projects, Caroline returned to the UK in 1987 to work at the Schumacher-inspired Small School in Hartland, Devon, where she taught for 14 years. Her MSc dissertation As if size mattered: education for sustainability and the human scale approach was published by South Bank University in the collection Journeys around education for sustainability (2008). For some years she worked for a regional regeneration programme, promoting a sustainable future for Devon market towns. A facilitator at Schumacher College since 2002, she is also a freelance writer, researcher and serial volunteer with local charities. She says: "For me, facilitation at Schumacher College is a wonderful opportunity to meet people from all over the world, and to work with participants and tutors to create a truly transformative learning experience. it's different every single time, but always inspiring".
Book now
*The booking deadline (see above) gives us an accurate idea of course participant numbers at approximately 6 weeks before the course is due to run, at which point we either confirm the course; add additional time for people to book; or cancel the course. We encourage people to register early for courses as places are limited.
We are proud to be COVID-secure. Find out what we're doing to ensure you have a safe and enjoyable experience here >
Select a time below to begin your online booking. You will receive an e-ticket for this event. Please note that individual orders will be restricted to six tickets per booking (on the assumption this rule will apply post-lockdown). No tickets will be available on the door as the box office remains closed due to Covid-19. You are welcome to email us at shortcourseadmin@schumachercollege.org.uk with any queries you have.
Offer: Special rate for Dartington Members
Dartington Members will receive a 10% discount, applied when they log in during the checkout process. For more information about Membership,
click here
(opens in new tab).