10 am – 4 pm Saturday 11 and Sunday 12 March 2023 
Dartington Trust, South Devon
Unless otherwise stated, our Short Courses are for adults 18+ years
Non Residential 2 Day Course: £220 
About this course
Spring is a time of renewal. Explore what the season's herbs can offer in quickening and cleansing our bodies after the long winter months.
Learn traditional herbal techniques, practiced over the centuries, to create tonics, tinctures, syrups and infusions to awaken the senses.
Delve into allergy-relieving herbs and essential oils, learn the medicinal properties of spring plants, discover techniques for extraction and preservation and gain confidence in using natural remedies for common ailments.
You will take home:
Dandelion and burdock syrup
Allergy-relieving spring tonic
Spring remedy balm
Cleavers cleansing tincture
Insect repellent
Cleansing infused oil
Nourishing spring tea blend
If you like the sound of this course, you may also be interested in  Natural Remedies: Summer Balms and Soothing Lotions and Natural Remedies: Natural Winter Wellness.
on this course you will
Explore the many ways you can extract the benefits from herbs and other plants, from water bases through to alcohol.
Learn about spring herbs and plants.
Discover how to make hot and cold infusions, syrups, herbal oils, tinctures and balms.
Find out how to detox and awaken after the winter months.
Feel confident in addressing seasonal ailments using traditional herbal remedies.
what participants said about this course
"There is something rather magical about Tania's course. It is a sensual experience with all kinds of scents, jars, bottles and bags of herbs waiting to be measured, simmered and stirred."
"The skill to make balms and tinctures is one that I will develop further, Tania was excellent and her session was very engaging and educational."
what to bring
Students need to bring some of their own equipment for storage and preparation of the remedies:
1 small and 1 medium-sized saucepan (bain-marie effect)
500ml glass/other bottle and lid for syrup
2 glass jars (honey or jam jars are ideal) and lid for infused oil and anti-allergy infusion
1 towel for personal hand drying

Please bring your own lunch, snacks, water, or purchase on site.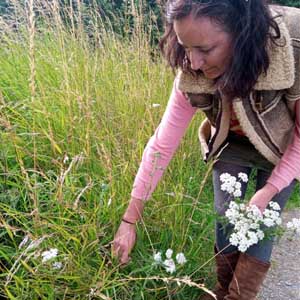 Tania Bryson
Mother, teacher and herbal educator Tania Bryson is the wild-crafter of heartfelt herbal creations at Dream Thyme Herbal in Devon.
Tania's many years of living amongst vast swathes of Australian rainforest gave her a deeper appreciation of nature, and her first-hand experience of the plight of orangutans and loss of their habitat fuelled her determination to educate people about unethical cosmetics and provide them with a palm-free, effective alternative. Tania's teachings and experience allow her to go that one step further and actually guide people through the making process using simple, local ingredients, whilst being mindful of our impact on the global environment.
Book now
Begin your online booking below. You will receive an e-ticket for this event. You are welcome to email us at shortcourses@dartington.org with any queries you have. Full Short Course T&Cs can be found here >
If you place a deposit, you will be contacted by us four weeks before the course start date to pay the outstanding balance. You will also be contacted with full details about the course before you arrive.
Please note that in most cases bookings for all our Short Courses close at midday on the Thursday before the course begins. This enables us to give you the best possible course experience and ensures all bookers receive the relevant course materials before they arrive.
---
---
Offer: Special rate for Dartington Members
Dartington Members will receive a 10% discount, applied when they log in during the checkout process. For more information about Membership,
click here
(opens in new tab).
Related Events
View All Art and Craft Courses