Saturday 23 and Sunday 24 October, 2021
Dartington Estate, Dartington Trust, South Devon
£290 Non-residential | £390 Residential – see below for information on what's included
about this course
Learn how to weave a round gathering basket using a variety of English willows. You will gain or improve your willow basketmaking skills, producing a traditional useable basket of average size. You will also learn the history of this traditional material, details of its growth, harvesting and preparation, and be able to continue weaving at home.
You will be shown a variety of traditional weaves and techniques, Techniques include how to make a split flat round base and a variety of the most useful weaves, as appropriate, plus how to produce handle, which include attaching a wrapped handle to your basket. Ideal for foraging or gathering your home grown harvest.
Information for Participants
WHAT TO BRING
Please bring your own bypass secateurs if you have them. A note book and pencil, an apron to protect your clothing. Eating and doing around your work area is not advisable, however please bring a bottle of water or similar to stay hydrated.
Course structure
The course will cover:
Willow selection
Correct handling of tools
Cover many basket techniques to create a round gathering basket
Information on willow growing and preparation
Supplies and literature to continue with the craft
By the end of the workshop participants will have practical experience in basket making, the use of tools and basic weaves. Produce a useful basket for gathering fruit, vegetables or shopping!
Students are encouraged to ask questions on the subject throughout the 2 day workshop.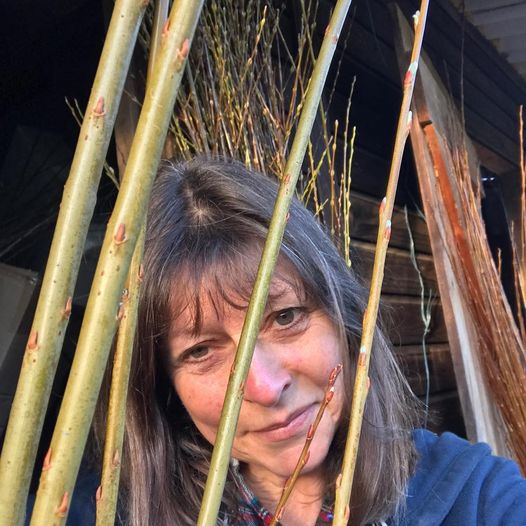 VIVIENNE TURNER
Based near the River Dart, I have been making baskets for over 20 years and teaching for as long as I can remember. I started my journey with a small berry basket….I now grow all the willow used in my commissioned baskets and sculptures.
After making a small berry basket, I was hooked!
Read More
FOOD AND DRINK
On this course, lunch will be provided. These communal meals are a vital part of the learning experience and we strongly recommend you attend them.
Tea and coffee will be available throughout the course.
RESIDENTIAL OPTION
We recommend that if possible, you stay on-site during your course. All our courses are best experienced holistically: through working, relaxing, eating and staying with other course participants and tutors.
Breakfast and dinner each day – made with fresh, locally-sourced produce by our award-winning team – are included: one less thing to worry about during your stay.
The residential course fee is based on staying in one of our student style single rooms with shared facilities and easy access to the wider estate, the White Hart and the spaces in which you will be learning. They are the perfect base to rest your head, relax and recharge.
It is also possible, subject to availability, to upgrade your accommodation to a single or double en-suite bedroom in our beautiful and historic courtyard. An upgrade to a single room with en-suite bathroom is an additional £25 per night and a double room with en-suite bathroom is an additional £40 per night.
If you would like to upgrade, please first book with residential option included, and then contact our Guest Services team on 01803 847101 or email guestservices@dartingtonhall.com to check availability. Our Guest Services department is open daily, 8am–8pm.
Choose this option by selecting 'residential' at checkout (head to 'Book now', below). Please note:
– Accommodation is available at a discounted rate for course attendees.
– For this course, the residential option includes 2 nights, arriving on Friday and departing on Sunday.
– Dinner on Friday, breakfast and dinner on Saturday and breakfast on Sunday morning are all included.
– Check-in for all rooms is from 3pm on the day of arrival.
– Check-out for all departures is 11am on the day of departure.
– Accommodation is booked on a first come, first served basis only.
---
---
Offer: Special rate for Dartington Members
Dartington Members will receive a 10% discount, applied when they log in during the checkout process. For more information about Membership,
click here
(opens in new tab).
Related Events
View All Art and Craft Courses