Friday 26 November – Sunday 28 November 2021
Schumacher College, Dartington Trust, South Devon
£340.00 (or £150 deposit, with the outstanding balance payable at the booking deadline specifed below). Short Course bursaries are available –
find out more here
.
Course fees include a stay in private accommodation with shared bathroom and all vegetarian meals from supper on the day of your arrival through until the lunchtime before your departure. Fee also includes any field trips, materials as well as all teaching sessions. If you would like to take this course as a non-residential participant, please contact us at shortcourses@dartington.org.
Wednesday 27 October 2021
About this course
This short course explores the Four Elements from the perspectives of holistic science, the evolution of consciousness, and Western esotericism. The approach we will take will include embodied, artistic and contemplative methods and activities as a means of engaging this very rich and also complex topic.
We will consider how the Theory of the Four Elements can contribute to our sense-making and initiative taking in these complex times.
What will you gain from taking part in this course?
a historical context for the Four Elements Theory in the Western philosophical and esoteric traditions
a contemporary view of alchemy and its place in the development of scientific consciousness
an experience of integrative modes of enquiry and dialogic research
an introduction to how the Four Elements can inform processes in decision making, problem solving, organisational dynamics, and in a variety of different social contexts
suggestions for ongoing study and engagement with the Four Elements for personal and professional development.
This courses is for you if you are:
interested in the history of science and consciousness studies
interested in integrative and transdisciplinary studies
interested in exploring human:nature relations in non-reductive terms
interested in the Western esoteric traditions
Format
The weekend will be an introduction to the subject, as we take steps to explore complex topics and their implications. The course will unfold through a combination of presentation, embodied exercises in nature to facilitate 'encounters' with the Elements in the natural work, artistic exercises such as creative writing and drawing, reflection and discussion.
more about the four elements
The term Element is a very ancient one. Greek philosophers were discussing the Four Elements two thousand years ago, and the Five Elements Theory was already a central influence in Chinese medicine, philosophy and marital arts long before that.
Hearing the term 'element' today many of us will have in mind a school-day model of protons, neutrons and electrons in evenly spaced shells, or perhaps the neat rows and tabular harmony of the substances laid out in the periodic table.
From this latter perspective, an Element discussed in terms of someone's temperament, or of organs of the human body, or of approaches to problem solving in the social realm may seem odd and out of date. There is, however, a great danger here. The potential for the Four or Five Element Theories to contribute to some of our contemporary challenges can be lost if they are seen as being of historical significance only.
The Elements (Four or Five) can be approached as a map or mandala, informing our way of knowing and being as much as enabling our sense-making for the world we live and work in. This workshop engages the Elements in this way, and introduces – through artistic and experiential routes – how the Elements can enrich our lives in these complex times.
Whether you are a gardener, teacher, healer, artist, or curious enquirer of some other kind, a study of the Four Elements can be a stimulating contribution to both personal and professional paths of development.
Recommended Reading Prior to Course Start Date:
Jonathan Code, Muck and Mind – Chapter: 'A Distillation of Words'
Ernst Lehrs, Man or Matter – Chapter: 'Matter as Part of Nature's Alphabet'
E.F.Schumacher, Guide for the Perplexed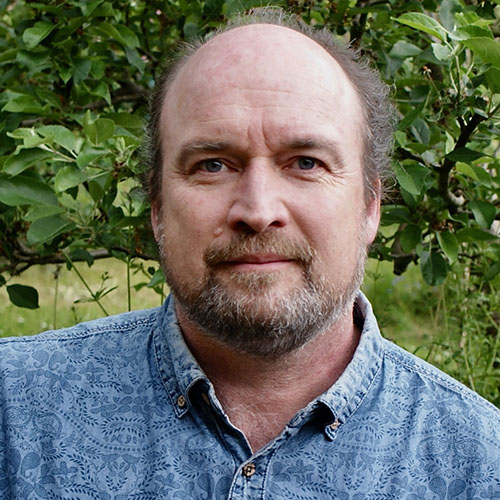 Jonathan Code
Jonathan Code is a lecturer in sustainable land management at the Royal Agricultural University (Cirencester), a senior lecturer with Crossfields Institute and an independent workshop leader and teacher.
Book now
*Courses are confirmed or cancelled based on the number of bookings approximately 6 weeks before the course start date. If the minimum number of bookings is achieved we confirm the course and sales continue. Courses are cancelled if uptake is below the minimum needed to run the course. Your deposit secures your place so please book early to avoid disappointment.
We are proud to be COVID-secure. Find out what we're doing to ensure you have a safe and enjoyable experience here >
Select a time below to begin your online booking. You will receive an e-ticket for this event. You are welcome to email us at shortcourses@dartington.org with any queries you have.
---
---
Offer: Special rate for Dartington Members
Dartington Members will receive a 10% discount, applied when they log in during the checkout process. For more information about Membership,
click here
(opens in new tab).
Related Events
View All Schumacher College Short Courses