Harriet Bell is Community Resilience (Food & Farming) Manager, helping Dartington to explore new ways to feed ourselves sustainably.
Previously, she worked at West Town Farm, an organic mixed farm enterprise on the outskirts of Exeter, and 10:10, an organisation that encourages schools and businesses to cut carbon emissions. More blogs from Harriet
---
In a previous life I used to work a lot with Facilities Managers.
These unsung heroes of office staff, and their teams, spend their lives dealing with the issues that nobody really notices until they stop running smoothly. When you go to work you simply expect the lights to switch on, the waste to be collected and the toilets to flush properly.
But what does that have to do with farming?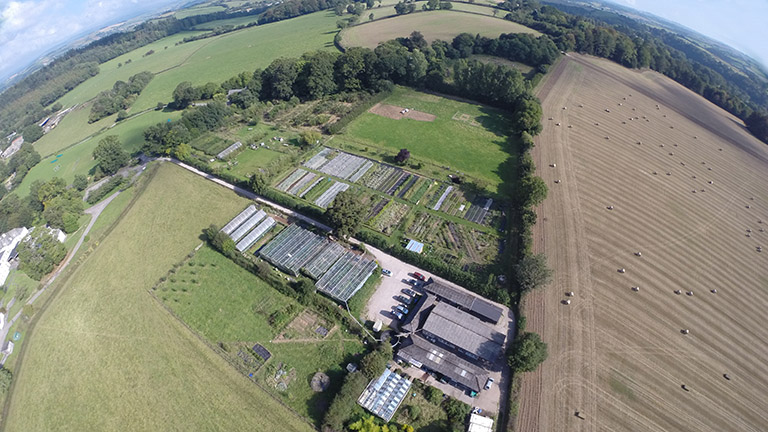 Facilities Managers often control the majority of the environmental footprint of an organisation's operations because they're responsible for the bulk of the organisation's procurement, and working with good facilities managers that taught me the massively beneficial impact sustainable procurement can have.
Two of the challenges we face at Dartington around food and farming are related to procurement.
The first is very obvious but incredibly important – procuring more of the food consumed on the estate from the estate. Sounds like it should be simple but it's going to involve a lot of good communication and planning so that producers understand the requirements of the kitchen, be that continuity of supply, quality or budgets, and the kitchen understand the issues producers face such as bad weather delaying the availability of particular crops.
We've made a start on this dialogue, it was a good one, but that doesn't mean it's going to be an easy journey and both sides will need to work flexibly and empathetically with one another.
---
"if we want people to have equal access to good, nutritious, healthy food then we need to make sure they're paid enough to afford that"
---
The second is that every procurement decision made on the estate potentially has an impact on food and farming and sometimes the link is not at all obvious. If we're buying food then clearly it ought to be local, organic ideally, healthy but what about when we procure cleaning services, is that a food issue? Well, yes.
Food issues are complex. Recently, American food writer Mark Bittman delivered an excellent talk to a conference on the major problems with the food system and he pointed out that most of them come down to wider issues of inequality in global society.
So when we procure cleaning services ensuring that they pay a living wage is a food issue because if we want people to have equal access to good, nutritious, healthy food then we need to make sure they're paid enough to afford that.
We won't always get procurement right, because supply chains can be long and incredibly complex and budgets may not always permit what we may wish to achieve, but work is underway to set out Dartington's level of ambition.
Harriet
---