Harriet Bell is Community Resilience (Food & Farming) Manager, helping Dartington to explore new ways to feed ourselves sustainably.
Previously, she worked at West Town Farm, an organic mixed farm enterprise on the outskirts of Exeter, and 10:10, an organisation that encourages schools and businesses to cut carbon emissions. More blogs from Harriet
---
At this time of year many look to the summer with longing for those great events that liven up life – Glastonbury; Bestival; Lovebox; the Dartington Summer School.
Lucky for me I didn't have to wait that long this year as the Oxford Real Farming Conference arrived like a late Christmas present at the beginning of January – with enough spirit and enthusiasm to last for the whole of 2015, I reckon!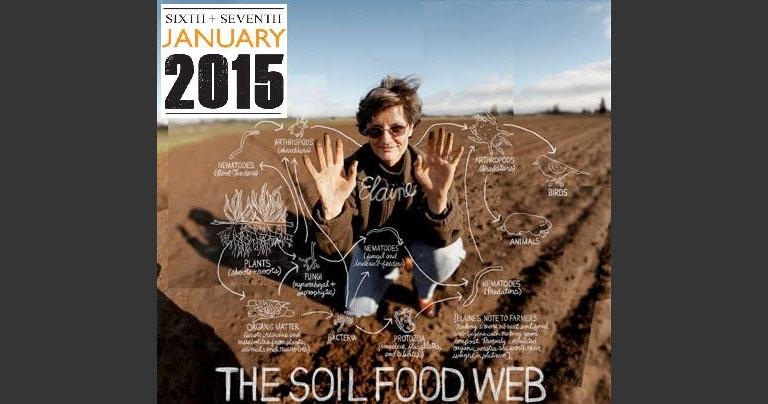 The ORFC was set up as alternative to the more conventional Oxford Farming Conference – as they say, "It was to bring together practising, mud-on-the-boots farmers and growers with scientists and economists, and activists and lawyers, and everyone else with a serious interest in food and agriculture.
"The idea was and is to ask the really big questions – like what kind of farming do we really need and why; but also to focus at least equally on the minutiae of practice – and to see who, right now, in Britain and the world at large, is truly farming and marketing and cooking in ways that the world really needs, and others can emulate."
Now in its 6th year, it eclipsed the 'conference over the road' in terms of delegate numbers and the entire event was fabulously vibrant and buzzing with hundreds of people passionate about sustainable food and farming.
I foolishly started by highlighting all the sessions I thought sounded interesting and then, when I realised I'd highlighted pretty much the whole page and left it too late to clone four other versions of myself, set about the nigh on impossible task of figuring out which ones to go to.
I wish I could bring you a summary of the whole thing but as it is I thought I'd just share a few of the things which piqued my interest but would wholeheartedly recommended visiting the ORFC website as many of the events were recorded and will hopefully be disseminated widely.
Harriet
---
From the sessions I attended here are just a few items which stuck with me:
• The New Economics Foundation (nef) have just published Urgent Recall: Our food system under review asking 'What makes a food system successful?' and answering that our current system for ascertaining that is outdated and in need of redefining before offering up an alternative assessment methodology and a critique of where the UK's food system currently is. Even if you don't read the whole report do just give the webpage a quick visit.
• It was fabulous to hear both Schumacher lecturer Tim Crabtree and Martin Large of the Biodynamic Land Trust(who are taking on the long lease here at Dartington of Huxhams Cross Farm) share their knowledge of innovative farm business models like Mondragon in Spain, Growing Communities and the Peasant Evolution Producer's Cooperative.
• It's always nice to discover you're not the only one a bit nutty about a particular subject, there's a crew of people equally obsessed with water management on farmland and leading the way on how we can improve. A detailed overview of the Pontbren farmer's project was given looking at how a cooperative of local farmers came together to manage flooding in their area with the strategic use of trees and fences. Broadleaf species such as Ash, Black Alder and Poplar are apparently the best species to deploy and peak overload flow can be reduced by as much as 40% with strategic planting!
• The Allerton Project have also been running a Water Friendly Farming Project gathering years of research data on the benefit of different water interception methods to biodiversity, sediment loss, flood risk reduction, improved water quality. Combined with improved soil management techniques with the intention of managing water but also evaluating better nutrient use efficiency and improved crop performance. What was fabulous was to learn that small changes in farming, such as low ground pressure tyres on the tractor, can make a difference by reducing tramline run off, for example (tramlines are basically the footprints of the tractor, if you look at an arable field they'd be the bare lines between crops). Visit their website for the full details
• I've been reading about the benefits of mob grazing for years but it was so inspiring to hear examples of where it's working well in the UK from Farmers Weekly Dairy Farmer of the Year Robert Craig and dairy farmer Rob Richmond. Each farmer brought a distinct methodology but equally inspiring and replicable. Robert Craig was evangelical about the importance of regularly moving the cattle favouring every 12 hours (though sometimes 24 or 36), back grazing, grass growth monitoring and good tracks whilst Rob Richmond gave a detailed picture of why diverse swards matter because we're basically all just farming carbon and sunshine in different forms so you need to be able to get the most out of it. There were some interesting suggestions from the audience such as spreading unwanted milk on your fields to boost soil microbial activity, apparently it has been tried and tested by American farmer Greg Judy. Also how had I not heard of Pasture Promise TV before now?
• I got very excited to learn that Coventry University have a research unit devoted to agroecology, water and resilience. They're working on a project though the EU called Food Metres to look out how we define and generate short food chains which is exactly what we'd like to do hear at Dartington so I'll be keeping my eye on that one. One of their researchers is also looking into the science behind the permaculture practices of well-known Austrian farmer Sepp Holzer in the hope that if the benefits can be proven by science perhaps they might become more mainstream ways of working which as something of a Holzer fan I found fascinating.
• Turns out it's not just Coventry either – there's also an All Party Parliamentary Group on Agroecology and they hold regular events one can pop along to.
• Dr Sue Hewitt gave a brilliantly dynamic workshop on farm business impact and I will certainly be running through the questions she challenged her audience to answer with some of the producers on the estate as we try and work out how best to collaborate when it comes to reaching new consumers with the food produced by various groups at Dartington.
• I'm quite used to the idea that whilst people quibble about the cost of organic food we actually pay a lot as a society for cheap and unsustainable food through the increasing burden obesity places on the NHS, for example. However, I've never put two and two together before and realised we're now paying for "cheap" food through rising home insurance as risks of flooding increase around the UK as a result of climate change and uninformed farmers either exacerbate the problem through poor land management or are simply not aware or incentivised to contribute to minimising those risks through changes in farm practices. So it was good to have a wake up session from Water 21 and be reassured that though proactive engagement we can actually tackle this increasingly serious problem.
PS: Sorry if rambled a bit in this blog and I'm sure I've not done it justice; it really was an incredibly inspiring event. Anyway, off now to read up on Dr. Elaine Ingham (whose talk I missed but apparently was excellent) and watch Pasture Fed TV until the cows come home.
PPS: As you may be able to tell, I really enjoyed this conference and went to quite a few sessions, it is quite possible that in the excitement of trying to take it all in and write it all down I might sometimes have got a bit muddled/poor handwriting may lead to some of the information in this blog been not quite spot on, apologies if you come across an example where this is the case.