The man behind the indie festival Sea Change, Rupert Morrison, tells how a legal wrangle that is well known to Totnes locals has reached a global audience.
Growing up, or at least spending a fixed period of time in this area, leaves you with vivid memories of the mundane, things so bizarrely specific can come to mean something more through a shared evocation. For me, one of the most evocative memories of my adolescence is, and remains, a knackered old car with a custom paint job.
On Totnes' Station Road for the last twenty odd years have been a differing range of old vehicles from the local Broadway scrap merchants with communiqués about the varying amounts of money allegedly owed by a local councillor, rooted in planning permissions and aborted constructions.
Without giving any credence to the legitimacy of the debt or its very gradual repayment (the most recent vehicle claiming that £500 of the £5000 had indeed been repaid), the vehicles have always felt very much part of the shared Totnes cultural landscape, in no small part thanks to our friend Joe who used the exact words as the title of his 2006 debut album, 'Pip Paine (Pay The £5000 You Owe)', under his Metronomy moniker.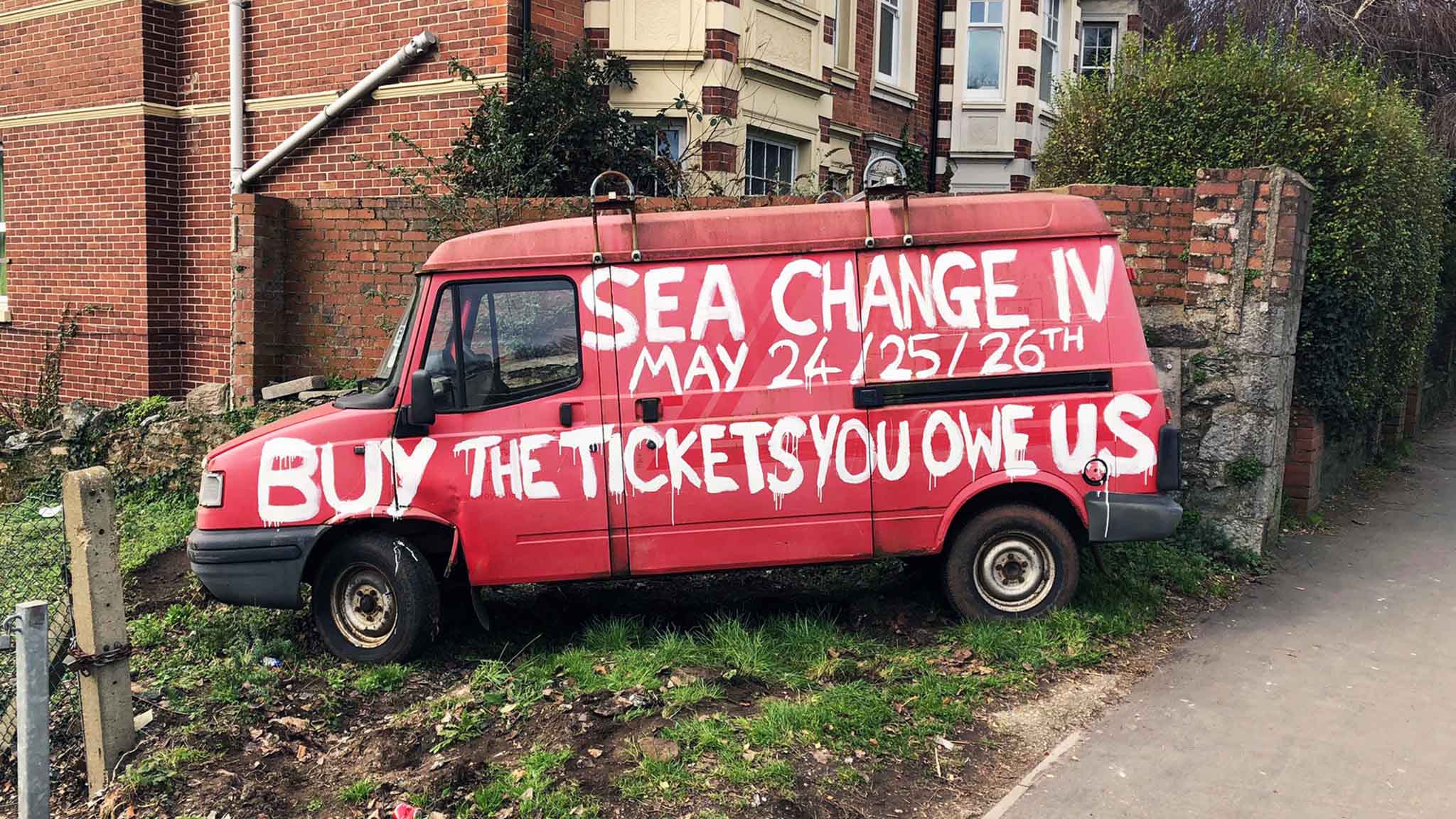 Sea Change's tribute references both Totnes's famous van and an album by festival headliners Metronomy
I remember hearing this was to be the case with much excitement before receiving a small quantity of the album on a stunning book bound CD edition. A rich green linen cover with the phrase, taken from the side of the vehicle, so beautifully embossed in perpetuity.
Thinking back, one of the earliest canvases was a black hearse, all the more macabre and further added weight to the cultural appropriation from a DIY ransom note into an artistic statement. All good jokes, at their root, must be about the lengths at which you'll go to keep them alive.
Joe naming an album after the gloriously parochial landmark was bold and banal and brilliant, and to his credit Adrian Broadway, joking or not, has shown a remarkable tenacity to keep revolving the vehicles and reminding anyone who will listen that words used in private agreements and words used in public broadcast have at times a deep correlation and relationship.
In January the Broadways allowed us to pay tribute to the landmark with our own version of the famous van. They understand fully the notoriety that their vehicles have caused over the last few decades, how the messages have been sewn deeply into the shared memories of the region and also how excited I got explaining to them what fun I would have painting on it. I didn't paint it myself, my mate Lee did it and we'd both note that it's actually bloody hard to write neatly with emulsion on the side of a car.
For me and my friends, it was a unit of shared cultural transmission and in that sense, likely our first ever encounter with a meme.
And you thought it was just graffiti…