Dan Pearson's masterplan for Dartington Hall's listed gardens expresses the idea of a many-sided life through five areas: arrival, culture, production, play and gardens.
Work has already started on the gardens area, the rich historic formal landscape setting for Dartington Hall. The gardens team are working on tasks with existing features – starting the process of considered planting edits and subtle design interventions. They're undertaken slowly and carefully to protect and enhance the special character of this place.
Below is the first of what will be regular blogs from members of the gardens team who share the news from the ground.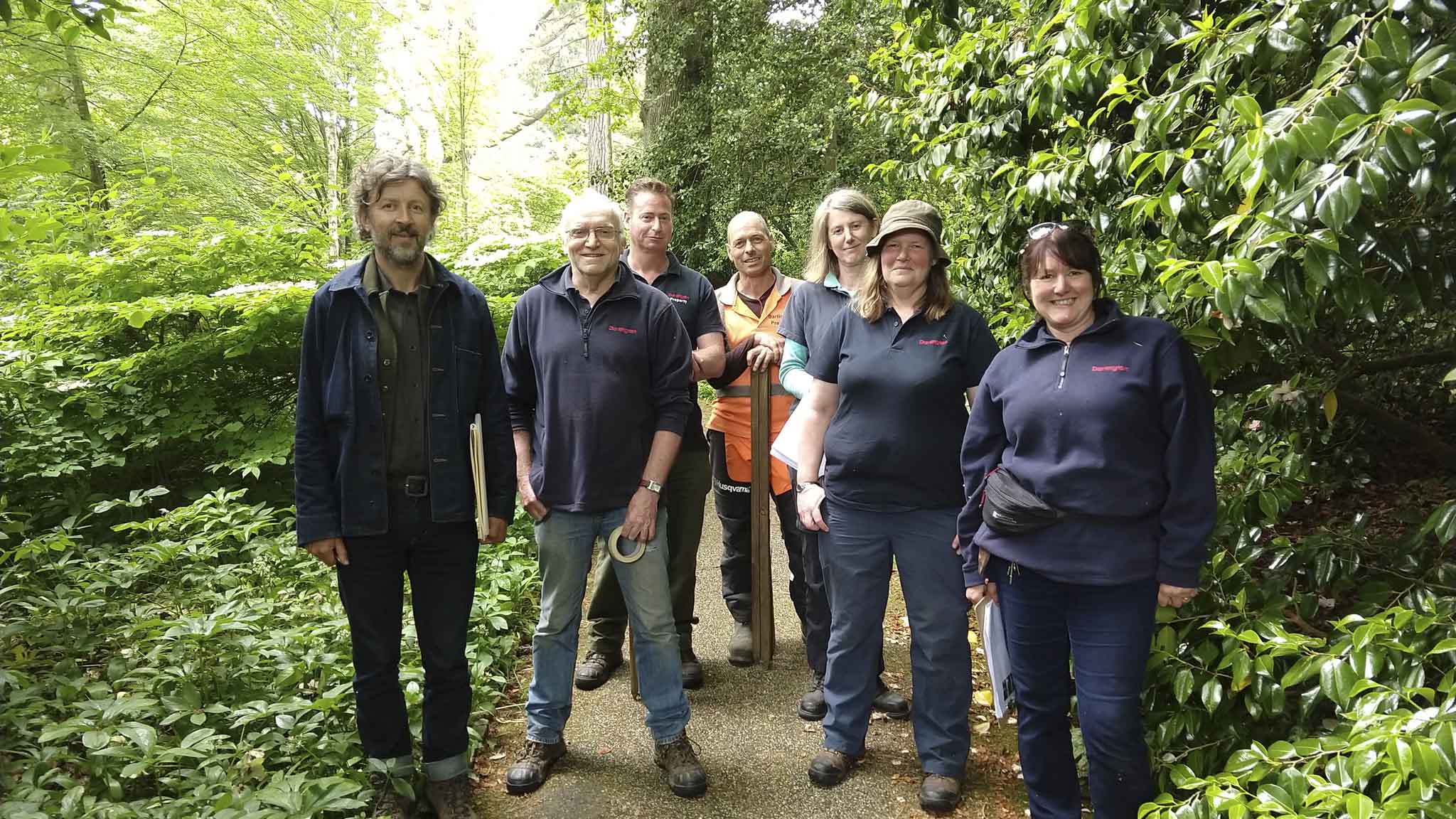 Gardens team with Dan Pearson (far left). Note: the author is not in the team photo as his face was deemed more suitable to be behind the camera
"The end of May brought a visit from multiple Chelsea Flower Show gold medalist Dan Pearson in person to Dartington Hall, in the latest instalment of his long-term Gardens Masterplan aimed at rejuvenating and reimagining our wonderful gardens.
As one would expect, people who approach us while we work have responded in a variety of ways to Dan Pearson Studio's 20 year plan for Dartington's gardens. They range from delight and excitement about the interest shown in the gardens to horror that they think the garden they know and love will be changed beyond all recognition.
While the former are obviously very happy, the latter understandably have needed to be reassured that Dan will not be turning their beloved Dartington Gardens into a 'glitzy Chelsea show garden' as one alarmed visitor suggested.
Dan was specifically chosen for his subtlety and lightness of touch as a garden designer. In fact before we met Dan and his team there was in the back of our minds as a gardens team the same niggling apprehension that Dan may be producing a Chelsea show garden here in south Devon, or that he may be unrelatable, inaccessible and too highbrow for us to work well with.
Nothing could be further from the truth. No garden design divas here folks. Just a very unassuming, relatable, friendly and highly professional garden design team…who oh, just happens to be internationally renowned, sought after and at the top of their game in the garden design world. As ever the meeting with him in May was very much a walk and talk affair he and our colleague, head gardener Ian Gilbert, had arranged. It involved the gardens team along with input from our tree warden Dave Prout on the tree side of matters (Dave being known to his colleagues as Dave 'The Monkey' Prout due to his tree climbing prowess).
With Dan's Garden Masterplan being such a large and long-term project it was decided that the focus for the day should be on two areas of the garden, namely the Woodland Walk and the Magnolia Steps.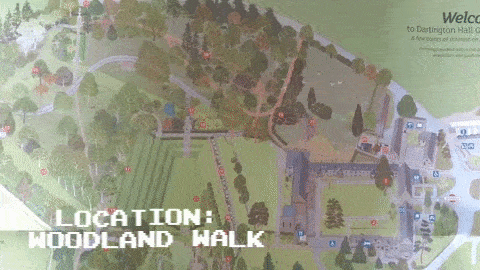 Our walk through the woodland area involved much intense discussion, with the flow of ideas to and fro. We decided to progress and free up the woodland space. This will allow more air and light in so that the congested woodland could once again breathe and thrive.
We all realised that this area of the garden needs much time and energy to fulfil its potential as one of the most horticulturally interesting yet naturalistic areas of the gardens. Our discussions certainly gave us plenty of homework to do before Dan's next visit in the autumn – our backs were already aching at the prospect!
Interestingly, during our involvement with Dan Pearson Studios the gardens team has had to familiarise itself with a new language – that of 'Garden Design speak'. So, common horticultural terms such as cutting, pruning and felling are translated to 'editing' in garden design parlance, and the range of varieties and colours of plants described as a 'palette'. An unquestionably more sexy vocabulary indeed!
Thus the sympathetic editing, rejuvenation and renovation of the existing palette and the possible palette to come was eventually arrived at – and during the extremely collaborative session we all felt that Dan was extremely open to our ideas. Indeed we were all quite surprised by how much he took on board from all of us – which further confirmed our belief that he is definitely 'the right man for the job'.
A very similar process of discussion and decision making continued as we progressed to the Magnolia Steps area, which generated more tasks on our to do list (see below). Dan's visit and long term vision and plans left everyone excited and energised by the project, as he said he was himself, and we look forward to our continued involvement with him. A happy team indeed. Dan most certainly is 'Dan the Man with the Garden Plan' as he is affectionately known by the gardens team here at Dartington Hall."
Magnolia Steps: to-do list:
Create a 'halo' effect around individual acers and magnolias to give definition
Remove dead, diseased or dying Erica arborea (tree heathers)
Weed out areas of invasive weeds, ie Circaea lutetiana (enchanter's nightshade), Mercurialis perennis (dog's mercury), Rumex (dock leaf), Urtica dioica (nettle)
Remove dead, diseased and dying wood from Matnolia stallata and Magnolia Wilsonii
Free up the York stone Magnolia Steps from tired and dying Erica spp (heather)
Thin out and possibly relocate Asplenium scolopendrium (hart's tongue fern) to create a patchwork of plantings