Our very own Barn Cinema is delighted to hosting a film premiere on Friday, 20 September. Selfless [PG] is a new film by independent Canadian filmmaking outfit Fresh Independence Productions, and this feature-length documentary tells the story of Kuki and her family the Warburtons, who have been living off-grid in the Totnes area.
Here, the film's director Kim Laureen tells us more about the film and how it came into being.
Selfless tells the story of one exceptional family that call Totnes home. Meet the Warburtons: Simeon, Miranda and their children Izimbard and Kuki – a talented brother/sister duo who each make up half of their band, 'Kuki & the Bard'. The family live at peace with the land and vow to never take more from it than they give. Having travelled the world, they have fallen in love with the Totnes community with whom they are now actively involved.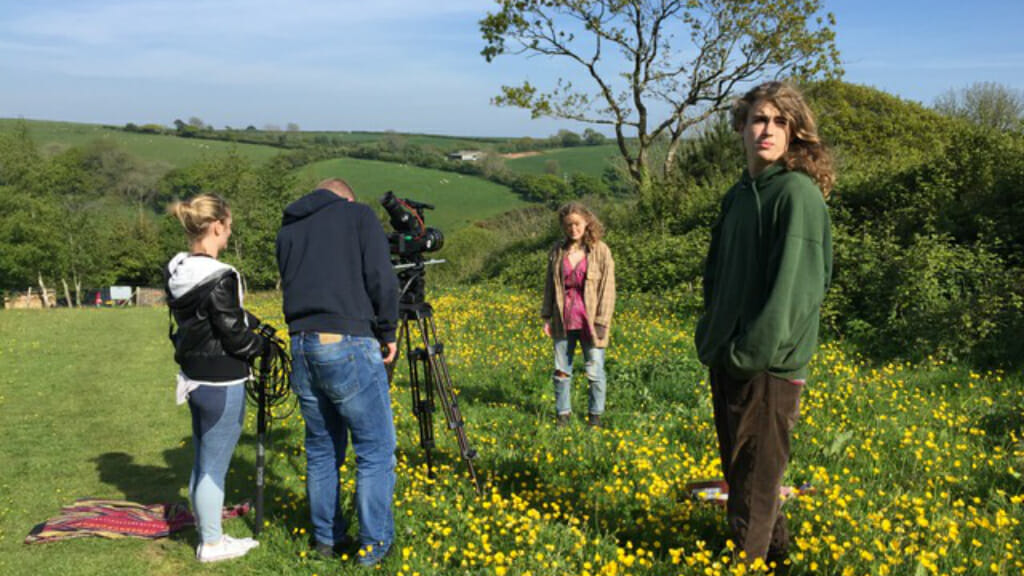 I am the director of Selfless, and with producer (and daughter) Megan Dirksen run Fresh Independence Productions – a company founded in Vancouver, Canada, and born from a love of film and music. We became concerned that everywhere we went, we were encountering bowed heads and faces not engaged in one another. This led us to wonder: 'where are we leading the next generation?'.
Researching anxiety-laden statistics about the ever-growing epidemic of selfies, social media and technology, we chose to push the doom and gloom aside and create a project that offers hope for people in this new time. We pondered: 'If a girl lived in the forest with no mirrors, magazines or social media, what would beautiful look like to her – and how would she see herself?' Immediately Kuki – who we already knew by this point through Fresh Independence – came to mind, and we reached out to the family, who invited us to experience how full life can truly be when free from those chains that bind.
You cannot create Kuki on a storyboard. She is simply lovely, authentic and real. She stole our hearts, as did the rest of the family.
Our small but mighty team, along with Leicester-based cinematographer Nick Hamer, visited the family twice. In between, we visited schools of privilege and high risk in the USA and Canada, where we repeatedly encountered the problem of loneliness in the social media age. Megan says: "We need to wake up and understand that the issues related to copious amounts of screen time are valid. Our children are all guinea pigs in this experiment and no one knows how this is going to hurt an entire generation".
The Warburtons have technology, but are not slaves to it. They have been approached by a number of other companies keen make a documentary about them (including the BBC) – but they have always declined. When asked why they changed their minds for Selfless, Simeon said: "There seemed to be a natural connection with (Fresh Independence) and the story they wished to tell. We are honoured to be a part of it".
The soundtrack is stunning and comes mostly from the off grid recording studio of Kuki and the Bard. I would put on my headphones with their songs playing and it would inspire me as I wrote. Without the Warburton family and the beauty of Totnes I don't believe this film would have found itself whole. It is really different and it makes people feel something they never expected.
Unfunded, this project was literally willed into existence on passion and 'milk money'. We are different filmmakers to when we began this project – it has been a real learning curve. We made a lot of mistakes and those were tough to look at on the editing board, but we came to embrace the fact that Selfless is a film imperfectly perfect – much like life itself. We should not be putting a filter on our lives, and even our mistakes are an important part of our story.